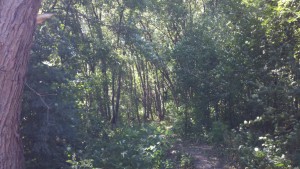 It's not exactly that the bulldozers are starting their engines, but the string of appeals and long-shot funding ideas seems to be running out on the silver maple trees of the Belmont Uplands.
I continue to believe that this forest, with just a modest investment in path development, could be highly accessible to residents of Belmont, Arlington and Cambridge. Old timers remember playing there as kids and speak reverently of their contact with wildlife — deer, herons, etc.
I recently sent this letter to Governor Patrick:
==================================
Dear Governor Patrick,
I am hoping that you might find time to meet with constituents of mine concerned about the imminent destruction of the Silver Maple Forest preserve.
Ellen Mass of Cambridge runs a summer camp there for city kids and I have to say I was moved by my visit there recently. The reverence of those young people for the big trees reminded me once again how sad it will be to lose them to development.
I know you have once made a decision to sacrifice this forest reserve, accessible to urban kids, to the goal of constructing affordable housing. I was deeply disappointed when you vetoed my language on this issue in the environmental bond bill.
Your last chance to revisit that decision will shortly pass. The developer has applied for subsidized construction funding.
Please consider meeting with a group from the region to hear a last appeal.
Let me know if you are willing to have this meeting.
Best regards,
Will Brownsberger