Discussion with Senator Mike Barrett, the lead senator on the roadmap bill, recorded here. More detail on the transportation sector here.
Today, the Governor indicated that he would sign "An Act creating a next-generation roadmap for Massachusetts climate policy." The new roadmap sets aggressive goals for reduction of greenhouse gases over the next three decades. We will need to work very hard to achieve the goals we have set with this legislation.
The roadmap bill strengthens the Global Warming Solutions Act, originally passed in 2008. The GWSA set a goal of reducing carbon emissions 80% by 2050 (as compared to 1990 levels). The GWSA called on the secretary of environmental affairs to set an interim goal for 2020 and the secretary chose a 25% reduction goal for 2020. We are waiting for the latest data, but we may be close to achieving that initial goal, having reduced emissions by 22.5% through 2017.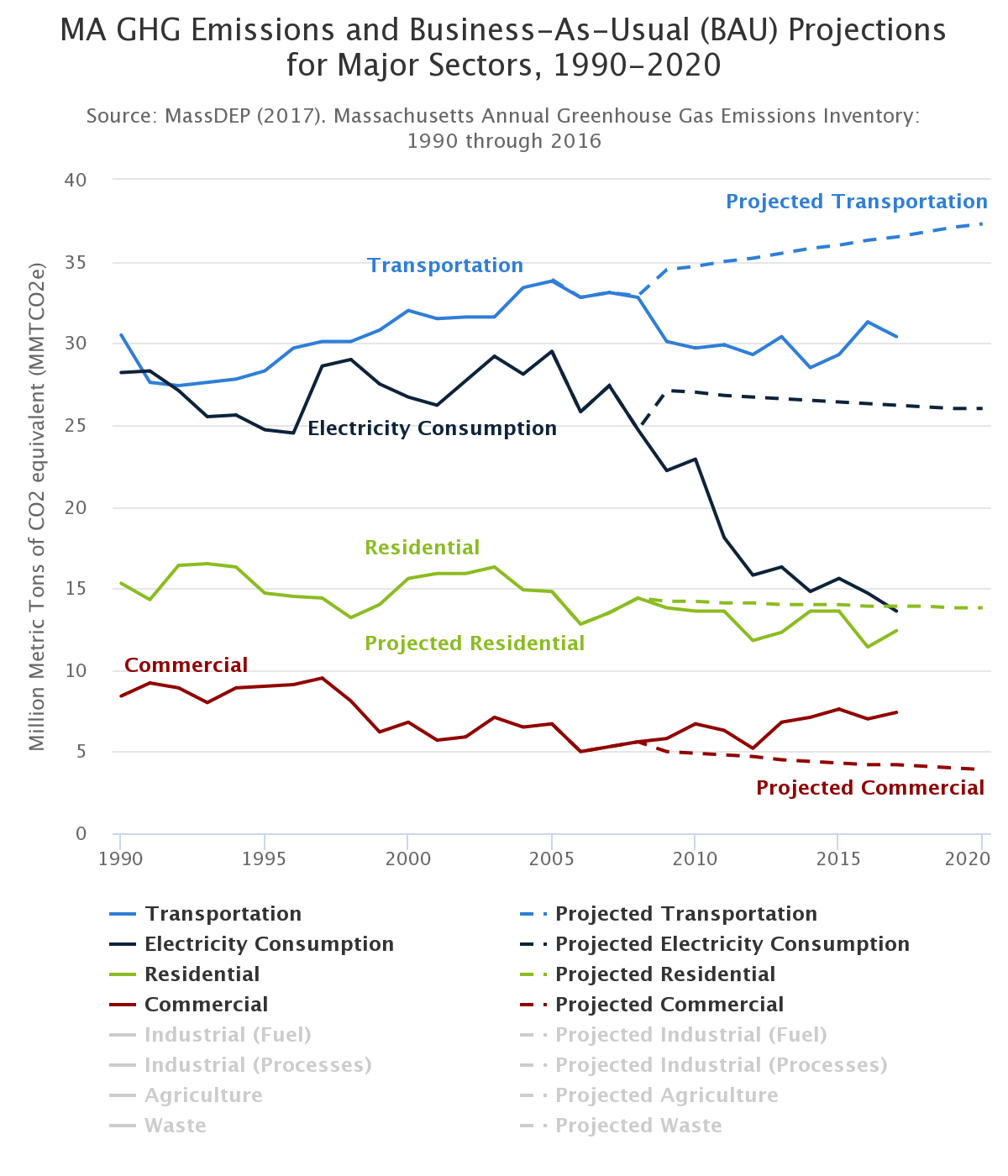 The new roadmap requires that Massachusetts' net emissions must be zero or below zero by 2050. Net emissions means gross emissions as reduced by ongoing forest growth and other processes that remove carbon from the atmosphere. Under the bill, gross emissions must also be less than 15% of 1990 levels by 2050, regardless of offsetting reductions. In my view, net zero is not an endpoint — it is a milestone on the way to net negative. The science suggests that we will need to be net negative in the future if we are to fully control climate change.
The roadmap requires that the secretary of environmental affairs define interim goals every five years and requires that the 2030 goal must be at least 50% below 1990 levels. The legislation requires that emissions sub-goals be defined for each sector of the economy — electric power, transportation, commercial and industrial heating and cooling, residential heating and cooling, industrial processes, and natural gas distribution and service. The last sector brings natural gas leaks within the scope of the planning process.
In addition to defining a more aggressive roadmap, the legislation strengthens transparency and accountability, requiring clear planning as to how each goal and sub-goal will be achieved and prompt reporting on whether each has been received.
The legislation gives the secretary a mandate to regulate all emissions sources to achieve the roadmap goals. The legislation makes clear that the imposition of a carbon fee on one or more types of fossil fuel is a permissible option. The original senate bill required the secretary to impose carbon fees on different sectors on a set timeline, but the final version leaves it to the secretary as to when and whether to use carbon fees to achieve reductions.
Additional provisions in the bill that will support accomplishment of the roadmap goals include:
A new "net zero" building code option for municipalities.
A statutory mandate for the Department of Public Utilities (DPU) to consider safety, reliability and greenhouse gas emissions as well as cost.
A requirement that the DPU factor in the social cost of carbon when it evaluates cost-effectiveness of energy savings measures.
Acceleration of the renewable portfolio standard so that electric utilities will need to purchase 40% of their power from renewable sources by 2030.
Strengthened appliance efficiency standards.
Programs to expand the rate benefits of solar energy to lower income areas.
A requirement that municipal lighting systems achieve the carbon emission reductions on the same schedule as the roadmap.
More support for energy innovation through the Clean Energy Center.
Various helpful adjustments in net metering for solar.
Increase of required wind procurements from 1600 megawatts to 4000 megawatts. An additional 1600 megawatts is authorized but not required under existing law.
We will need all available tools and likely others that have not been developed to achieve the goals in the new roadmap. Over the past 30 years, we have reduced emissions roughly 25%, but over the next ten we are proposing to cut emissions another 33% from where we now and in the following decade another 50% from where we will be then.
This acceleration in the pace of reduction is likely to be challenging since roughly half of the emission reductions that we have achieved so far have been due not to our energy efficiency and solar and wind programs, but to low natural gas prices and commercially reasonable decisions to switch to natural gas from oil and coal. Ironically, the low prices are the result of plentiful natural gas produced by environmentally harmful fracking.
Factoring out the switch to natural gas, over the past 30 years our policy interventions have cut emissions by 10% or 15%. We have been systematically choosing the most cost-effective and easiest policies to implement. Over the next ten years we hoping that our policy interventions will cut emissions 33% — we are trying to do three-fold more than we have done so far in a shorter timer frame and we have already exercised the most fruitful policy options.
It is our hope that the interim goal setting and the strong transparency provisions in the bill will keep the executive branch, the legislative branch and all observers intellectually honest and well-focused on the challenge we face.
There is a whole additional dimension of what this legislation does: It creates new rules to assure environmental justice to disadvantaged communities. More on that important step forward in future discussions.
Resources
Note on the Role of Fuel Switching since 1990
A little over 2/3 of the emissions reductions that we have achieved since 1990 have been in the electric power sector. Total retail sales of electricity in Massachusetts have actually risen by 13% since 1990. Most of the reduction in electric power emissions has been due to switching from coal and oil to natural gas for electric power generation. Although natural gas is a fossil fuel, it generates less carbon dioxide per unit of energy when burned. Most of Massachusetts gas comes from the Marcellus Shale in Pennsylvania.
In 1990, 82% of the power generated in Massachusetts was from fossil fuel generating plants, mostly coal and oil, only l5% from natural gas. In 2019, 72% of Massachusetts power generation was still from fossil fuel but that was almost all from natural gas. Other variables held constant, that change in electricity generation fuel mix alone would bring down electric power emissions down by 40% and account for roughly half of the total reduction in carbon emissions.
In fact, Massachusetts has lost a lot of generating capacity as it as closed coal and nuclear plants. Massachusetts generated 78% of its own power in 1990 but only 39% of its own power in 2019. However, the power sources imported used on the New England grid are also heavily natural gas.
The building energy sector accounts for most of the reductions since 1990 not accounted for by the electric power sector. Insulation, windows and other efficiency measures have reduced the need for heat energy, but people swapping oil burners out for more efficient gas burners also contributes.
These are rough calculations, but should suffice to show that switching to natural gas accounts for a middling share of our measured emission reductions. Of course, given all the leaks associated with gas drilling and distribution and the high global warming impact of methane, these reductions may be illusory.
A major limitation of the crude analysis above is that does not give any credit for emissions avoided through efficiencies in a growing sectors (like vehicle efficiency in the transportation sector). For a more sophisticated and more generous estimate of the contribution of policy interventions to emissions reduction in Massachusetts through 2016, see the Global Warming Solutions Act — 10 Year Progress Report at page 10 which concludes that "Of the 20.2 MMTCO2e reduced in 2016 from the 1990 baseline level, approximately 11.6 MMTCO2e [57%] are attributed directly to the implementation of GHG mitigation policies from 2010 to 2016.". This estimate does factor in coal plant closures, but does not appear to factor in the idling of petroleum based generating capacity which now is used only to meet peak needs or when there is a gas shortage.
The available emissions data as of this writing does not factor in the recent closure of the Pilgrim nuclear plant which accounted for 16% of Massachusetts power generation in 2018. To the extent this base load capacity is replaced with greater reliance on natural gas, we will lose ground in our efforts to reduce emissions.
Emissions detail data (supporting graph)
The table below shows the actual numbers for selected years for the graph further above. 2017 is the last full year for which data available as of this writing. Through 2017, according to this inventory, gross green house gas emissions had declined by 22.8% since 1990, from 94.5 MMTCO2E to 73.0 MMTCO2E. The MMTCO2E abbreviation refers to million metric tons of carbon dioxide equivalent. There are greenhouse gases other than carbon dioxide, notably methane, but in this analysis, they are converted to the equivalent quantities of carbon dioxide — equivalent in the sense that they would have the same impact on global warming. The equivalency value is sensitive to the time horizon of analysis — some gases breakdown quickly in the atmosphere. See gas summary tab in Appendix C to Greenhouse Gas Baseline, Inventory & Projection (Mass DEP): In 2017, using a 100 year horizon for equivalency computations, carbon dioxide accounted for 88.8% of greenhouse gas emissions. The CO2 share has remained roughly constant since 1990.
| | | | | | | | | |
| --- | --- | --- | --- | --- | --- | --- | --- | --- |
| Emissions (MMTCO2E) | 1990 | 1995 | 2000 | 2005 | 2010 | 2015 | 2016 | 2017 |
| Building Consumption | 29.5 | 29.5 | 28.5 | 26.4 | 24.4 | 24.9 | 21.9 | 23.3 |
| Electricity Consumption | 28.2 | 24.7 | 26.7 | 29.5 | 22.9 | 15.6 | 14.7 | 13.6 |
| Mobile Combustion | 30.5 | 30.1 | 33.6 | 34.9 | 30.3 | 29.5 | 31.5 | 30.5 |
| Natural Gas Systems | 2.4 | 2.0 | 1.7 | 1.3 | 1.0 | 0.8 | 0.8 | 0.8 |
| Industrial Processes | 0.7 | 1.3 | 2.5 | 2.8 | 3.4 | 3.8 | 3.8 | 3.8 |
| Agriculture & Land Use | 0.3 | 0.4 | 0.3 | 0.3 | 0.3 | 0.3 | 0.2 | 0.2 |
| Waste | 2.7 | 2.7 | 1.1 | 1.2 | 0.9 | 0.8 | 0.8 | 0.8 |
| Gross Emissions | 94.5 | 90.7 | 94.4 | 96.5 | 83.2 | 75.8 | 73.8 | 73.0 |
Source: Appendix C to Greenhouse Gas Baseline, Inventory & Projection (Mass DEP)
The chart below shows the change in each sector since 1990.
| | | | | | | | | |
| --- | --- | --- | --- | --- | --- | --- | --- | --- |
| Emissions (MMTCO2E) — CHANGE SINCE 1990 | 1990 | 1995 | 2000 | 2005 | 2010 | 2015 | 2016 | 2017 |
| Building Consumption | 0.0 | -0.1 | -1.1 | -3.1 | -5.2 | -4.6 | -7.6 | -6.2 |
| Electricity Consumption | 0.0 | -3.5 | -1.5 | 1.3 | -5.3 | -12.6 | -13.5 | -14.6 |
| Mobile Combustion | 0.0 | -0.4 | 3.1 | 4.4 | -0.2 | -0.9 | 1.1 | 0.1 |
| Natural Gas Systems | 0.0 | -0.4 | -0.8 | -1.1 | -1.4 | -1.7 | -1.7 | -1.7 |
| Industrial Processes | 0.0 | 0.6 | 1.8 | 2.1 | 2.7 | 3.0 | 3.1 | 3.1 |
| Agriculture & Land Use | 0.0 | 0.0 | 0.0 | 0.0 | 0.0 | -0.1 | -0.1 | -0.1 |
| Waste | 0.0 | 0.0 | -1.6 | -1.6 | -1.8 | -1.9 | -1.9 | -2.0 |
| Gross Emissions | 0.0 | -3.7 | -0.1 | 2.0 | -11.2 | -18.7 | -20.7 | -21.4 |
Source: Calculations from Appendix C tp Greenhouse Gas Baseline, Inventory & Projection (Mass DEP)