I frequently get asked about the relative allocation of buses on the 71/Watertown route and the 73/Waverley route. The buses pick up passengers at adjacent births and often riders on one line suspect that riders on the other are getting better service. In fact, there are more buses on the Waverley line, as a result of higher peak service demand.
To some extent, the perception of more frequent service on the other line is an optical illusion. All too often, buses get bunched up. If buses are bunched on both routes, then the service always looks better on the other route. Passengers waiting for the Waverley/73 bunch, will jealously see the Watertown/71 bunch go by and vice versa.
Bus bunching is a perennial management challenge for the T. Once one bus hits a higher than anticipated traffic delay, then it will become the bus that picks up most passengers and will get slower and slower as the boarding process becomes more and more cumbersome. Trailing empty buses will catch up. This is especially a problem on the trolley lines where one bus cannot pass another. The MBTA bus management is very aware of the problem and works hard with only limited success to control it.
The number of buses allocated to a route is a function of ridership and intended frequency of service. The intended frequency, of course, varies by time of day and the peak hours dominate the total bus trip count.
The necessary allocation is also a function of real world travel times. If buses get bogged down in traffic then they move more slowly. As a result, to create the intended frequency, more buses are necessary. The 71 and the 73 experience the same peak hour traffic delays on Mount Auburn Street in Cambridge, but the 73 may experience additional delays on Belmont Street and Trapelo Road in Belmont, especially outbound in the evening.
The charts below compare ridership to trips running on the respective branches, running inbound and outbound. So, for example, at the morning peak hour of 8AM, the average inbound passenger counts are 337 and 544 on the 71 and 73 respectively and the bus trip counts are 8 and 11 — roughly proportionate. Similarly, at the evening peak the counts are 285/500 and 6/12.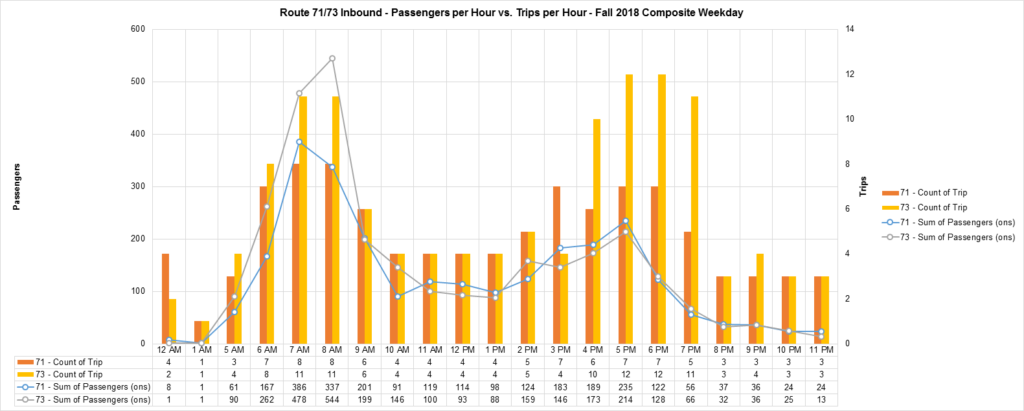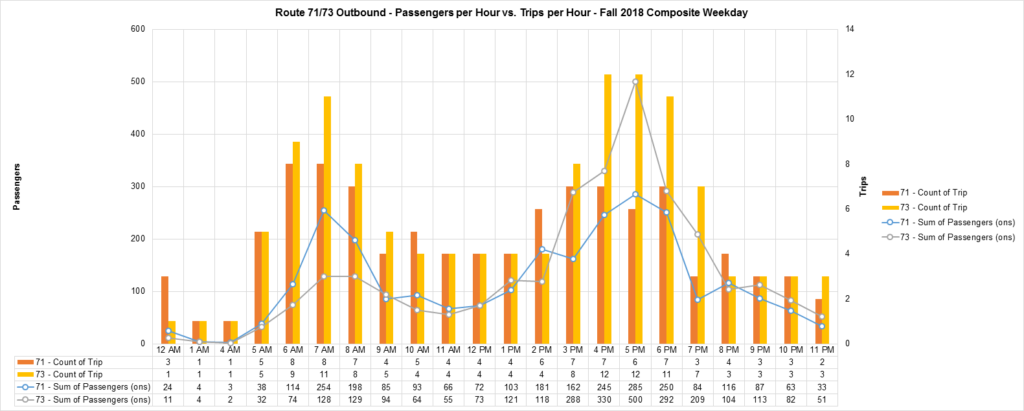 It is interesting to note that the 71/Watertown line has more ridership than the 73/Waverley in the reverse commute direction in the morning, perhaps due to Tufts and other employers. That outbound ridership benefits from the higher frequency service being provided to serve the inbound ridership and also raises Watertown's total ridership count.
The MBTA does periodically review the actual performance of each route and make appropriate load balancing adjustments. The 71 and 73 are likely to get a review soon to assess conditions after the implementation of the new bus lanes.