Listen to a video summary and discussion of this post at this link.
Overview
Until COVID-19 hit, people were driving more each year in Massachusetts. The increased travel meant more congestion.
COVID-19 reduced travel dramatically as more people worked from home and took fewer optional trips. Travel remains down roughly 29% from pre-COVID levels.
Some believe that many workers will continue to work from home, but no one can predict how many. There is no consensus on whether the shift is good thing — it depresses the real estate market and hospitality industries in downtown areas.
From a climate standpoint, the shift is clearly desirable and there is a new conversation we need to have about how and whether to encourage sustained working from home. In his congestion report in 2019, the Governor did propose a $2000 tax credit for employees to encourage working from home, but this idea attracted little interest at the time.
Some have urged that we charge people for driving to discourage driving, for example charging $0.25 per mile driven. Voters are only likely to support heavy charges on driving if we give them good alternatives to driving.
Not all voters have the option of working from home. Nor do they have the option of using public transit. Public transportation accounts for only about 3% of travel statewide.
In the last century, cheap fossil fuels encouraged sprawling suburbs. Statewide, homes and jobs are too widely dispersed and trip patterns too irregular to be well-supported by mass transit, which is only efficient when it serves many people going to the same place at the same time.
Changing land use patterns could make transit use more feasible in the very long run, but most of the buildings that are going to be here 2050 are already here.
Healthy mass transit reduces urban congestion, protects air quality and serves some who cannot afford to drive or are unable to drive. Especially if it is electrified, it can contribute to greenhouse gas reduction. But no one has proposed a scenario in which mass transit displaces a vastly larger share of statewide travel.
If many commuters need to keep driving, we are going to have to make vehicles more efficient. The consensus pathway to greater efficiency, supported by increasing investments by manufacturers, is electrification. For heavier duty vehicles we may achieve reductions through biofuels. These are the main elements of the transportation road map developed by the Executive Office of Energy and Environmental Affairs.
There are about 5 million vehicles registered in Massachusetts. To make the necessary contribution to emission reduction through electrification, we will need to sell roughly one million electric vehicles in Massachusetts by 2030. Roughly four million light duty vehicles will be sold in Massachusetts over the next decade, so we are hoping that roughly one quarter of the sales will be electric whereas today only 1% of sales are electric.
The change will not happen by itself. California is moving to mandate specific levels of electric vehicle sales by manufacturers and Massachusetts is legally able to adopt California's rules. Additional state and federal rebates may also help electric vehicle sales.
The President's infrastructure bill includes a nationwide network of vehicle charging stations. That will help give consumers confidence that they can drive electric vehicles over long distances.
We are embarking on three decades of accelerated technology change that will require sustained focus from every level of government and huge investment from the private sector. Our new legislation requires more transparency and more frequent benchmarking — we will know very quickly if we aren't doing enough.
Transportation Emissions
Road travel grew steadily in Massachusetts over the last three decades until COVID-19 hit.
Until COVID-19 hit, people were driving more each year in Massachusetts. The key metric is "vehicle miles traveled" or "VMT". VMT rose 32.7% from 1990 to 2019 in Massachusetts. VMT per capita rose 15.8% in the same period. VMT per capita rose 7%, from 2010 to 2019. By 2019, congestion was a major public policy issue.
| | | | | | | | | | |
| --- | --- | --- | --- | --- | --- | --- | --- | --- | --- |
| Massachusetts Transportation Statistics | 1990 | 1995 | 2000 | 2005 | 2010 | 2015 | 2017 | 2019 | % chg 2019/1990 |
| –Population (thousands) (1) | 6016 | 6141 | 6349 | 6453 | 6548 | 6794 | 6860 | 6893 | 14.6% |
| –Vehicle registrations (thousands) (2) | 3726 | 4502 | 5265 | 5420 | 5334 | 5070 | 5049 | 5061 | 35.8% |
| –Drives licenses (thousands) (3) | 4229 | 4211 | 4490 | 4613 | 4593 | 5041 | 4935 | 4950 | 17.0% |
| –Vehicle miles traveled (billions) (4) | 48.9 | 50.8 | 55.5 | 58.4 | 57.5 | 60.5 | 60.7 | 64.9 | 32.7% |
| –Vehicle registrations per capita | 0.6 | 0.7 | 0.8 | 0.8 | 0.8 | 0.7 | 0.7 | 0.7 | 18.6% |
| –Drivers licenses per capita | 0.7 | 0.7 | 0.7 | 0.7 | 0.7 | 0.7 | 0.7 | 0.7 | 2.2% |
| –Vehicle miles traveled per capita | 8128 | 8272 | 8742 | 9050 | 8781 | 8905 | 8849 | 9416 | 15.8% |
| US Transportation Statistics | 1990 | 1995 | 2000 | 2005 | 2010 | 2015 | 2017 | 2019 | % chg 2019/1990 |
| –Population (thousands) (1) | 252120 | 265164 | 281711 | 294994 | 309011 | 320878 | 325085 | 329065 | 30.5% |
| –Vehicle miles traveled (billions) (4) | 2144 | 2423 | 2747 | 2989 | 2968 | 3095 | 3212 | 3262 | 52.1% |
| –Vehicle miles traveled per capita | 8505 | 9137 | 9751 | 10134 | 9600 | 9647 | 9882 | 9912 | 16.5% |
As travel rose, fuel consumption also rose.
Gasoline consumption increased 13.7% from 1990 to 2019. Cars and light duty trucks got more efficient over the same period, otherwise gasoline consumption would have roughly tracked VMT. If one combines the change in fuel consumption (13.7%) times the national average change in efficiency (18.1%), one gets 34.7% — very close to the VMT increase (32.7%) shown in the previous chart.
| | | | | | | | | | |
| --- | --- | --- | --- | --- | --- | --- | --- | --- | --- |
| Massachusetts Transportation Statistics | 1990 | 1995 | 2000 | 2005 | 2010 | 2015 | 2017 | 2019 | % chg 2019/1990 |
| –Gasoline used (millions of gallons) (1) | 2339 | 2441 | 2714 | 2782 | 2734 | 2669 | 2667 | 2659 | 13.7% |
| –Diesel fuel used (millions of gallons) (2) | 267 | 317 | 408 | 423 | 398 | 442 | 438 | 453 | 69.7% |
| Emissions from mobile combustion (MMTCO2E) (3) | 30.5 | 30.1 | 33.6 | 34.9 | 30.3 | 29.5 | 30.5 | n/a | n/a (flat?) |
| U.S. Average light duty vehicle fuel efficiency (mpg) (4) | 18.8 | 19.6 | 20.0 | 20.2 | 21.5 | 22.0 | 22.3 | 22.2 | 18.1% |
Although fuel consumption rose, reported transportation emissions did not rise.
As shown in the table above, our official greenhouse gas inventory does not reflect an increase from 1990 to 2017, even though fuel burning has increased. Later model year vehicles have improved emissions control systems that do not release as much nitrous oxide. See EPA guidance for competing mobile emissions, Table B-2. Nitrous oxide is an even more potent greenhouse gas than carbon dioxide. Additionally, most gasoline sold includes 10% ethanol and most diesel fuel sold includes 5% biodiesel (mostly soy oil). We do not count carbon dioxide from burning biofuels as part of our emissions. Arguably, this carbon was recycled out of the atmosphere while the source crops were grown. See discussion in the original baseline development document from 2009 at page 12. But if we counted it, carbon dioxide emissions would be up 10.6% and total emissions (including nitrous oxide) would be up 5.8%.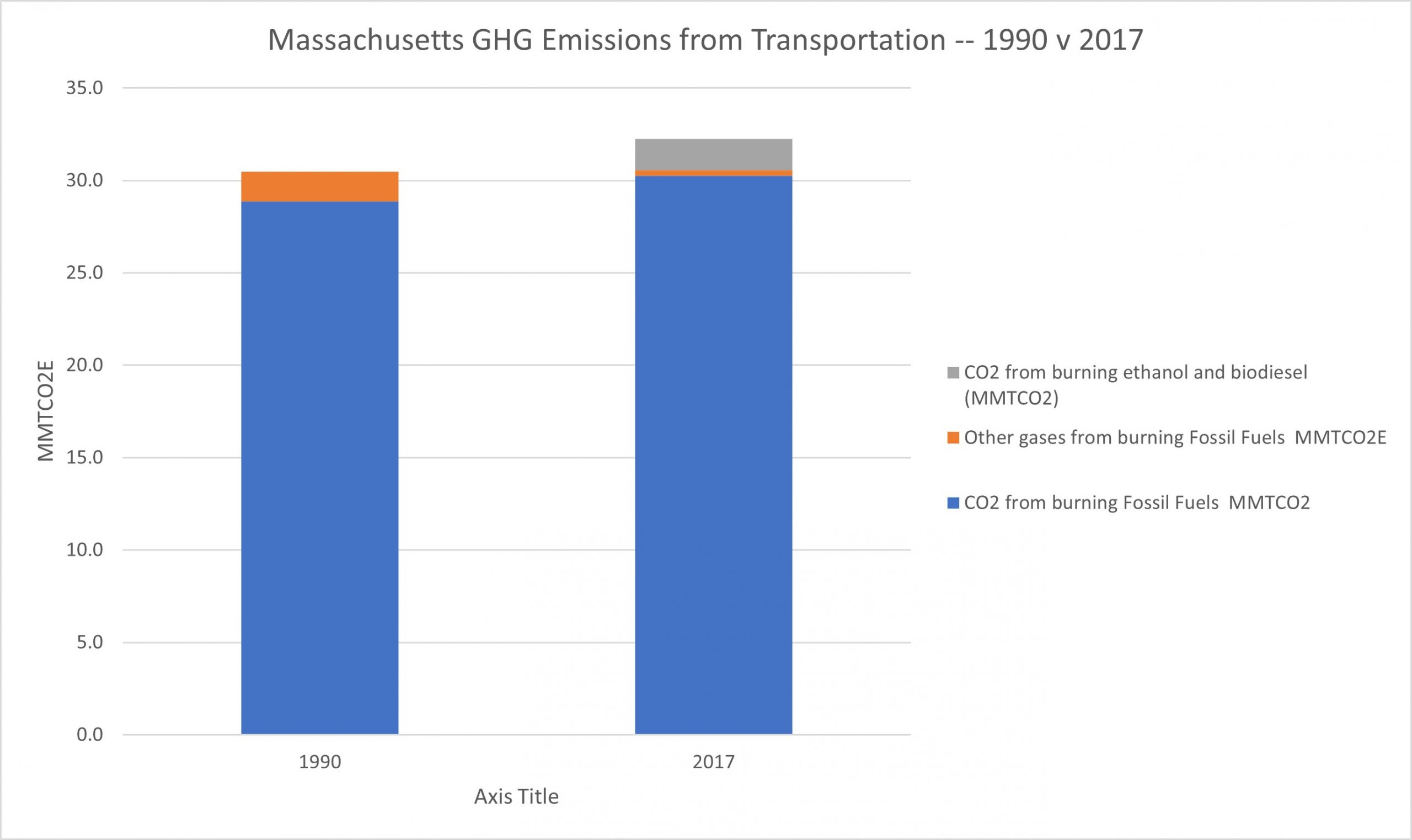 When COVID-19 hit, travel dropped dramatically.
The graphic embedded below from the MassDOT mobility dashboard shows that statewide weekday travel was down roughly 29% from pre-COVID levels one-year after the start of the pandemic. This will help us meet our surpass our 2020 greenhouse gas emissions goal, but it is not clear how long the reduction will last.
Statewide vehicle miles traveled.
Source: MassDOT mobility dashboard. Link to full screen chart. Link to static image of chart as appearing on April 3, 2021.
Inbound traffic on the MassPike inbound in Allston is down 40% at between 6AM and 10AM, indicating that the greatest drop in volume is among the commuting professionals who work office schedules. The traffic reductions are greater early and late in the morning, showing that the true rush hour is shorter.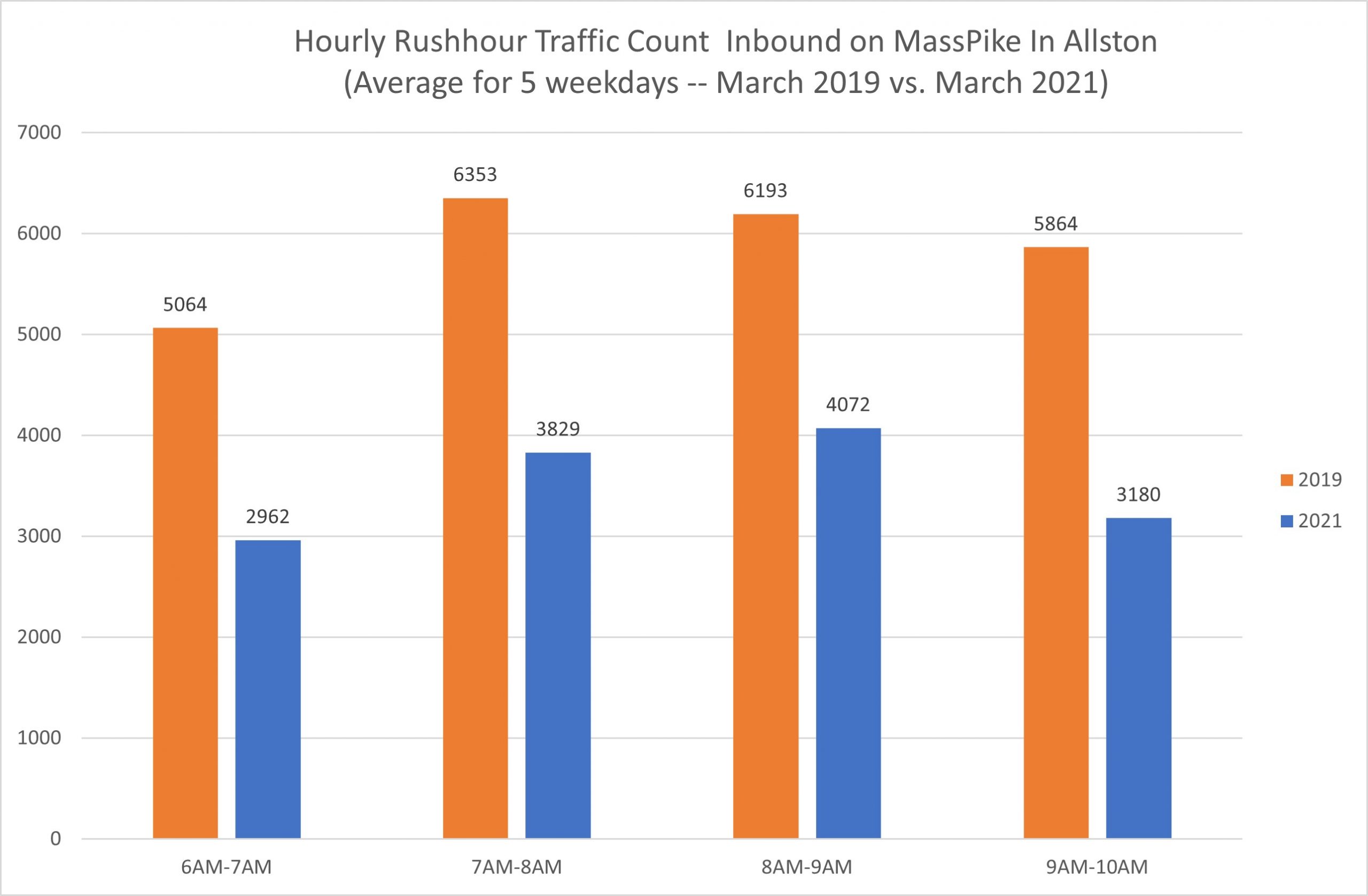 Reducing Driving — Alternative Strategies
If businesses continue to support working from home, they will help to greatly reduce emissions.
Working from home cuts travel at the most congested times of day. MassDOT proposed a tax credit for working from home in their 2019 congestion report (p. 77). By cutting travel, working from home also cuts fuel consumption and emissions.
The pandemic has started a newly serious conversation about working from home. Many employers and employees found that with the available technology, working from home has big advantages. While there is still a lot of debate and uncertainty, the emerging consensus seems to be that many workers will continue to work from home for at least some of the time.
The factors that will determine work from home rates over the coming years go deep into the structure of the workplace. It may not make sense to attempt to influence the transition through public policy. Moreover, some areas will be hurt by the shift to work from home, so a consensus on interventions may be hard to attain. The clear public policy priority is to assist those dislocated by the work from home shift — notably service workers in downtown areas.
Traditional strategies for reducing travel offer modest additional emissions reductions.
A recent study by the Metropolitan Area Planning Council compared the effects on vehicle miles traveled of different combinations of land use change and charges on drivers to discourage driving. The study does not factor in the effects of the pandemic.
Land use patterns have a big influence on travel and related emissions. Generally, people who live in urban areas drive much less than those in the suburbs or rural areas. Unfortunately, land use patterns change much too slowly to make a big difference over the 30-year time frame of our climate plan. The graphic above shows that smart growth policies could cause a 2% reduction in VMT growth over a 20 year time frame. Most of the buildings that are going to be here in 2030 or even 2050 are already here. There are 2.9 million housing units in Massachusetts and we have built an average of 152 thousand units per decade since 1990.
Costs of driving can also influence travel and related emission, but they have to be unacceptably high to make a real dent. MAPC's modeling (shown in the graphic above) indicates that an aggressive combination of tripling the gas tax, charging drivers for coming in to the city at rush hour, and additionally charging all drivers 25 cents for every mile driven would be required to cut driving 10 or 20% instead of merely blunting increases. The voters recently rejected a very modest increase in the gas tax.
Given that many workers now have the option to work from home, new research might show that driver charges could change commuting patterns more dramatically. But the increased costs would fall heavily on those unable to work from home, who are also likely to be lower paid workers.
Mode shifts to mass transit, biking and walking offer modest additional emissions reductions.
Choosing to travel with others, whether in a shared ride or in mass transit, always saves emissions. Biking and walking eliminate emissions. Healthy mass transit is critical to controlling urban congestion, especially at rush hour.. If it is well loaded, it can make a contribution to greenhouse gas emissions reduction. If it is electrified, it can contribute to air quality improvements. Those living in dense urban areas have a viable option of living car-free and some have no choice but to depend on transit.
However, from a statewide perspective, driving accounts for most of the passenger-miles traveled.
| | |
| --- | --- |
| Massachusetts Statewide Travel Estimates | |
| Annual passenger miles traveled by automobile | > 44 Billion |
| Annual passenger miles traveled by public transit | ~ 2 Billion |
| Bike/Walk miles traveled — not known | << 1 Billion? |
For additional discussion, see Transit Energy Efficiency
No one has developed a planning scenario in which alternative modes displace a vastly larger share of vehicle-miles-traveled statewide. In the last century, cheap fossil fuels encouraged the build out of sprawling suburbs. Our homes and jobs are too widely dispersed and our trip patterns too irregular to be replaced by mass transit which is only efficient when it serves many people going to the same place at the same time; lightly loaded mass transit vehicles are not energy-efficient.
Only through widespread adoption of electric vehicles can we reach 'net zero'.
Widespread working from home could take us a long way towards our 2030 goal of a 33% cut from current emissions level (50% from 1990). But we have to shift to zero emission vehicles to reach our 2050 goal of zero net emissions and we likely need to start the shift now, even to achieve our 2030 goals.
That conclusion flows from the limits of available alternative strategies as outlined above. It is confirmed by the much more sophisticated analysis that our Executive Office of Environmental Affairs did in developing their transportation road map. Even for the 2030 goal, EoEEAs analysis concludes that widespread vehicle electrification is the central strategy.
| | |
| --- | --- |
| 2030 Emissions Strategy Element | GHG Emissions Reduction by 2030 |
| Electrify 750,000+ light duty vehicles | 5.1 – 5.4 MMTC02E |
| Biofuel and electrification for heavy duty vehicles | 1.8 MMTCO2E |
| Reduce travel through smart growth and incentives | 0.8 MMTCO2E |
| Other investments in clean transportation | 0.1 MMTCO2E |
| Total Emissions Reduction in Transportation Sector | 7.8 – 8.1 MMTCO2E |
Derived from Table 3 in EoEEA Clean Energy and Climate Plan for 2030.
The shift to electric vehicles will need to accelerate from current trends.
EoEEA's plan contemplated a 45% reduction from 1990 levels by 2030 where as the new statutory goal is a 50% reduction. The deeper statutory goal will require a higher number of zero emission vehicles. Depending whether working from home offers sustained emission reductions, perhaps 1 million or more out of the approximately 5 million vehicles on the road will need to be ZEVs.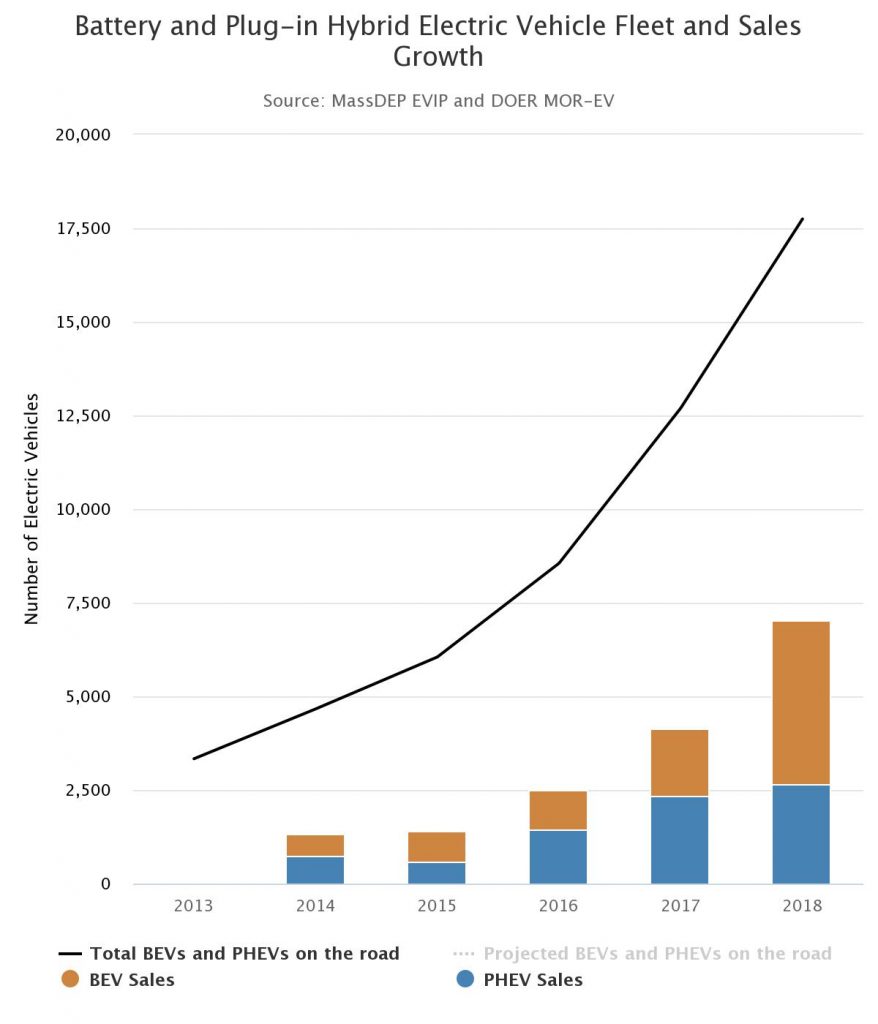 The graphic above shows that the current volume of electric vehicle sales is a tiny fraction of what it will need to be to achieve our emissions goals. Three or four million light duty vehicles will be sold in Massachusetts over the next decade. (Estimate here.) So, we are hoping that more than one quarter of the sales over the coming decade will be electric. One quarter of sales being electric over the whole decade is consistent with half of sales being electric in the final year of the decade. Currently sales are one or two percent electric. The Deloitte projection below would put sales through the decade at about half the level we need. Other analysts are more optimistic. For more discussion of trends, see the Governor's Commission on the Future of Transportation report, Volume II. See also the transportation sector technical report accompanying EoEEA's decarbonization roadmap (page 11). A National Academy of Sciences report suggests a positive scientific consensus as to the feasibility of zero emission vehicles (battery electric and also fuel cell vehicles).
We are heavily dependent on the creativity of the auto manufacturers, but there are three major ways that we can increase sales.
Regulatory mandate on auto manufacturers: California is moving to require specific levels of electric vehicle sales by manufacturers and Massachusetts is legally able to adopt California's rules.
Incentives to purchase new electric vehicles. The state already provides rebates up to $2500, but combined state and federal incentives could increase. Some believe that EV's will reach cost parity with ICE vehicles soon.
Infrastructure support for electric vehicles to complement private investment: The big news is the President's announcement of a proposed infrastructure bill that will include building out a network of vehicle charging stations. That will help alleviate consumer concern about running out of battery range.
Even with the hoped for rapid adoption of electric vehicles through 2030, transportation will still be lagging other sectors in decarbonization (according to EoEEA projections).
As noted above transportation emissions have been unchanged over the past three decades (pre-COVID). Arguably, they have risen, depending on how one does the emissions accounting. As other sectors have made progress, transportation has become a larger share of emissions, going from 32% in 1990 to 42% in 2017 to a projected 45% in 2030 in EoEEA's plan for achieving a 45% reduction by 2030 (not as deep as the 50% now required by statute). Transportation would only account for 35% of the reduction from 2017 to 2030.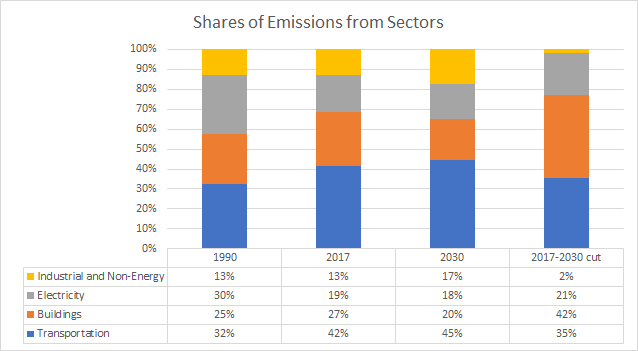 Looking that the analysis another way, EoEEA is projecting deeper 2030 reductions in the building and electricity sectors than in the transportation sector. EoEEA's strategy analysis weighed a range of economic factors in striking this balance, and one may read the chosen balance as a finding about the relative difficulty of each cut. Cutting building emissions by 48% is comparable in difficulty to cutting transportation emissions by 26%. Cutting electricity emissions by 34% (while increasing output) is comparable in difficulty to cutting transportation emissions by 26%.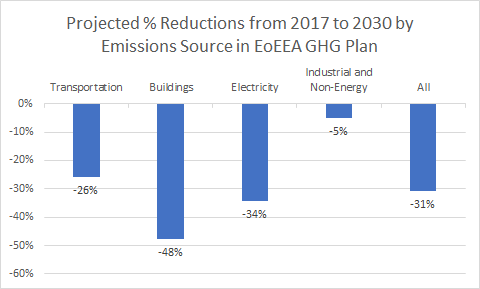 The focus on electric vehicles raises an equity issue.
To the extent that electric vehicles remain expensive compared to other cars, public support for them (in the form of subsidies for vehicle purchase or for charging systems) arguably benefits more affluent people. This is not an argument against support for electric vehicles. Emissions reductions benefit everyone. But we need to make sure that our portfolio of investments also includes measures that benefit lower income communities, for example electrification of highly polluting buses, or maybe electrified , autonomous vehicles that provide mobility as a public service.
The key assumption is that electric vehicles will draw their charge from renewable power.
The transition to renewables for electric power generation is the foundation for the larger strategy. The grid transition is made more difficult by the expanded demand projected from both electric vehicles and electric heat pumps. More on that transition in a future piece. Electric vehicles are not the only possible zero emission vehicles, but they are getting most of the industry attention and investment.
Highlights from Comments
A number of people have made good points in response to this piece. Please see further below. I want to respond on a couple of themes.
Working from home
Chris Dempsey of T4MA makes the point that working from home may not actually reduce vehicle miles traveled in the long run. (Mike Small also makes this point.) It all depends on how other travel changes and on how residency patterns change. Even if people are commuting less, they may drive more for other purposes. Telecommuting is most likely to increase total VMT if people move out to less dense areas where they need to travel further for necessities, but may decrease VMT if people maintain their residence while changing commuting patterns. All of that agreed, one thing is clear: working from reduces congestion at rush hour and so reduces the pressure to find new solutions for rush hour traffic.
Fuel Efficiency
While wide conversion to battery electric vehicles appears to be necessary even for 2030 goals, it does make sense to encourage any vehicle that is much more efficient than the current fleet in the medium term. Plug-in hybrids are included in the state's rebate program.
We will probably want to limit our use of subsidies to electric vehicles, so our other main tool is regulatory efficiency standards. Fleet fuel efficiency standards have made a big difference, and there is some room for improvement in internal combustion engines, but Massachusetts cannot create its fleet own efficiency standards. Fleet fuel efficiency standards are governed by a combination federal law and more stringent California laws (which Massachusetts can elect to enforce). The state appears fully committed to continuing to embrace strong California standards. See Clean Energy and Climate Plan at page 21.
It does seem clear that (a) deep reductions require movement away from internal combustion engines — the remaining efficiency gains available from design improvements to internal combustion engines are limited (see NAS video at 15:00); (b) battery electric vehicles are the main alternative that industry is investing in — hydrogen fuel cell vehicles would require a completely new fuel delivery structure and are receiving less attention than battery vehicles: we may not have a lot of charging station, but we do have an electric grid to support them.
Significant cost of subsidy
As Bill Green points out: A $2500 rebate for each of 1 million vehicles adds up $2.5 billion over ten years. Many project that EVs will become more competitive in upfront cost and that subsides will become less necessary to encourage adoption — the key variable is the cost of battery storage. Certainly, if subsidies remain necessary at a large scale, we need to think about targeting subsidies by buyer income and also likely by vehicle use.
Autonomous vehicles
Dean Murphy, by email, shared several links about autonomous vehicles: Forbes, ScienceDirect, SemiconductorEngineering, McKinsey. "Autonomous, Connected Electric Shared (ACES)" vehicles, like Uber but without drivers, may play a big role in future transportation. ACES vehicles could accelerate the transition to battery electric vehicles since people would not have to invest in their own new vehicles.
ACES vehicles will likely play the biggest roles in dense areas — that is certainly the pattern with Uber and Lyft today. As much as they changed downtown night life, the TNC companies accounted for only 91.1 million trips (1.2%) out of 7.1 billion stateside passenger trips in 2019. The trips were relatively short at 4.1 miles, so that loaded TNC trips accounted for only 0.5% of vehicle miles traveled statewide in 2019.
Single occupancy shared vehicles do not necessarily reduce VMT: Uber and Lyft have been perceived as increasing congestion unless occupied by more than one person at a time.