Below, please find information from the MBTA about November and December Red Line Changes. Note that there will be no diversion during Thanksgiving weekend (November 29th – December 1st).
==============================================================
As part of the Capital Acceleration Plan, previously planned Red Line work has been expedited to bring you a safer, more reliable MBTA experience.
Shuttles will replace Red Line service on weekends in November and December 2019. Service shutdowns will help us complete work along the Red Line faster—11 months earlier than planned. We are also working on some weeknights and weekends through December 2019 to keep the tracks in good repair and support new vehicles coming into service.
Weekends, November 15 – December 15, 2019
Shuttles start Fridays at 8:45 PM. Normal service resumes Monday mornings. There will be no Red Line service between Kendall/MIT and Broadway. During these closures, Red Line fares are waived. Fares will not be collected on shuttle buses. The will be no diversion in effect on Thanksgiving weekend, Nov 29th-Dec 1st.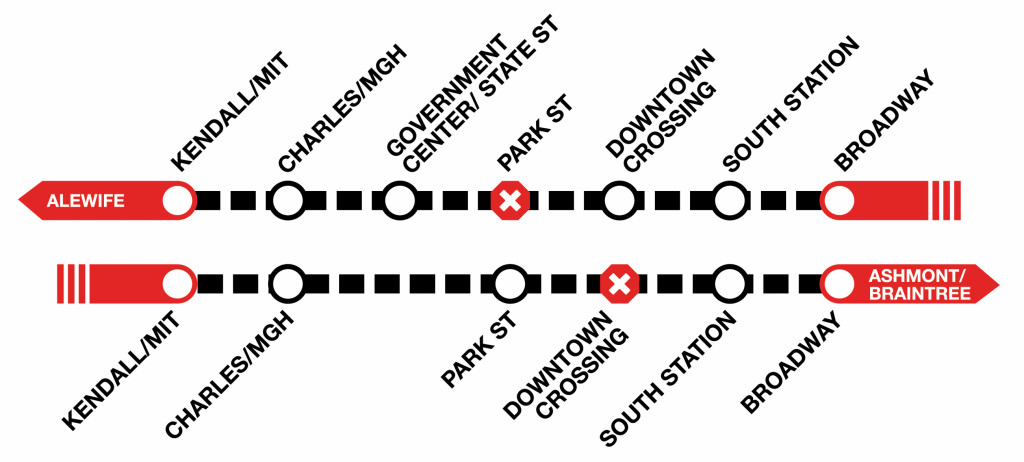 Shuttle Accessibility
Shuttles are accessible to people with disabilities. Some bus shuttles may be provided by third-party contractors and will look different than MBTA buses. Some may provide accessibility via a lift in the back rather than a ramp in front.
Shuttle buses will be provided between Kendall/MIT and Broadway. Due to one-way traffic patterns:
For shuttle service toward Alewife, there is no shuttle stop at Park Street
For shuttle service toward Ashmont/Braintree, there is no shuttle stop at Downtown Crossing