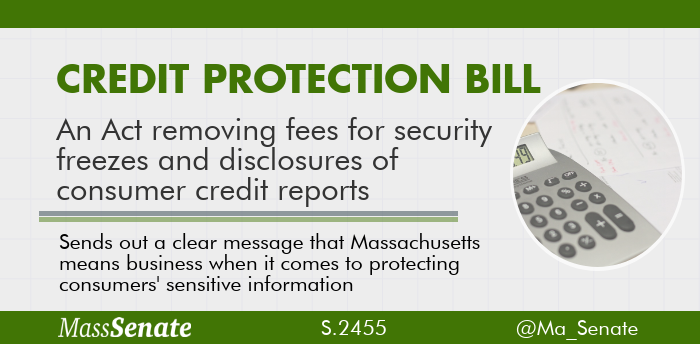 The big three credit agencies – Equifax, Experian, TransUnion — have figured out that they can make money on the problems that they create for us. We are trying to fight back with legislation.
I am embarrassed to confess that I personally fell victim to one of their common tricks.
After Equifax lost personal data on millions of consumers last fall, my wife and I decided to freeze our credit so that no one could take out loans using our identities. Get consumer information on how to freeze your credit here.
To freeze our credit, we had to visit the websites of each of the big three and, ironically, to pay a fee. Legislation to prohibit freeze fees is moving through the legislature – currently, we limit the maximum fee to $5.
Here's the trick: Since so many states have limited or prohibited the charging of fees for a freeze, the big three have come up with a whole lot of other ways to charge consumers.
In our case, about six months after we froze our credit, we realized that there were current charges from Experian on our credit card bill. Going back through our bills, we realized that Experian had not only charged us for the freeze but continued to charge us $21.95 per month.
I got on the phone with Experian to ask about the charges and waited almost an hour listening to their pitches for additional services. While I was waiting, hacked around the Experian website looking for some explanation of the charges – I could not find any.
It dawned on me that it is also nearly impossible to find any reference to a credit freeze on the Experian site (unless you google directly to the freeze page). What they do offer is a credit "lock" for which they charge a fee. In the bold type, the "lock" costs $4.99, but in the fine print it is a monthly charge. See consumer reports to understand the subtle difference and why, apart from the fact that a freeze is cheaper, you actually want a freeze.
Continuing to wait on hold, I finally found a web page explaining the $21.95 charge captioned "BEWARE OF EXPERIAN CREDIT SCORE CHECK SCAM!". Apparently, we had clicked to view our credit reports and signed up for a monthly charge buried in the fine print.
When I finally got someone on the phone and asked for my money back, they would only give one month of the charge back, so we are out over $100 for absolutely nothing in return. Experian acknowledged that we had never logged in to access the additional credit information that they were supposedly providing us.
The person on the other end of the line was pleasant enough. She acknowledged that 30% of the calls she gets are along the same lines as my own.
As embarrassed and disappointed as I was, it was fortunate that I had the experience when I did, because it helped me understand a common problem. Yesterday, I was able to add language into our credit freeze legislation to require that the agencies disclose the availability of a free credit freeze whenever they offer anything like a "lock".
A consumer reporting agency shall not offer a paid product which seeks to protect a consumer from a security breach or restrict access to information about a consumer unless it has notified the consumer of the availability of a security freeze at no charge and how to obtain a security freeze
On the floor of the Senate, while we were debating the freeze legislation, I received an email from Experian with the title "Good news, William: You can get CreditLock for just $4.99". Hopefully we'll put some boundaries on that soon.
---
More about the freeze bill in this press release from the Senate:
SENATE PASSES CREDIT PROTECTION BILL TO PROTECT CONSUMERS IN THE WAKE OF EQUIFAX BREACH

Bill creates stronger protections against identity theft and data breaches for all consumers in the Commonwealth

BOSTON — The Massachusetts State Senate voted on Thursday to pass a bill designed to protect the personal information of consumers in the case of data breaches, like the one seen at Equifax, and provide free credit freezes for all consumers.

The bill, S.2455, An Act relative to consumer protection from security breaches, was sponsored by State Senator Barbara L'Italien (D-Andover), senate chair of the consumer protection committee, and crafted in collaboration with Representative Jennifer Benson (the House sponsor of the bill), Attorney General Maura Healey, the Massachusetts Public Interest Research Group (MASSPIRG), and AARP Massachusetts.

The bill helps all consumers protect their sensitive information before, during, and after a security breach in several ways: providing for free credit freezes for all consumers and creating an online "one stop shop" portal so that consumers can freeze & unfreeze their credit at all 3 main bureaus (Equifax, Experian, and TransUnion) in one place; providing 5 years of free credit monitoring for consumers whose information was part of a credit reporting agency data breach, and empowering consumers to know when and why their consumer reports are being pulled by requiring that any company attempting to pull a consumer's report must first obtain consent.

"We all have been affected by the Equifax breach and it feels like a massive betrayal. Millions of Americans don't know who might now have access to their personal information and what they might do with it. Equifax must accept responsibility and compensate consumers for its lack of security, and all credit reporting agencies and companies must take swift action to prevent future breaches," said bill sponsor and Senate Chair of the Committee on Consumer Protection and Professional Licensure Barbara L'Italien. "Today we took the next step toward action to fix this situation. I'm so proud of our collaboration on a bill that sends out a clear message that Massachusetts is serious when it comes to protecting consumers, especially seniors, low-income residents, and other vulnerable populations who are hit the hardest by situations like these."

The legislation allows increased oversight from Attorney General Maura Healey's office, which recently filed a lawsuit against Equifax. The Office of Consumer Affairs and Business Regulation will create a process requiring companies to certify that they maintain a consumer information security program as required by existing Massachusetts law.

"Equifax allowed the theft of our personal financial information, and then hid the breach from the public," said Attorney General Maura Healey. "This bill would require companies like Equifax to pay for credit monitoring and makes it much easier for people to protect themselves from identify theft. I'm proud to partner with Sen. L'Italien and Rep. Benson to get this bill passed."

"Credit reporting agencies should be working for the American consumer. But recent data breaches and security leaks have demonstrated a repeated failure in due diligence," said Senate President Harriette L. Chandler (D-Worcester). "This bill gives individuals more control over their personal data, and will provide essential consumer protections for Massachusetts residents. This legislation will serve as a model for other states, and I commend Senator L'Italien for her leadership on this issue."

"Consumers deserve to have the peace of mind that their data will not be compromised," said Senate Committee on Ways and Means Chair Senator Karen E. Spilka (D-Ashland). "This bill makes it easier for consumers to protect their own personal information and offers resources in the case of future data breaches, while also holding consumer reporting agencies responsible for credit security."

"I'm proud to have worked with Chairman Chan and all of the House cosponsors to pass a credit freeze bill in the House last February," said Representative Jennifer Benson (D-Lunenburg). "I filed this legislation with Senator L'Italien, and then we worked together with the Attorney General and advocates to strengthen it following the Equifax breach. Now that the Senate has passed their bill, I look forward to the conference committee producing a strong compromise bill that will protect consumers of credit in Massachusetts."

Representative Benson's similar legislation has already passed in the House.
---
Update, July 26, 2018
An Act relative to consumer protection from security breaches has been reported out of conference committee, enacted by both houses, and laid before the governor. Language has been included which says that "A consumer reporting agency shall not knowingly offer a paid product to prevent unauthorized access or restrict access to a consumer's credit unless at the time of transaction the consumer reporting agency: (i) notifies the consumer of the availability of obtaining a security freeze without charge and (ii) provides information to the consumer on how to obtain a security freeze." This will have the effect of preventing you from being required to pay a charge to get a security freeze in the future.
–Aja Watkins, Legislative Aide for Senator Brownsberger