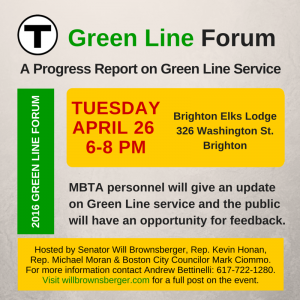 MBTA General Manager Frank DePaola will be coming to the Brighton Elks Lodge on Tuesday, April 26 from 6-8PM to present a status report on Green Line service. GM DePaolo will be joined by William McClellan, Assistant General Manager of Rail Operations, and Trish Foley, Legislative Liaison for the MBTA.
This forum continues efforts by legislators and officials over the last few years to bring MBTA personnel and the public together to share information and give feedback on progress to improve Green Line service. The evening is hosted by Senator Will Brownsberger, Representatives Kevin Honan and Michael Moran, and Boston City Councilor Mark Ciommo.
This is a chance for the public to understand where things are headed and to raise issues, ask questions, and get answers.
Directions to the Brighton Elks Lodge can be found here. You can enter at 326 Washington Street or through the back entrance from the rear parking which is reached by car from around the corner on Winship Street.
For more information please contact Andrew Bettinelli at andrew.bettinelli@masenate.gov or 617-722-1280.
You can find previous posts related to the Green Line here.