My first post on  "net neutrality"  asked some questions.  It appears here.  Many people offered helpful thoughts and resources which have moved me along.  This post is about trying to nail down some basics and extracting key findings from the FCC's two rulings on "net neutrality".  A third post will follow which will define my position on the question before the legislature — state law to assure "net neutrality".  I'd really appreciate your further feedback at each stage.
Guiding Vision
Freedom of speech on the internet is a core value that we want to defend.  The internet has enabled an explosion of communication, information sharing and business innovation that is of immense human value.  The internet — revealed by search engines — has given us all much better access to information and has allowed many new voices to emerge and that is a good thing.  We never want to go back to the last century in which information flow was much more restricted.
Rules for the Conversation
I'm going to try to follow several rules in thinking about this issue and ask that commenters do the same:
Let's not reason based on political affiliation. "Net neutrality" is something that Obama's FCC embraced and Trump's FCC has rejected.  That gives me one good gut reason to like "net neutrality", but I'm going to try to put that aside.
Let's not reason based on labels.  "Net neutrality" absolutely sounds good, but we have to get beyond the packaging and make sure we understand the reality.
Let's not reason based on analogies and metaphors.   Let's not say things like "the internet is a highway" and without "net neutrality", there will be "fast lanes and slow lanes."  The internet is not a highway, it does not have lanes and data packets are not cars.  Nor is it a set of pipes or a public utility (although it has immense public value).  When we say something is like something else, that is really an expression of how we feel about it, not an explanation.
Let's try not to oversimplify.  This subject is maddeningly complicated and one wants to jump to a conclusion just so one can stop thinking about it.
Please call me on it when you think I'm not following these rules.
Basics:  What is the internet?
To help avoid thought errors due to bad analogies, we have to try to bear in mind what the internet is.  Here is a collection of basic concepts:
Computers save data in files.  Data in files can represent texts, data tables, images, sound recordings, video clips, etc.
A computer network is a collection of computers linked so that they can share files and other resources.   There are local area networks within homes and businesses.  Some businesses with multiple locations have wide area networks.   Links can be wired (copper or optical) or wireless.
The internet is a collection of computers or computer networks communicating with each other  across organizational ownership boundaries.
There are billions of computers now communicating on the internet.  Note that computers include not only desktops, laptops and smart phones, but all kinds of smaller devices — thermostats, smart watches, etc.
Communication between computers requires that the computers follow established protocols.  On the internet, these protocols have been established through an open, collaborative, international process involving both independent and business-affiliated engineers.
On the internet, files are broken into standard sized packets of data, transmitted and reassembled at the receiving destination.
Data packets are not sent directly from origin to destination.  Instead data packets are routed through connected nodes — computers that route data.  The image above displays the internet topology of connected nodes.  See also this actual map of the major nodes.  You can see the node hops that packets take from any website to your home computer by running a traceroute.  For example, from my home computer to willbrownsberger.com, data packets go through the following nodes (each one of which is actually not just one computer, but a network of computers):


1 wireless_broadband_router [the router in my office owned by me]
2 lo0-100.bstnma-vfttp-326.verizon-gni.net (71.248.161.1) [Verizon]
3 b3326.bstnma-lcr-22.verizon-gni.net (100.41.136.68) [Verizon]
4 * * * [node won't self identify]
5 * * * [node won't self identify]
6 0.ae5.br1.nyc1.alter.net (140.222.228.107) [ AlterNet acquired by Verizon]
7 ae13.cr0-nyc2.ip4.gtt.net (173.205.47.145) [GTT, international internet company]
8 xe-8-2-2.cr0-nyc4.ip4.gtt.net (89.149.181.190) [GTT, international internet company]
9 cloudflare-gw.cr0-nyc4.ip4.gtt.net (69.174.23.54) [Cloudflare server housed at GTT]
10 104.25.146.119 (104.25.146.119) [Cloudflare server]

The Internet Protocol governs the routing of packets from node to node.  Your home modem has an IP address.  Each website has an IP address.  IP addresses are unique numbers defined by international convention.  Each packet that a node receives includes the IP address which defines its ultimate destination.   The routing of packets across nodes can vary according to congestion or network outages and depends on nodes maintaining information about the status and connection structure of the network.  Routing is complicated!
Communications protocols are conceptualized in layers.  The link layer protocol governs the communications between two connected computers.  One service provided by the link layer is flow control, throttling so that a fast sender does not overwhelm a slower receiver.  Flow control is also provided by the transport layer which runs on the origin and destination computers.
Who owns the internet?
No one.  It is not a public utility that is governed by a single board, but rather a collaborative project among multiple kinds of entities that has taken 50 years to evolve.   Here are the kinds of entities comprising the internet, arrayed in order that a packet might traverse from you to this website:
Connected device: The desktop or lap top or cell phone that you own or rent.
Perhaps a local router: If you are at home, this probably sits on your desk and has the label of your ISP on it.
Internet Service Provider (ISP):  The company which connects directly to your device or home router. ISPs connecting to homes in Massachusetts include Verizon, Comcast and RCN.  Cell phone providers also function as ISPs.  In the old days, you would connect to your ISP over your phone line and the ISP would connect you on to the internet.  Over the past couple of decades, the ISP market has consolidated dramatically as phone and cable companies have started offering broadband Internet Access Services (BIAS) and have become ISPs.  ISP/BIAS consolidation has progressed further due to cable company consolidation and wireless provider consolidation.  Nationwide in 2013, 6 companies had almost three quarters of the ISP market and consolidation continues.
Backbone:  The companies that own nodes and connections that route packets of data to and from ISPs.  These can be referred to as Internet Backbone Providers, IBPs.  Any traveling packet might cross nodes owned by multiple IBPs. I have annotated the traceroute output above to show that packets going from my home to my website run through several different Verizon nodes, a couple of unidentified nodes and a couple of GTT nodes before reaching Cloudflare.  The connections between IBPs are governed by interconnection agreements.  These agreements can take different forms.  Some of the agreements are settlement free — no money is exchanged and both networks make money from their own customers (which would mostly be ISPs) and benefit from the interconnection.  In others, one network pays the other for access or transit privileges.
ISP or CDN:

ISP:  A website needs an ISP to connect to Internet Backbone Provider.  A website could have essentially the same relationship to the internet that you do — it buys access through an ISP.
Content Delivery Network:  Alternatively, many websites now connect to end users via a content delivery network.  A CDN distributes copies of frequently accessed website pages or page components to multiple servers located within IBP data centers or even directly within ISP data centers.  That means that data packets composing a webpage go through fewer hops to get to the end user.  A CDN offers security and reliability benefits as well as speed.  My website uses Cloudflare CDN.  The CDN needs to have an agreement with the IBP or ISP and likely pays them.  Some major content providers like Google have their own CDN.

Hosting company or corporate server:  Ultimately, there is a computer someplace that stores/creates the primary image of a web page or other kind of content (e.g., video).  That could even be a home computer, but most likely it is a corporate data center or a hosting company.  A hosting company has racks of computers that it rents to smaller websites like this one and typically has its own relationship with one or more ISPs.  My website runs at InmotionHosting.
Note on citation form:
All citations below to the
FCC's net neutrality 2015 ruling
, are in the following form: FCC2015-xx where xx is the paragraph number. Citations to the the
FCC's 2017 ruling
reversing the 2015 ruling are in the following form: FCC2017-xx.
Regulating the Internet — the 2015 FCC Ruling
So, what did the FCC's 2015 net neutrality ruling actually do?   First, the FCC created some bright line rules applicable to broadband ISPs in their role connecting with consumers:
No blocking: . . . A person engaged in the provision of broadband Internet access service, insofar as such person is so engaged, shall not block lawful content, applications, services, [in other words, any lawful traffic] or non-harmful devices, subject to reasonable network management.

No throttling: . . . A person engaged in the provision of broadband Internet access service, insofar as such person is so engaged, shall not impair or degrade lawful Internet traffic on the basis of Internet content, application, or service, or use of a non-harmful device,

subject to reasonable network management.

No paid prioritization: . . . A person engaged in the provision of broadband Internet access service, insofar as such person is so engaged shall not engage in paid prioritization. "Paid prioritization" refers to the management of a broadband provider's network to directly or indirectly favor some traffic over other traffic, including through use of techniques such as traffic shaping, prioritization, resource reservation, or other forms of preferential traffic management, either (a) in exchange for consideration (monetary or otherwise) from a third party, or (b) to benefit an affiliated entity.  . . .  The Commission may waive the ban on paid prioritization only if the petitioner demonstrates that the practice would provide some significant public interest benefit and would not harm the open nature of the Internet.

FCC2015-15-18 (emphasis added).  In addition to these bright line rules, it added a general statement that:
Any person engaged in the provision of broadband Internet access service, insofar as such person is so engaged, shall not unreasonably interfere with or unreasonably disadvantage (i) end users' ability to select, access, and use broadband Internet access service or the lawful Internet content, applications, services, or devices of their choice, or (ii) edge providers' ability to make lawful content, applications, services, or devices available to end users. Reasonable network management shall not be considered a violation of this rule.
FCC2015-21 (emphasis added).  Finally, the Commission continued in effect a transparency principle essentially to cover the notable loophole for "network management" that appears in the blocking, throttling and reasonability rules:
A person engaged in the provision of broadband Internet access service shall publicly disclose accurate information regarding the network management practices, performance, and commercial terms of its broadband Internet access services sufficient for consumers to make informed choices regarding use of such services and for content, application, service, and device providers to develop, market, and maintain Internet offerings.
FCC2015-23.  The ruling was limited in scope to the Broadband Internet Access Service Providers, both mobile and fixed, as they face consumers.  It defined BIAS as:
A mass-market retail service by wire or radio that provides the capability to transmit data to and receive data from all or substantially all Internet endpoints, including any capabilities that are incidental to and enable the operation of the communications service, but excluding dial-up Internet access service. This term also encompasses any service that the Commission finds to be providing a functional equivalent of the service described in the previous sentence, or that is used to evade the protections set forth in this Part.
FCC2015-25.
The 2015 rules do not apply to the internet backbone providers (IBPs) or to content delivery networks (CDNs) that bypass the IBPs.  The 2015 rules reaffirm the FCCs conclusion in 2000 that it should not regulate the internet backbone —  that competition among IBPs, moderated by antitrust laws, would suffice to preserve an open access to the backbone for ISPs and their customers.    It is worth noting that physical telecommunications lines may be owned separately from the IBPs transmitting data over those lines.  The physical telecommunications lines themselves also carry voice and other signals and are regulated as common carriers.
Further, the ruling does not govern the interconnection agreements between the BIAS/ISPs and (i) the IBPs; (ii) the CDNs; or (iii) huge content providers like Google and Netflix that may connect directly to the BIAS/ISPs.   While the ruling asserts jurisdiction over these interconnections and the authority to hear disputes, it does not put in place rules.  Essentially, the FCC acknowledges that interconnection practices are changing too fast to understand or regulate at this time. FCC2015-30.  More on this further below.
As to the "network management" exceptions in the rules, the FCC attempts to draw a distinction between technical and business decisions
A network management practice is a practice that has a primarily technical network management justification, but does not include other business practices. A network management practice is reasonable if it is primarily used for and tailored to achieving a legitimate network management purpose, taking into account the particular network architecture and technology of the broadband Internet access service.
FCC2015-32.  Especially in the mobile context, where capacity is still scarce, there are some gray areas.  Is it a technical decision or a business decision if Verizon throttles super-heavy video users?   On the one hand, it is failing to provide the users the unlimited capacity it promised, but on the other hand it is protecting other users from degraded service.
The legal foundation for the FCC's new rules is a classification of BIAS/ISPs as common carriers subject to Title II of the Telecommunications Act of 1934.  So reclassifying the BIAS/ISPs gives the FCC authority to apply a host of regulations, extending even to pricing.  However, in the 2015 ruling, the FCC exerted "forbearance" and introduced only the relatively limited  "net neutrality" rules, relying on sections 201, 202 and 208 of Title II.  Additionally, the FCC applies rules related to privacy, disabilities access and infrastructure access.
The Broadband market as the 2015 FTC understood it
The fundamental motivation of the 2015 FCC's net neutrality ruling was the perceived power of broadband providers:
[B]roadband providers are in a position to act as a "gatekeeper " between end users' access to edge providers' applications, services, and devices and reciprocally for edge [content and service] providers' access to end users. Broadband providers can exploit this role by acting in ways that may harm the open Internet , such as preferring their own or affiliated content, demanding fees from edge providers, or placing technical barriers to reaching end users.
 . . . The broadband provider's position as gatekeeper is strengthened by the high switching costs consumers face when seeking a new service. Among the costs that consumers may experience are: high upfront device installation fees; long-term contracts and early termination fees; the activation fee when changing service providers; and compatibility costs of owned equipment not working with the new service.
 . . . [C]onsumers are unsure about the causes of problems or limitations with their services — for example, whether a slow speed on an application is caused by the broadband provider or the edge provider — and as such consumers may not feel that switching providers will resolve their Internet access issues.
FCC2015-80-81.  Broadband providers have the technical ability to preference traffic from particular sources.  FCC2015-85.  We should assume that they will use that power to their commercial benefit.  They are most likely to disadvantage traffic that directly competes with services that they provide themselves. For example, cable providers who also produce and distribute content have incentives to throttle Netflix.  Mobile providers have incentive to block internet calling services like Skype and Facetime.  FCC2015-96.
The Backbone market and interconnections as the 2015 FTC understood them
As noted above, while requiring neutrality on the last mile, the FCC chose not to require neutrality the connections between the broadband providers and the backbone, making the following observations about the state of the market.
Internet traffic exchange is typically based on commercial negotiations. Changes in consumer behavior, traffic volume, and traffic composition have resulted in new business models for interconnection. Since broadband Internet access service providers cannot, on their own, connect to every end point on the Internet in order to provide full Internet access to their customers, they historically paid third-party backbone service providers for transit. Backbone service providers interconnected upstream until traffic reached Tier 1 backbone service providers, which peered with each other and thereby provided their customer networks with access to the full Internet.  In this hierarchical arrangement of networks, broadband Internet access providers negotiated with backbone service providers; broadband Internet access providers generally did not negotiate with edge providers to gain access to content.  However, in recent years, new business models of Internet traffic exchange have emerged, premised on changes in traffic flows and in broadband Internet access provider networks.  A number of factors drive these trends in Internet traffic exchange. 
Critically, the growth of online streaming video services has sparked further evolution of the Internet.  Content providers have come to rely on the services of commercial and private CDNs, which cache content close to end users, providing increased quality of service and avoiding transit costs. While CDNs rely on transit to feed the array of CDN cache servers, they deliver traffic to broadband Internet access service providers via transit service or by entering into peering arrangements, directly interconnecting with broadband Internet access service providers.
In addition, several large broadband Internet access service providers, such as AT& T, Comcast, Time Warner Cable, and Verizon, have built or purchased their own backbones, giving them the ability to directly interconnect with other networks and edge providers and thereby lowering and eliminating payments to third-party transit providers . These interconnection arrangements are "peering," involving the exchange of traffic only between the two networks and their customers, rather than paid transit, which provides access to the full Internet over a single interconnection.  Peering gives the participants greater control over their traffic  and any issues arising with the traffic exchange are limited to those parties, and not other parties over other interconnection links. Historically, broadband Internet access service providers paid for transit and therefore had an incentive to agree to settlement-free peering with a CDN to reduce transit costs;  however, where large broadband Internet access service providers have their own national backbones and have settlement-free peering with other backbones, they may no longer have an incentive to agree to settlement-free peering with CDNs in order to avoid transit costs. As shown below in Chart 1, the evolution from reliance on transit to peering arrangements also means an evolution from a traffic exchange arrangement that provides access to the full Internet to a traffic exchange arrangement that only provides for the exchange of traffic from a specific network provider and its customers.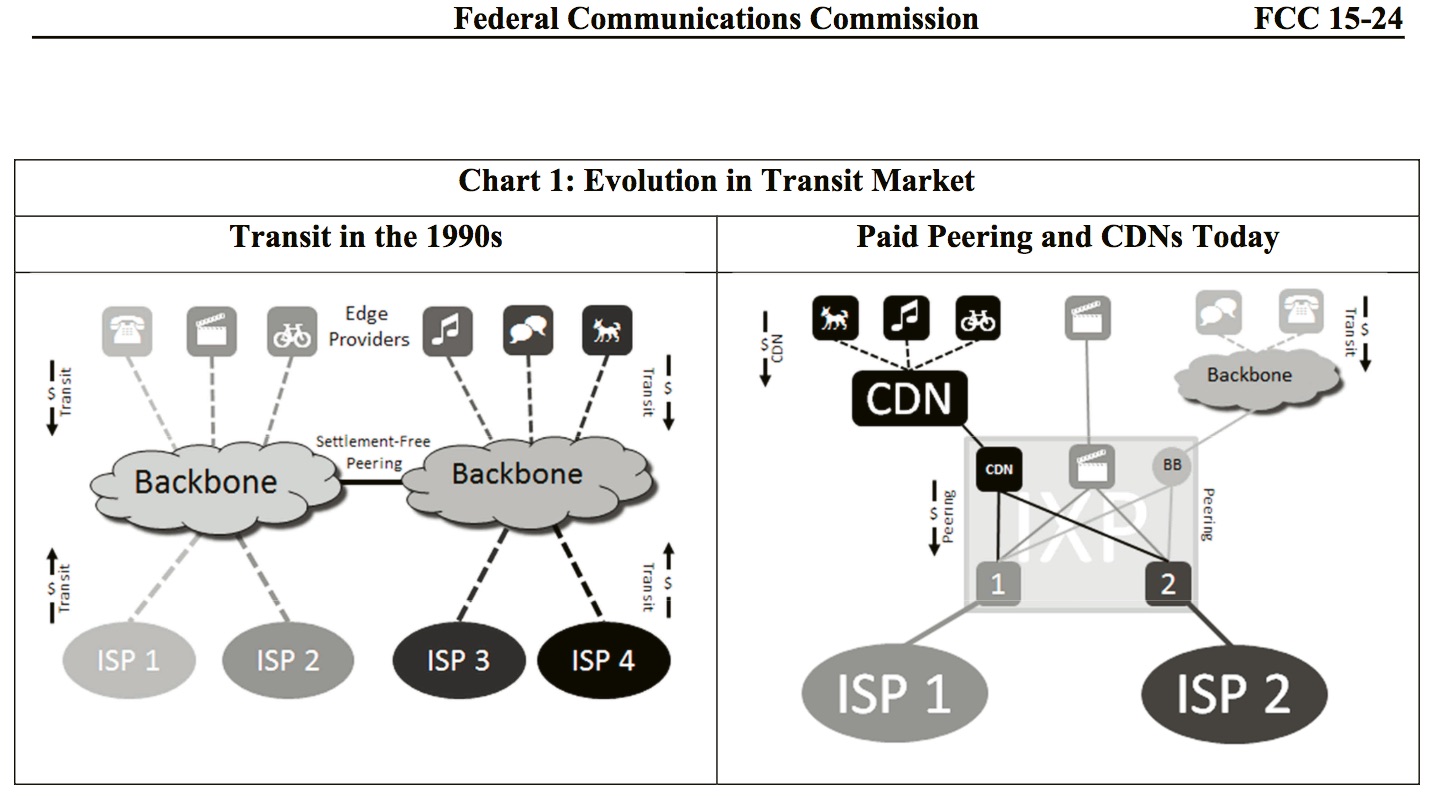 FCC2015:196-198.
The Heart of the Question — Paying for Video Infrastructure, FCC's ambivalence in 2015.
Computer files vary widely in size.  For example, the files comprising the web page you are reading add up to 2 million bytes of data.   Most of that is in the two images that the page contains.  The 80 second video at the top of the page derives from a 120 million byte mp4 file. A typical page on this website without images might only add up to a couple hundred thousand characters of data.  By contrast, if, instead of reading a typical page on this site for three minutes, you watched a three minute Youtube video (at a lower quality 30 frames per second), you would download approximately 200 million characters of digitized video, roughly 1000-fold as much data.
Prior to the availability of high-speed "broadband" connections to the home, it was physically impossible to stream video, but streaming video now dominates the internet.  Five years ago, in 2013, Netflix and Youtube alone already accounted for 50% of the peak download traffic in the internet.  FCC2015-197 (fn 490).  In 2016, Netflix alone was 35% of the traffic on fixed broadband lines and all video accounted for 73% of internet traffic.
That rapid transition to video is what has generated most of the controversy over the past few years.  Huge video providers, basically Google/Youtube and Netflix, are generating gobs of additional traffic that the BIAS/ISPs can't handle without upgrading their networks.  Who should pay for that?  Should the broadband providers charge all their customers more to pay for more infrastructure so that some customers can watch Netflix without any stutters?  Or should Netflix pay for access to the ISP and impose the costs on its own subscribers?  And while the dispute is unresolved, should the ISP allow Netflix traffic to degrade traffic going to customers who don't use video or should it throttle Netflix traffic to protect its network?  And, by the way, do customers who are not using video even notice the degradation?  Variable slight delays in a page loading in a web browser are routine — slight delays are much more annoying to video users than to other users.
The 2015 FCC chose a delicate way of saying it wasn't sure about these issues:
The record reflects competing narratives.
FCC2015-200.  The FCC summarizes the video content provider narrative as follows:
Some edge and transit providers assert that large broadband Internet access service providers are creating artificial congestion by refusing to upgrade interconnection capacity at their network entrance points for settlement-free peers or CDNs, thus forcing edge providers and CDNs to agree to paid peering arrangements. These parties suggest that paid arrangements resulting from artificially congested interconnection ports at the broadband Internet access service provider network edge could create the same consumer harms as paid arrangements in the last-mile, and lead to paid prioritization, fast lanes, degradation of consumer connections, and ultimately, stifling of innovation by edge providers. Further, edge providers argue that they are covering the costs of carrying this traffic through the network, bringing it to the gateway of the Internet access service, unlike in the past where both parties covered their own costs to reach the Tier 1 backbones where traffic would then be exchanged on a settlement-free basis.  Edge and transit providers argue that the costs of adding interconnection capacity or directly connecting with edge providers are de minimis . Further, they assert that traffic ratios [
WB Note: ratio of traffic in one direction to another in a peer connection, see., e.g.
ATT's comment using the term
] "are arbitrarily set and enforced and are not reflective of how [broadband providers] sell broadband connections and how consumers use them."  Thus, these edge and transit providers assert that a focus on only the last-mile portion of the Internet traffic path will fail to adequately constrain the potential for anticompetitive behavior on the part of broadband Internet access service providers that serve as gatekeepers to the edge providers, transit providers, and CDNs seeking to deliver Internet traffic to the broadband providers' end users.
FCC2015-200.  Translation:  It would be a piece of cake for the broadband providers to upgrade existing connections to handle our incoming video traffic, but instead, they are squeezing us to make us buy paid connections from them.  That's not fair, we pay for a lot of other parts of the internet already.  If the FCC doesn't regulate interconnection, it won't really solve the neutrality problem — it's not enough to regulate the last-mile.
This narrative is convincing.  The ISP can leave the content provider connected to a port that has become congested with video traffic.  They can make the content provider's users suffer until the content provider agrees to pay for access to uncongested port.  Level 3 Communications documented in their comments that the port they were connected on an unidentified ISP was consistently saturated and dropping packets while Level 3 refused to pay increased tolls.
In these circumstances, rather than degrading the transmission of competing over-the-top voice or video providers as data packets pass through the mass-market retail ISP's network, the ISP has accomplished the same goal—degraded performance for a competitor's product—by degrading interconnection capacity. In fact, in many ways it is simpler to target edge providers by targeting their ISPs than by specifically singling out those edge providers' content. By attacking through the ISP interconnection arrangements, the mass-market retail ISP need not implement any particular technological solution to target specific traffic. Instead, given the natural growth in Internet traffic, it can just "do nothing" and let its ports congest. And the ISP can also deny that it is affirmatively targeting any particular edge provider competitor, or discriminating against edge providers and in favor of its own services, even though such discrimination is the unavoidable consequence of its purportedly neutral conduct.
[I]f last-mile broadband ISPs face no limitation on their practices vis-à-vis interconnection and traffic exchange with other networks, then they will have an easy path, should they choose to take it, to block content or degrade content or connections — the very acts this proceeding is seeking to address. Put another way, the categorical exclusion of all aspects of Internet traffic exchange from this rulemaking is the functional equivalent of granting broadband ISPs the license to materially undermine open Internet principles. If all of the Internet content that consumers have paid for and thus reasonably expect to receive was housed within an ISP's own proprietary network, then the dichotomy the Commission has created in the past, and proposes to maintain, might make sense. But that, of course, is not how the Internet — often and accurately characterized as a network of networks — functions.
The FCC summarizes the contrary BIAS/ISP narrative as follows:
In contrast, large broadband Internet access service providers assert that edge providers such as Netflix are imposing a cost on broadband Internet access service providers who must constantly upgrade infrastructure to keep up with the demand.  Large broadband Internet access service providers explain that when an edge provider sends extremely large volumes of traffic to a broadband Internet access service provider — e.g., through a CDN or a third-party transit service provider — the broadband provider must invest in additional interconnection capacity (e.g., new routers or ports on existing routers) and middle-mile transport capacity in order to accommodate that traffic, exclusive of "last -mile" costs from the broadband Internet access provider's central offices, head ends, or cell sites to end-user locations.  Commenters assert that if the broadband Internet access service provider absorbs these interconnection and transport costs, all of the broadband provider's subscribers will see their bills rise.  They argue that this is unfair to subscribers who do not use the services, like Netflix, that are driving the need for additional capacity. Broadband Internet access service providers explain that settlement-free peering fundamentally is a barter arrangement in which each side receives something of value.  These parties contend that if the other party is only sending traffic, it is not contributing something of value to the broadband Internet access service provider.
FCC2015-201.  Translation:  No, actually the cost of handling all this video traffic is really significant and it isn't just about the last mile connection.  We need a lot of new infrastructure and it isn't fair for all of our customers who don't user Netflix to fund that.  The old idea that connections between networks should be free assumed a two-way street.  Netflix is drowning us in traffic and giving us nothing in return.
That narrative also has a ring of truth to it, given the explosive growth of video.  One persuasive counter argument (offered by an acquaintance engineer) is that adding new internet-facing port capacity is vastly less expensive than adding new broadband last-mile capacity.  If the last-mile is not actually congested, then the refusal to add more port capacity may be simple commercial extortion.
In the end, the 2015 FCC punted, choosing not to apply neutrality rules in these agreements, but asserted its jurisdiction to regulate them on a case-by-case basis and learn from the experience.
Given the constantly evolving market for Internet traffic exchange, we conclude that at this time it would be difficult to predict what new arrangements will arise to serve consumers' and edge providers' needs going forward, as usage patterns, content offerings, and capacity requirements continue to evolve.  Thus, we will rely on the regulatory backstop prohibiting common carriers from engaging in unjust and unreasonable practices.
FCC2015-203.  This is not an insignificant statement — it is an assertion of authority to resolve disputes.  But it stops well short of enforcing net neutrality.
Further weakening any rigid principle of neutrality is the "network management" exception, allowing blocking or throttling in the last mile.
We recognize the need to ensure that the reasonable network management exception will not be used to circumvent the open Internet rules while still allowing broadband providers flexibility to experiment and innovate as they reasonably manage their networks. We therefore elect to maintain a case-by-case approach.
FCC2015-218.  Is it a reasonable network practice to throttle an overwhelming burst of traffic coming from one provider like Netflix that creates congestion that has the effect of degrading service to the millions of little websites like this one on the internet?  That remains to be seen, but the FCC does warn that:
[N]etwork management practices that alleviate congestion without regard to the source, destination, content, application, or service are also more likely to be considered reasonable network management practices in the context of this exception.
FCC2015-220.
Summary of the FCC's 2015 Position
By explicitly prohibiting throttling, blocking and and paid prioritization of content on the last mile connection offered by broadband providers, the FCC  spoke directly to civil libertarian fears that the broadband providers might block free speech and shut out new voices among the currently estimated over 100 million active websites in the world.
That much is a step forward, but it probably makes little practical difference.  Broadband providers have some commercial incentive to generally provide what people want and believe they are paying for: Access broadly to the content of the internet.   The idea of curated content died in the 90s with AOL.  No one company can compete with the spectacular diversity of content available on the raw internet.  Moreover, the day they start refereeing content is the day they start to risk liability for fraudulent or offensive content, which they certainly want to avoid. And the Federal Trade Commission previously had power to bring enforcement actions against them for failing to provided promised access — see further discussion below under the 2017 ruling.
On the much more real and difficult issue of how to handle the rise of radically voluminous video content, the FCC basically punted by declining to require neutrality on the interconnections to broadband providers.   Broadband providers can drag their feet on adding capacity to an existing peering port until content providers or their intermediaries (other ISPs, CDNs, or IBPs) agree to pay up for a faster open port.
Let us assume, for the sake of argument, that ISPs do drag their feet and extort video providers into buying access to a dedicated port.  Is this harmful to consumers or other providers?  Perhaps not so much.  First, the video providers that caused the congestion on the original port eventually move off that port and relieve congestion.   If Netflix is a third of internet traffic, its movement to a dedicated port benefits everyone else greatly. Second, while congestion lasts during a commercial dispute, the only users likely to be significantly disadvantaged are the video users contributing to the problem.  As noted above, most other web experiences do not suffer greatly from millisecond delays.
Nor are "new voices" on the internet stifled in this congestion scenario.  Most new voices are not going to create their own video publishing platform.  They will avail themselves of Youtube or Facebook and publish away through the high capacity content delivery networks that these companies have paid to build.  Granted, an upstart successor to Youtube faces barriers to entry, but ISP traffic tolls is not the largest of them.
These considerations may have been in the minds of some of the decision-makers in Obama's FTC as it decided not to go whole-hog on commercial net neutrality, but to take a more limited and symbolic step.
FCC's 2015 Comments on State Regulation
The Obama FCC did assert strong pre-emption of state-regulation.
Today, we reaffirm the Commission's longstanding conclusion that broadband Internet access service is jurisdictionally interstate for regulatory purposes.  As a general matter, mixed jurisdiction services are typically subject to dual federal/state jurisdiction, except where it is impossible or impractical to separate the service's intrastate from interstate components and the state regulation of the intrastate component interferes with valid federal rules or policies.  With respect to broadband Internet access services, the Commission has previously found that, "[a]lthough . . . broadband Internet access service traffic may include an intrastate component, . . . broadband Internet access service is properly considered jurisdictionally interstate for regulatory purposes."  The Commission thus has evaluated possible state regulations of broadband Internet access service to guard against any conflict with federal law.  Though we adopt some changes to the legal framework regulating broadband, the Commission has consistently applied this jurisdictional conclusion to broadband Internet access services, and we see no basis in the record to deviate from this established precedent.  The "Internet's inherently global and open architecture" enables edge providers to serve content through a multitude of distributed origination points, making end -to-end jurisdictional analysis extremely difficult —if not impossible —when the services at issue involve the Internet.

We also make clear that the states are bound by our forbearance decisions today. Under section 10(e), "[a] State commission may not continue to apply or enforce any provision" from which the Commission has granted forbearance. With respect to universal service, we conclude that the imposition of state-level contributions on broadband providers that do not presently contribute would be inconsistent with our decision at the present time to for bear from mandatory federal USF contributions, and therefore we preempt any state from imposing any new state USF contributions on broadband —at least until the Commission rules on whether to provide for such contributions. We recognize that section 254 expressly contemplates that states will take action to preserve and advance universal service, but as discussed below, our actions in this regard will benefit from further deliberation. 
Finally, we announce our firm intention to exercise our preemption aut1ority to preclude states from imposing obligations on broadband service that are inconsistent with the carefully tailored regulatory scheme we adopt in this Order.  While we establish a comprehensive regulatory framework governing broadband Internet access services nationwide today, situations may nonetheless arise where federal and state actions regarding broadband conflict.  The Commission has used preemption to protect federal interests when a state regulation conflicts with federal rules or policies, and we intend to exercise this authority to preempt any state regulations which conflict with this comprehensive regulatory scheme or other federal law.  For example, should a state elect to restrict entry into the broadband market through certification requirements or regulate the rates of broadband Internet access service through tariffs or otherwise, we expect that we would preempt such state regulations as in conflict with our regulations. While we necessarily proceed on a case-by-case basis in light of the fact specific nature of particular preemption inquiries, we will act promptly, whenever necessary, to prevent state regulations that would conflict with the federal regulatory framework or otherwise frustrate federal broadband policies.
FCC2015-431-3.
The FCC's 2017 Ruling
In December 2017, the FCC reversed the 2015 ruling.  It issued a new declaratory ruling, finding that Broadband Internet Access Services should not, after all, be classified as telecommunications services, but as "information services".  This means that they are not common carriers of which the FCC can require neutrality.
In finding that broadband services are not common carriers, the 2017 FCC makes different statutory construction arguments for fixed and mobile broadband.  First, it argues that fixed broadband is not just a common telecommunications carrier service — it includes various data services that are inextricably bound with internet access such as domain name lookup and caching and it should be classified as an information service. Second, the 2017 FCC found that wireless broadband is not a common carrier telecommunications service because it does not meet the definition of commercial mobile service (which would require that it use the phone numbering system for communication).
Going beyond the statutory arguments, the 2017 FCC finds that investment in broadband capacity dropped after the 2015 FCC order.  This finding requires choosing among alternative accounting methods for investment. FCC2017-91ff.  In general, the 2017 FCC takes a dim view of the consequences of regulation:
Utility-style regulation is particularly inapt for a dynamic industry built on technological development and disruption. It is well known that extensive regulation distorts production as well as consumption choices. Regulated entities are inherently restricted in the activities in which they may engage, and the products that they may offer.  Asking permission to engage in new activities or offer new products or services quickly becomes a major preoccupation of the utility. Within the communications industry, it is apparent that the most regulated sectors, such as basic telephone service, have experienced the least innovation, whereas those sectors that have been traditionally free to innovate, such as Internet service, have greatly evolved. In the communications industry, incumbents have often used Commission regulation under the direction of the "public interest" to thwart innovation and competitive entry into the sector and protect existing market structures.  Given the unknown needs of the networks of the future, it is our determination that the utility-style regulations potentially imposed by Title II run contrary to the public interest.
The record confirms that concern about "regulatory creep"—whereby a regulator slowly increases its reach and the scope of its regulations—has exacerbated the regulatory uncertainty created by the Title II Order. Even at the time of adoption, the Commission itself did not seem to know how the Title II Order would be interpreted.  As then-Chairman Wheeler stated in February 2015, "we don't really know.  No blocking, no throttling, no fast lanes.  Those can be bright-line rules because we know about those issues.  But we don't know where things go next."  With future regulations open to such uncertainties, Title II regulation adds a risk premium on each investment decision, which reduces the expected profitability of potential investments and deters investment. For example, the Title II Order did not forbear from ex post enforcement actions related to subscriber charges, raising concerns that ex post price regulation was very much a possibility. Further, providers have asserted that although the Commission forbore from the full weight of Title II in the Title II Order, they were less willing to invest due to concerns that the Commission could reverse course in the future and impose a variety of costly regulations on the broadband industry—such as rate regulation and unbundling/open access requirements—placing any present investments in broadband infrastructure at risk. These concerns were compounded by the fact that while the Title II Order itself announced forbearance from ex ante price regulation, at the same time it imposed price regulation with its ban on paid prioritization arrangements, which mandated that ISPs charge edge providers a zero price.  These threats to the ISP business model have been felt throughout financial markets.  As Craig Moffett of MoffettNathanson explained, "[i]t would be naïve to suggest that the implication of Title II, particularly when viewed in the context of the FCC's repeated findings that the broadband market is non-competitive, doesn't introduce a real risk of price regulation."  These risks are not merely theoretical:  As CenturyLink contends, financial analysts lowered industry stock ratings due in part to the major risks Title II posed to the industry, which resulted in lower stock prices and lost market capitalization.
FCC2017-100-1. As to the large commercial video disputes, it is certainly true that the FCC's earlier ruling offered little guidance, but did raise the possibility of intervention.
Conversely, the 2017 FCC argues that the examples of discrimination that 2015 FCC sought to prevent were not evidence of a general risk of content discrimination.
The Internet thrived for decades under the light-touch regulatory regime in place before the Title II Order, as ISPs built networks and edge services were born. We find that the sparse evidence of harms discussed in the Title II Order—evidence repeated by commenters in this proceeding as the basis for adopting a Title II classification—demonstrates that the incremental benefits of Title II over light-touch regulation are inconsequential, and pale in comparison to the significant costs of public-utility regulation.
The Internet as we know it developed and flourished under light-touch regulation. It is self-evident that the hypothetical harms against which the Title II Order purported to protect did not thwart the development of the Internet ecosystem.  Edge providers have been able to disrupt a multitude of markets—finance, transportation, education, music, video distribution, social media, health and fitness, and many more—through innovation, all without subjecting the networks that carried them to onerous utility regulation.  It is telling that the Title II Order and its proponents in this proceeding can point only to a handful of incidents that purportedly affected Internet openness, while ignoring the two decades of flourishing innovation that preceded the Title II Order.
FCC2017-109-110.  They review the misconduct instances noted in the 2015 order and find that they were exceptions that proved the rule that the internet access has generally been neutral without regulation.  All but one of a collection of examples of abuse from the Free Press all have to do with competing services or congestion issues.
Finally, the 2017 FCC argues that the other business and regulatory incentives that broadband internet providers face compel their openness.
The content and applications produced by edge providers often complement the broadband Internet access service sold by ISPs, and ISPs themselves recognize that their businesses depend on their customers' demand for edge content.  It is therefore no surprise that many ISPs have committed to refrain from blocking or throttling lawful Internet conduct notwithstanding any Title II regulation.  Finally, to the extent these economic forces fail in any particular situation, existing consumer protection and antitrust laws additionally protect consumers.
FCC2017-117.  Even the head of Netflix apparently agrees that the consumer demand for neutrality is sufficiently compelling to control ISP behavior without regulation.
The 2017 FCC disputes the argument that broadband services are monopoly providers with huge market power, including this table which shows that most people live in areas with more than one high speed provider:
Percent of U.S. population in developed census blocks in which residential broadband wireline ISPs reported deployment (as of December 31, 2016)[1]
Number of providers
Speed of at least:
3+
2
1
0
3 Mbps down and 0.768 Mbps up
12.1%
67.2%
16.2%
4.4%
10 Mbps down and 1 Mbps up
9.0%
58.5%
26.3%
6.2%
25 Mbps down and 3 Mbps up
5.9%
45.2%
39.6%
9.2%
So, 79.3% have at least two services available at 3Mbps down speed. If satellite and terrestrial wireless (not mobile wireless) are included, the share with some 2 or more options goes up to 99.8%.  They make the point that since most of the costs are fixed, it only takes two providers to create strong competition for customers.  They also make the point that mobile providers offer competition to land line providers.  FCC2017-124-6
In terms of raw financial power, the 2017 FCC makes this point:
[L]arger edge providers, such as Amazon, Facebook, Google and Microsoft, likely have significant advantages that would reduce the prospect of inefficient outcomes due to ISP market power.  For example, the market capitalization of the smallest of these five companies, Amazon, is more than twice that of the largest ISP, Comcast, and the market capitalization of Google alone is greater than every cable company in America combined.
FCC2017-134.  And to the extent we are concerned about protecting new competitors to these established content players, the ISPs may actually have incentives to favor them, both to increase the value of their own services and to reduce the dominance of the established content players. FCC2017-133.
The FCC emphasizes that these reclassifications do not deregulate broadband.  Instead, they shift the regulatory authority from the FCC to the FTC.  Although the reclassification reduces the power of the Federal Communications Commission to regulate, it increases the power of the Federal Trade Commission to regulate.  While the FCC has power over common telecommunications carriers, the FTC is specifically barred from regulating them.
So, for example, while ATT mobile broadband would prefer not to be classified a common carrier for neutrality purposes, it made more or less the opposite argument in recent FTC regulatory case about throttling.  ATT argued that since ATT was in some roles (long distance backbone telecom) a common carrier, it was a common carrier for all purposes, so that while providing mobile broadband it was a common carrier exempt from FTC regulation.  A high federal appeals court recently disagreed, finding that FTC jurisdiction depends on whether or not as to a particular activity ATT is acting as a common carrier.  Since mobile broadband is not a common carrier activity under pre-2015 law and post-2017 law, the FTC can regulate.   This finding allows the FTC to regulate ATT's throttling of service to heavy smart phone users. However, the FTC's regulatory approach is  reactive enforcement as opposed to rulemaking.
So, the very same fundamental struggle between video providers who create huge network loads and broadband providers who have finite network capacity will continue to be refereed by a regulator.  From a user perspective, there are powerful arguments to be made in front of the FTC — a broadband provider that promises to provide general internet access at a certain speed and doesn't is engaging in deceptive trade practices. FCC2017-141.  For a state level example of fair trade enforcement, see New York's case against Time Warner.
Additionally, a broadband provider that leveraged market power unfairly could be in violation of antitrust laws.
The case-by-case, content-specific analysis established by the rule of reason will allow new innovative business arrangements to emerge as part of the ever-evolving Internet ecosystem. New arrangements that harm consumers and weaken competition will run afoul of the Sherman Act, and successful plaintiffs will receive treble damages. The FTC and DOJ can also bring enforcement actions in situations where private plaintiffs are unable or unwilling to do so.  New arrangements benefiting consumers, like so many Internet innovations over the last generation, will be allowed to continue, as was the case before the imposition of Title II utility-style regulation of ISPs. 
FCC2017-148.
The 2017 FCC preserves an apparently strong transparency rule:
Any person providing broadband Internet access service shall publicly disclose accurate information regarding the network management practices, performance, and commercial terms of its broadband Internet access services sufficient to enable consumers to make informed choices regarding the purchase and use of such services and entrepreneurs and other small businesses to develop, market, and maintain Internet offerings.  Such disclosure shall be made via a publicly available, easily accessible website or through transmittal to the Commission.
FCC2017-215.  Under the rule, all of the practices banned by the 2015 order as well as other practices must be disclosed.:
Blocking. Any practice (other than reasonable network management elsewhere disclosed) that blocks or otherwise prevents end user access to lawful content, applications, service, or non-harmful devices, including a description of what is blocked.
Throttling. Any practice (other than reasonable network management elsewhere disclosed) that degrades or impairs access to lawful Internet traffic on the basis of content, application, service, user, or use of a non-harmful device, including a description of what is throttled.
Affiliated Prioritization. Any practice that directly or indirectly favors some traffic over other traffic, including through use of techniques such as traffic shaping, prioritization, or resource reservation, to benefit an affiliate, including identification of the affiliate.
Paid Prioritization. Any practice that directly or indirectly favors some traffic over other traffic, including through use of techniques such as traffic shaping, prioritization, or resource reservation, in exchange for consideration, monetary or otherwise.
Congestion Management. Descriptions of congestion management practices, if any.  These descriptions should include the types of traffic subject to the practices; the purposes served by the practices; the practices' effects on end users' experience; criteria used in practices, such as indicators of congestion that trigger a practice, including any usage limits triggering the practice, and the typical frequency of congestion; usage limits and the consequences of exceeding them; and references to engineering standards, where appropriate.
Application-Specific Behavior. Whether and why the ISP blocks or rate-controls specific protocols or protocol ports, modifies protocol fields in ways not prescribed by the protocol standard, or otherwise inhibits or favors certain applications or classes of applications.
Device Attachment Rules. Any restrictions on the types of devices and any approval procedures for devices to connect to the network.
Security. Any practices used to ensure end-user security or security of the network, including types of triggering conditions that cause a mechanism to be invoked (but excluding information that could reasonably be used to circumvent network security).
FCC2017-220.  It is worth noting that the 2017 opinion does not retain some of the ongoing technical disclosures added by the 2015 opinion, deeming them burdensome.   In this respect, it may be foregoing information necessary for enforcement of the other disclosures.  FCC2017-225.
Like the Obama FCC, the Trump FCC concludes that its position preempts contrary state and local regulatory positions.
We conclude that regulation of broadband Internet access service should be governed principally by a uniform set of federal regulations, rather than by a patchwork that includes separate state and local requirements. Our order today establishes a calibrated federal regulatory regime based on the pro-competitive, deregulatory goals of the 1996 Act.  Allowing state and local governments to adopt their own separate requirements, which could impose far greater burdens than the federal regulatory regime, could significantly disrupt the balance we strike here.  Federal courts have uniformly held that an affirmative federal policy of deregulation is entitled to the same preemptive effect as a federal policy of regulation. In addition, allowing state or local regulation of broadband Internet access service could impair the provision of such service by requiring each ISP to comply with a patchwork of separate and potentially conflicting requirements across all of the different jurisdictions in which it operates.  Just as the Title II Order promised to "exercise our preemption authority to preclude states from imposing regulations on broadband service that are inconsistent" with the federal regulatory scheme, we conclude that we should exercise our authority to preempt any state or local requirements that are inconsistent with the federal deregulatory approach we adopt today.
We therefore preempt any state or local measures that would effectively impose rules or requirements that we have repealed or decided to refrain from imposing in this order or that would impose more stringent requirements for any aspect of broadband service that we address in this order. Among other things, we thereby preempt any so-called "economic" or "public utility-type" regulations, including common-carriage requirements akin to those found in Title II of the Act and its implementing rules, as well as other rules or requirements that we repeal or refrain from imposing today because they could pose an obstacle to or place an undue burden on the provision of broadband Internet access service and conflict with the deregulatory approach we adopt today.
Summary of the FCC's change in position
Here's where I may break the 4th rule of this conversation and oversimplify, but I'm reaching for a fair summary of the change in position.
The 2017 decision removes the 2015 protection for content neutrality, sending chills down the spine of all of us who care about civil liberties and want to hear many voices  However, the practical change may be modest.  The Obama FCC offered a specific neutrality rule which sounded great to first amendment enthusiasts like me.  The Trump FCC purports to achieve the same protection relying on more general consumer protection principles under FTC jurisdiction:  Broadband providers offer internet service and that means access to the whole internet; discriminating would be a consumer protection violation.  Either way, there is the possibility of an enforcement response.
Enforcement aside,  there are fundamental commercial reasons why broadband providers won't want to dabble in stifling particular political voices.   While some broadband providers are affiliated with video entertainment companies, they all know that as to most types of content, they just cannot compete with the raw internet. All consumers want access to the raw internet and broadband providers have no general incentive to block or filter the raw internet.
Most of the historically identified cases of alleged blocking or throttling have to do with commercial disputes, not content censorship.  The ACLU is able to cite only two historical instances of arguable political censorship by broadband providers in the United States (none in the last ten years).  Neither case involved filtering of content from the general internet.  One case involved ATT's arguable censorship of a concert that ATT sponsored.  The other, more disturbing case, involved involved Verizon's limitation of NARAL's political use of a text messaging destination.  In both cases, the companies swiftly reversed themselves after public embarrassment.
The commercial disputes, as opposed to the political disputes, are typically hard cases with decent arguments on both side of them. Even the 2015 FCC declined to set rules governing the disputes between video providers and broadband providers.
It is hard to judge the commercial power of broadband providers.  2017 FCC made a more quantitative effort to evaluate their power than the 2015 FCC did.  The 2017 FCC made a decent argument that, in most markets, there will be vigorous competition: Most markets have at least two providers and two providers  may be enough to drive heavy broadband competition because the costs of adding additional consumers are low compared to the initial investment.  Certainly, both Comcast and Verizon are advertising heavily in Massachusetts communities where both providers are present.
Without expressing a conclusion as to the local or national market power of broadband providers, it does seem clear that the quantitative questions that the 2017 FCC is asking are important.  Just by framing those questions, the 2017 opinion makes a good argument that the FTC, with historical responsibility for market analysis in anti-trust enforcement, will be a more competent regulator.  That is hardly obvious given the FCC's expertise in telecommunications, but, it does make some sense — the kinds of issues that are being decided are business and market power issues, the kinds of issues that the FTC has expertise in, not so much technical issues as to which the FCC may have more expertise.
Arguably, the Obama FCC acted out of largely theoretical civil libertarian fears and made a decision that ducked the toughest commercial issues. The Trump FCC reversed the earlier opinion with a similar passion for the freedom of the market, making classical arguments against over-regulation based on a record that will be most compelling to those already convinced of the dangers of regulation.
Both administrations make strong arguments against state-level regulation of the internet.  One state public policy priority does become very clear from this conversation — expansion of broadband competition in all communities.
Resources
The best resources on net neutrality are the competing statements of the FCC (and the incredibly rich commentary on those statements).  Additional resources include: