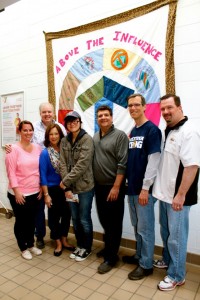 The Allston-Brighton Substance Abuse Task Force has announced a permanent collection kiosk for residents looking to safely and easily dispose of prescription and non-prescription medication.   Residents can now find a self-serve MedReturn Kiosk in the lobby of the Boston Police Department D-14 at 301 Washington St. in Brighton.  No questions will be asked to those who use the kiosk to drop off medication, and it will be available for all to use at no charge, 24 hours a day, seven days a week.  Click here to learn more about the collaboration of the Task Force, Boston Police Department, and city and state agencies as well as the health and environmental benefits that will result from this new kiosk.
Prescription and non-prescription medications, including pills, liquids in leak-proof bottles, and inhalers can be deposited in the kiosk. Pet medications can also be dropped into the kiosk. Residents should bring the medication in the original container with personal information blacked out or in a sealed, clear, plastic bag. Needles (sharps) cannot go into the kiosk. To learn more about safe disposal, and for an interactive map of kiosk locations, visit www.bphc.org/DrugTakeBack.
To read about the Allston-Brighton Substance Abuse Task Force Youth Coalition's Above the Influence quilt project, please follow this link.