Natural gas leaks are a large and hard to quantify contributor to global warming. How do they affect the benefit-cost analysis of heat pump conversion? The answer is that they modestly inflate both the benefits and the costs of heat pump conversions.
Gas leaks occur at multiple stages. At every stage, true leak volume is uncertain and will vary geographically. The EPA estimates the by-stage breakdown of emissions as follows: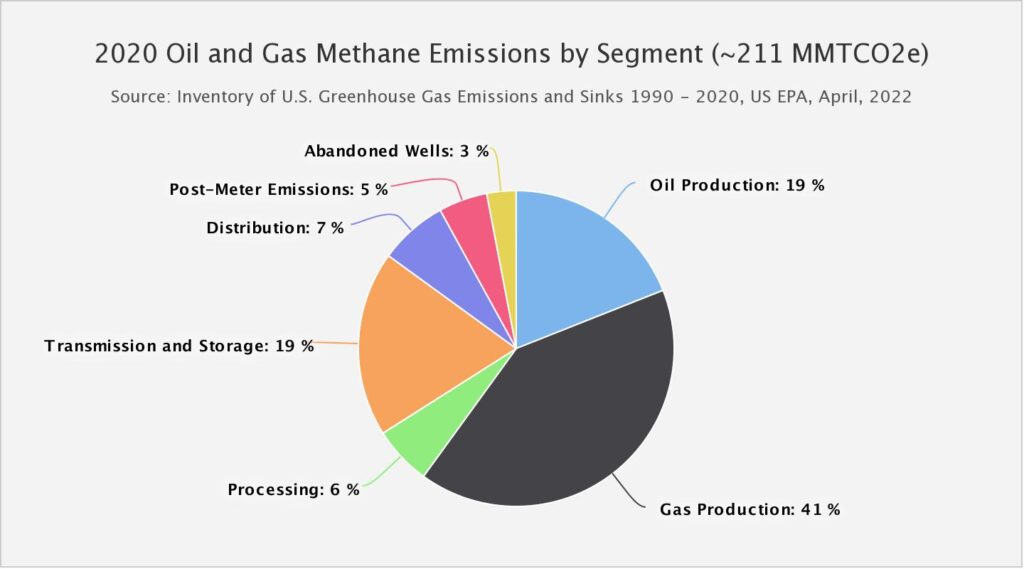 Some observations:
In this chart, gas emissions occur from both oil and gas production. In 2022, natural gas production was 44.7 "quads" (quadrillion BTU of energy) and oil was 24.7 quads – so, within broad uncertainty allowances, methane emissions from production per unit energy are similar for gas and oil (the 19%/41% ratio is not too different from 24.7/44.7 — .46 vs .55).
It makes sense to exclude emissions at the transmission and distribution stages from the heat pump analysis. "[N]atural gas pipelines will remain pressurized for other applications and will likely not be impacted by incremental reductions in generation and consumption." See Pistochini et al. 2022 (a favorable analysis of heat pump conversions).
It seems an excessive refinement to make an allowance for behind the meter emissions in the analysis of Massachusetts heat pump retrofits because (a) as the chart above shows, all BTM emissions are likely a small share of the total; (b) some BTM emissions come from cooking and hot water heating as opposed to furnaces; (c) in most gas-to-heat pump conversions the gas heating system is not disconnected anyway — roughly half of gas conversions are "partial" conversions (see Mass Save Key Performance Indicator 3) and even for the "full displacement" conversions, a strong majority do not involve removal or disconnection of the gas furnace (informal communication from Mass Save administrators). Compare Pistochini et al. 2022 for a different approach.
Focusing on the production stage, there is cause to believe that production emissions vary significantly from gas field to gas field, perhaps from 0.9% to 3.6% within the United States. In Massachusetts, some of our natural gas is imported from other countries and we have no good basis for particularizing the associated production emissions. The same variation must apply to natural gas leaks associated with oil production and we have no basis for estimating the leaks associated with the particular oil we consume.
For rough analysis purposes, it makes sense to consider the implications of a range of leaks between 1 and 4% of gas used and to make a similar per-energy-produced allowance for oil.
Estimates of the global warming potential of methane depend on the time frame chosen, because methane does breakdown in the atmosphere. From a 100-year perspective, methane increases warming 27-30 times more than carbon dioxide. From a 25-year perspective, methane increases warming 81-83 times more than carbon dioxide.
However, from a harm perspective, global warming in the longer term has a greater impact — as stated at page 67 of the EPA's recent analysis of the social cost of green house gases "Emissions further in the future produce larger incremental damages as physical and economic systems become more stressed in response to greater climatic change and because income is growing over time." Since methane does break down over time, in the central case in EPA's analysis, the social cost per ton of methane emissions ($1600) is only 8.4 times greater than the social cost per ton of CO2 emissions ($190). The social cost of methane ranges from 4.3 to 14.2 times the social cost of carbon across the 9 combinations of 3 discount rates and 3 damage models that the EPA considers. The social cost of carbon alone varies from $110 per ton to $650 across these permutations — so the relative social cost of methane varies less than the base estimate of the social cost of carbon ($650/$110 = 5.9; 14.2/4.3= 3.3).
In a heat pump conversion, we save greenhouse emissions by eliminating or reducing the use of an oil or gas furnace, but we add carbon emissions by increasing electricity generation. The add-on for production emissions of methane will appear on both sides of the benefit-cost ledger and will depend on (a) the assumed rate of production emissions of methane; (b) the estimated ratio of harm associated with emissions of methane to harm associated with carbon emissions. As the chart below suggests, a central guess would be approximately 21%.
Methane leak increment to social cost of carbon emissions from production

It is reasonable, if we need to choose a single number, to inflate the harms of emissions from oil or gas combustion by something like 20% to allow for production gas leaks. As a rough comparison, the Cambium-22 model adds roughly 10% to marginal emission rates to reflect pre-combustion emissions, depending, of course, on mix of generation sources.
The 20% adjustment to social costs appears on both sides of the ledger in the benefit-cost analysis of heat pump conversions. Posts to follow will integrate this adjustment into heat pump benefit-cost computations.