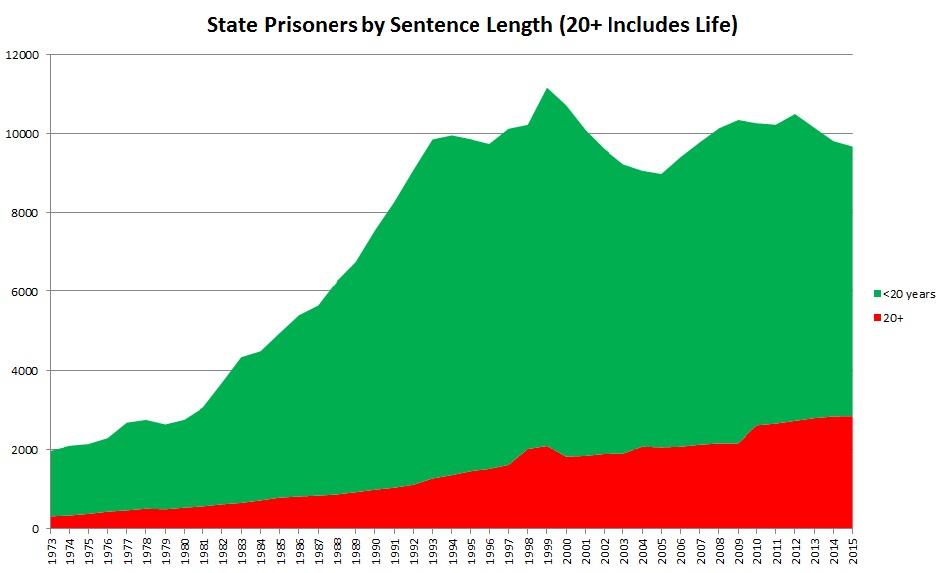 The prison population had quintupled to its current level of roughly 10,000 by 1993. One might have expected the prison population to begin falling as crime rates fell through the 90s and into this century. As MassInc has pointed out, commitments to state prison have, in fact, fallen by roughly 1/3 since 1993. Yet, the prison population has remained fairly stable since 1993, implying that average lengths of stay have increased by roughly 1/3.
The population committed for the most serious crimes – carrying life sentences or sentences longer than 20 years — has continued to rise steadily, more than doubling to almost 30% of the prison population, and so explaining roughly half of the sentence length increase inferred by MassInc. (If this segment of the population had not grown, the population would be 16% lower and our inferred average length of stay would be proportionately lower.)
The doubling of the life-sentenced population, from 1,027 in 1993 to 2,018 in 2015, is not primarily due to recent legislative action. Among those doing life, 91% are doing the traditional mandatory minimum of life for murder (with or without parole, depending on the degree of murder). The youthful offender law of 1996 may have added several dozen life inmates to state prison: The 2,018 life inmates in state prison include 68 juvenile offenders that were sentenced as adults for first degree murder some of whom might not have been so sentenced under previous law; there may be several dozen more post-1996 juveniles serving second degree murder sentences. The habitual offender law may affect some of the non-murder life sentences, but the 2012 adjustments to that mandatory have not been in place long enough to apply to many cases (the adjustments apply only to crimes committed after its effective date). There are no other mandatory sentences with minimum penalties over 15 years, so the growth in the 20+ year category (from 247 to 829) seems unlikely to have been affected by legislative action.
The growth in the life/long population is hard to explain. The growth has been steady for the past 40 years. It could be going up as a result of multiple factors that could theoretically include case clearance rates, prosecutorial toughness in plea-bargaining in homicide cases, younger offenders, prisoner life expectancy improvements and/or parole board strictness. The growth is hard to explain with reference to crime per se as it appears that murder has ticked all the way back down to its 1965 level. Serious assaults do remain high and improved medical care may be masking the gravity of continuing assaultive crime.
Since 1993, the legislature has continued to enact penalty enhancements, most notably the 1993 Truth in Sentencing law, which increased the average time to earliest parole eligibility for state prisoners by 25% from 4 years to 5 years. (See the Sentencing Commission's analysis of truth in sentencing at Table 26 (change in traditional sentence length). This increase is relevant only for those inmates that actually seek and are suitable for parole (maximum sentences did not increase). Under 1/3 of inmates leave with parole supervision (see Prison Population Trends 2014, page 37), so the actual average sentence length increase resulting from Truth in Sentencing is a fraction of 25%. There are a number of other moving parts in the Truth in Sentencing law. For example, the typical gap between earliest parole eligibility and maximum sentence in state prison has been reduced. This means that inmates have less incentive to seek parole under Truth in Sentencing and that may be another dynamic through which Truth in Sentencing increased average time served. It isn't feasible to confidently estimate the net impact of Truth in Sentencing on average state prison time served.
It does seem likely that between the lifer growth and Truth in Sentencing, all other legislative and non-legislative changes over the past 20 years are left with a relatively small residual change in average time served to explain. Of course, mandatory minimums already on the books had a continuing impact on sentence length.
Inmates serving Long Sentences in State Prison Population: 1973 - 2015
| | Total | Years 20+ | Life | Death | Long (Life, Death, Years 20+) as % of Total |
| --- | --- | --- | --- | --- | --- |
| 1973 | 1970 | 39 | 248 | 32 | 16 |
| 1974 | 2096 | 39 | 263 | 37 | 16 |
| 1975 | 2140 | 46 | 307 | 27 | 18 |
| 1976 | 2290 | 59 | 374 | 4 | 19 |
| 1977 | 2681 | 60 | 408 | 2 | 18 |
| 1978 | 2750 | 63 | 445 | 2 | 19 |
| 1979 | 2636 | 55 | 440 | 1 | 19 |
| 1980 | 2754 | 84 | 452 | 1 | 19 |
| 1981 | 3067 | 89 | 481 | 1 | 19 |
| 1982 | 3690 | 91 | 529 | | 17 |
| 1983 | 4334 | 95 | 562 | | 15 |
| 1984 | 4482 | 105 | 615 | | 16 |
| 1985 | 4940 | 125 | 665 | | 16 |
| 1986 | 5390 | 114 | 705 | | 15 |
| 1987 | 5636 | 127 | 713 | | 15 |
| 1988 | 6265 | 140 | 730 | | 14 |
| 1989 | 6757 | 155 | 771 | | 14 |
| 1990 | 7553 | 172 | 818 | | 13 |
| 1991 | 8265 | 186 | 854 | | 13 |
| 1992 | 9075 | 197 | 917 | | 12 |
| 1993 | 9851 | 247 | 1027 | | 13 |
| 1994 | 9952 | 264 | 1095 | | 14 |
| 1995 | 9854 | 289 | 1169 | | 15 |
| 1996 | 9736 | 285 | 1230 | | 16 |
| 1997 | 10119 | 297 | 1318 | | 16 |
| 1998 | 10218 | 613 | 1403 | | 20 |
| 1999 | 11158 | 570 | 1522 | | 19 |
| 2000 | 10712 | 261 | 1562 | | 17 |
| 2001 | 10095 | 261 | 1582 | | 18 |
| 2002 | 9610 | 294 | 1599 | | 20 |
| 2003 | 9223 | 266 | 1631 | | 21 |
| 2004 | 9060 | 414 | 1661 | | 23 |
| 2005 | 8979 | 400 | 1657 | | 23 |
| 2006 | 9405 | 393 | 1680 | | 22 |
| 2007 | 9778 | 395 | 1730 | | 22 |
| 2008 | 10132 | 395 | 1761 | | 21 |
| 2009 | 10342 | 386 | 1774 | | 21 |
| 2010 | 10259 | 810 | 1803 | | 25 |
| 2011 | 10222 | 824 | 1833 | | 26 |
| 2012 | 10491 | 822 | 1905 | | 26 |
| 2013 | 10148 | 837 | 1958 | | 28 |
| 2014 | 9808 | 835 | 2002 | | 29 |
| 2015 | 9670 | 829 | 2018 | | 29 |
From DOC Reports