In November 2013, I published a post discussing legislation pending in the last session that required labeling of products that include "Genetically Modified Organisms". I've left that post intact below. That legislation has been refiled and proponents have secured a great list of cosponsors, so the issue will clearly get more discussion this year.
I didn't join the list of cosponsors because I do find myself troubled by a number of questions about the legislation: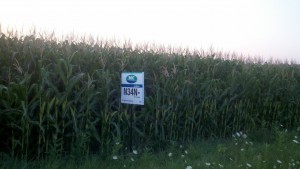 Those who have health concerns about personal exposure to GMOs and chemicals do have the option of buying Organic labelled food. This is a well-developed legal framework. How would GMO labelling actually help people?
If GMO labeling is really part of an educational campaign to inform those who are unaware of how modern American agriculture works, are we focusing on the right issue? Many object to GMOs because they facilitate the use of pesticides and herbicides. If chemical exposure is our real concern, shouldn't we be focused on disclosure of fertilizers, pesticides and herbicides?
In the larger picture of climate change and food economics, are GMOs themselves actually the problem? Climate change is, despite our efforts, clearly happening. Is it possible that genetic engineering could actually have a positive role in producing crops that are can sustain people as climate changes? Could we actually be hurting real prospects for progress by making GMOs the issue?
The biggest climate issue in the food supply is the heavy use of animal products. Eating less animal products can make a big difference in personal carbon footprint. Does a focus on GMOs give people a feel-good issue and allow them to avoid harder food choices?
I'd welcome further discussion at this site and I'm also trying to gauge interest in a local symposium on the subject. We could put together a program of informed presenters on the science and the legal framework and have a discussion someplace in my district.
The November 2013 Post
I've recently been hearing from an increasing number of people concerned about genetically modified organisms in the food supply. The main concern is for legislation requiring disclosure of genetically engineered ingredients. In response to this concern, I have cosponsored legislation to require labeling of foods and companion legislation requiring labeling of seeds.  These bills and several other similar bills are pending before a couple of committees at this time — the environment committee and the public health committee.
I think there are multiple ways that the legislature could respond to the issue.  People have a "right to know" and the case for a requirement of disclosure is strong.  The bills that I have co-sponsored implement this approach, which resonates with my general emphasis on transparency.  Connecticut and Maine have taken this approach with their legislation requiring that enough other states adopt it before it takes effect.
On the other hand, the truth is that essentially all corn and soy grown in the United States is genetically modified to make it able to tolerate herbicide application.  Since soy and corn are so widespread in livestock feed and also in processed foods, most of what we eat does directly or indirectly include some genetically modified elements.  Given that, it makes sense for consumers to generally assume that products involve GMOs unless specified otherwise.  It may be more practical to allow products to identify themselves as "non-GMO" and to regulate the use of that term.  That would be consistent with our approach to the use of the term "organic" — most agricultural products today are grown using herbicides and pesticides — potentially more worrisome than genetic changes in the plants.  Yet, we don't require disclosure of that.  Instead, we allow products to identify themselves as "organic" if they meet certain standards for non-use of chemicals.
For an interesting discussion of the issue of genetic engineering, please see this article in Scientific American.
I welcome suggestions about how best to approach this issue.