Belmont is approaching a decision to rebuild its single most important public asset:  Its high school.
Town meeting established a building committee in February 2016.  The members of the building committee include many of Belmont's most capable and experienced public servants — people with great depth in all the phases and disciplines of public construction.
The basic case for the project is strong.  The high school's physical plant is approaching its 50th year of service.  Many building systems are outdated or failing.  The plant is due for a major renovation or replacement.  Additionally, the high school  is overcrowded — in fact, the school system at all grade levels is overcrowded.
Enrollments in the whole Belmont school system have been growing rapidly over the past decade and are expected to continue to grow.  Construction of a new school with the capacity for grades 7 through 12 would relieve crowding at all levels.  The Chenery Middle School could become a facility supporting three grades instead of four (4-6 instead of 5-8) and the town's four elementary schools would become K-3 facilities.  The new 6 year facility would be divided in to a lower house and an upper house to reflect different instructional models and to separate students in different age brackets.
The building committee and the school department have been conducting a very transparent and thorough examination of all the options.  Regardless of the approach taken, the project cost will be substantial and will need to be funded through a long-term borrowing supported by a property tax increase which will be noticeable for most taxpayers.  The hope is to make all the major decisions about the project over the coming months and to present the financial proposal to the voters for approval on the November 2018 ballot.
Upcoming meetings are listed here.  Exhaustive documentation of the project's development appears here. Now is the time for community members to begin paying close attention to this project which is critical to the town's future.
Update: Configuration finalized
---
Recent Growth Surge in Belmont Schools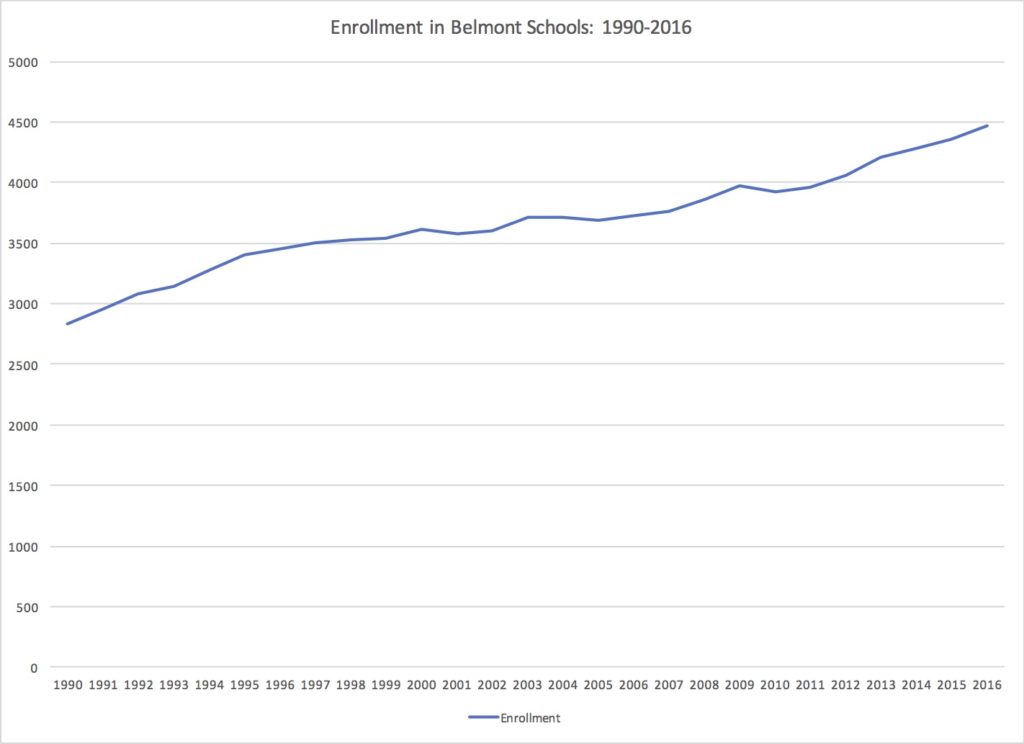 Source: Statistical reports from the Department of Elementary and Secondary Education (2002-2016); Annual Reports of the Town of Belmont (1990-2001) — compiled, January 14, 2018.