The Center for Church and Prison is hosting a conference on Ending Mass Incarceration and The School-to-Prison Pipeline on September 10-12. Senator Brownsberger will be a panelist at this session:
The State of Criminal Justice Reform
   Friday, September 11,  9:45-11:30
Congregation Lion of Judah Church on 68 Northampton Street, Boston
 Moderator: Carl Williams, Esq. ACLU
Panelists:
Sen. Will Brownsberger, Chair: Joint Committee on Judiciary.
Phillip Kassel, Esq. Exec. Director: Mental Health Legal Advisor Committee.
Whitney Taylor: ACLU
Sen. Sonia Chang-Diaz,
Leslie Walker: Prisoners' Legal Service
Supreme Richardson: 3rd Vice President Chief Intake Officer/NAACP
Clarence Edwards: Vice-Chair, OPJ. Retired Police Officer
 For more information see the release below.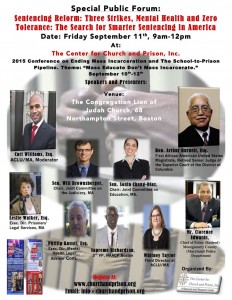 The Center for Church and Prison, Inc.

             2015 Conference on Ending Mass Incarceration and  The School-to-Prison Pipeline:

       Theme: Mass Educate Don't Mass Incarcerate September 10-12, 2015

 The Center for Church and Prison's  2015 Conference on Ending Mass Incarceration and the School-to-Prison Pipeline, September 10-12. The conference will be held at the beautiful conference facility of Congregation Lion of Judah Church on 68 Northampton Street, Boston where the Rev. Dr. Robert Miranda is the  pastor.

The goals of this conference include: Advocacy: push for strategic reform in the areas of sentencing, zero tolerance policies in schools, law enforcement/police brutalities and workable reentry policies. Educational campaigns: awareness, and resource availability toward strategic engagement. Direct intervention in the lives of families, offenders, and those offended. We gather to advocate for the end to mandatory minimums, closing the gap between poorly resourced schools, the criminalization of school disciplines and mass incarceration, police brutalities in law enforcement.

Conference speakers reflect a wide variety of backgrounds related to criminal justice reform and conference' goals. Speakers include: Ms. Rosa Clemente,  Hon. Ralph Gants: Chief Justice of the Massachusetts Supreme Judicial Court.Mr. Glenn E. Martin: Founder/President: JustLeadershipUSA, Mr. Ronald Hampton: National Black Police Association, Dr. Boyce Watkins- CEO-Your Black World, Dr. Umar Johnson: School and Clinical Psychologist, Dr. Elizabeth Stefanakis: Ed. D. Faculty: Boston Univ., Rev. Dr. Boyce Watkins: CEO: Your Black World,  Dr. Robert Miranda: Pastor: Congregation Lion of Judah, Rep. Byron Rushing, Sen. Will Brownsberger, Barbara Dougan, Esq.: Family Against Mandatory Minimum, Carl Williams Esq.: ACLU, Whitney Taylor :ACLU, Michael Curry, Esq. President: NAACP/Boston, Sen. Linda Dorcena Forry, Etc.

Online registration link: http://churchandprison.org/product-category/events/