The Belmont and Watertown Community Advisory Committees held a joint public meeting on December 3 to update the public on airplane noise from Logan.
The Selectmen's Room at the Belmont Town Hall was full with approximately 50 residents from Belmont, Watertown, Arlington and Cambridge. Myron Kassaraba, the Belmont CAC representative gave a slide presentation, and remarks were heard from Jennifer McAndrew of Congresswoman Katherine Clark's office, Senator Will Brownsberger, Representative Jon Hecht, and Representative Dave Rogers. Also attending were Kate Moore, Regional Director for Clark's office and Kelsey Perkins, Constituent Service Representative for Senator Elizabeth Warren. A question and answer period followed. The meeting was recorded by the Belmont Media Center and can be viewed at this link.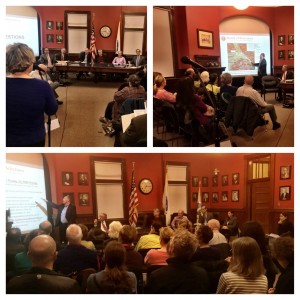 ADDENDUM BY WILL BROWNSBERGER
It was an interesting meeting — a lot of good information was put on the table.
Hopeful points included:
Federal, state and local officials are working together across levels to try to make a difference on this issue. A lot of good work has been done to understand the issue and explore possible responses.
The FAA is experimenting with changing runways more frequently. Neighborhoods will experience roughly the same total amount of noise, but will not be subjected to continuing noise for days without relief unless necessary. Some in the group reported that they felt that the benefits of this already and it is a very positive change.
Although Logan has been announcing additional international service lately, the total volume of traffic is down over the last 15 years. That's only a minor consolation to the neighborhoods who have experienced increased overhead traffic as a result of pattern changes.
Jet engines have gotten a lot quieter over the past couple of decades and that trend may continue.
Perspectives on the politics of the problem were diverse. Some expressed feelings that the FAA is a bad agency and that a long term national struggle is called for to address FAA overreach. Others (and I was in this group) expressed that the FAA is overall doing a pretty good job modernizing air traffic control and over the long term, we can hope that planes will to continue get quieter as a result of continuing improvement in aircraft technology. What all effectively agreed on is that (a) the basic traffic pattern will not change soon; (b) we will continue to do whatever we can to make improvements in the situation.
Follow up questions from the meeting (and from correspondence after the meeting) included:
Are the neighborhoods that experience direct overflights are experiencing increased air pollution as a result? We will seek some information on this.
Can we get Belmont and Watertown added to the new Logan Citizens Advisory Committee structure. We will definitely seek to address this issue legislatively the next chance we get.
Could Massport, through landing fee changes create stronger incentives to use quieter planes and avoid night flights? We will seek some information on this.
Are there strategies that residents can take to reduce noise infiltration into their homes? The answer to this is yes. Many of the strategies that help make homes energy efficient also tend to reduce noise. It's first of all about closing open channels through which noise and cold air infiltrate directly. Just a little opening can let in a lot of noise (as when a car window is just cracked open). It's second of all about adding insulating mass into walls. Some substances block noise better than they block heat loss — for example massive bricks and stones conduct heat energy but stop noise. Foam stops heat loss, but does little to impede noise. Cellulose insulation blown into stud bays is pretty massive but also stops heat loss. Double and triple pane windows help with both noise and heat loss, but they cannot take the place of a full insulation job that increases the insulating properties of the walls. Of course, insulation and sealing don't cut noise when the windows are open in good weather.
MassPort has responded with answers to the following questions:
Are the neighborhoods that experience direct overflights are experiencing increased air pollution as a result? Boston Logan accounts for less than 2% of the region's emissions. Emissions from airport related aircraft activity are at their highest concentration on the airport proper and rapidly fall off at the airport boundary. The FAA's Environmental Assessment (EA) approving the R33L RNAV departure includes a review of air quality. Related to air quality, the EA concludes " The FAA includes air traffic control activities and adopting approach, departure and enroute procedures for air operations in their list of presumed-to-conform actions, thereby indicating that these types of actions will not exceed de minimis emissions levels."[sic.] (page 4-9)
Could Massport, through landing fee changes create stronger incentives to use quieter planes and avoid night flights? The regulation of emissions (noise and air) at the source (the jet engine) is within the exclusive jurisdiction of FAA/federal government. The Airport Noise and Capacity Act severely restricts the airport's ability to impose access restrictions on aircraft. Since its enactment in 1990, no access restriction on stage 3 aircraft has been approved by the FAA. Our most recent analysis of Logan's fleet shows that 97.4% (2013) of aircraft jet operations at Boston Logan meet stage 4 requirements, the latest and highest standard for noise emissions currently adopted by the FAA. This latest technology also reflects the most recent advancements in fuel burn efficiency and air emissions reductions.