Quite appropriately, Governor Patrick's Fiscal 2015 budget continues and extends the priorities he has defined together with the legislature over the past 8 years.  It does not propose major new initiatives.
Total proposed Fiscal 2015 budgetary spending is $36.4 billion — up $1.7 billion or 4.9% over projected Fiscal 2014 budgetary spending.  This growth is roughly consistent with projected revenue growth.  The budget proposes no major new revenue.  Total spending from all sources, included non-budgeted sources, amounts to $46.2 billion.  Total spending is up 3.8%.
Click here for a page comparing the budgetary and all-source views and offering additional numerical analysis of the budget.   Except as noted, the overview numbers below are based on all-source totals computed on that page.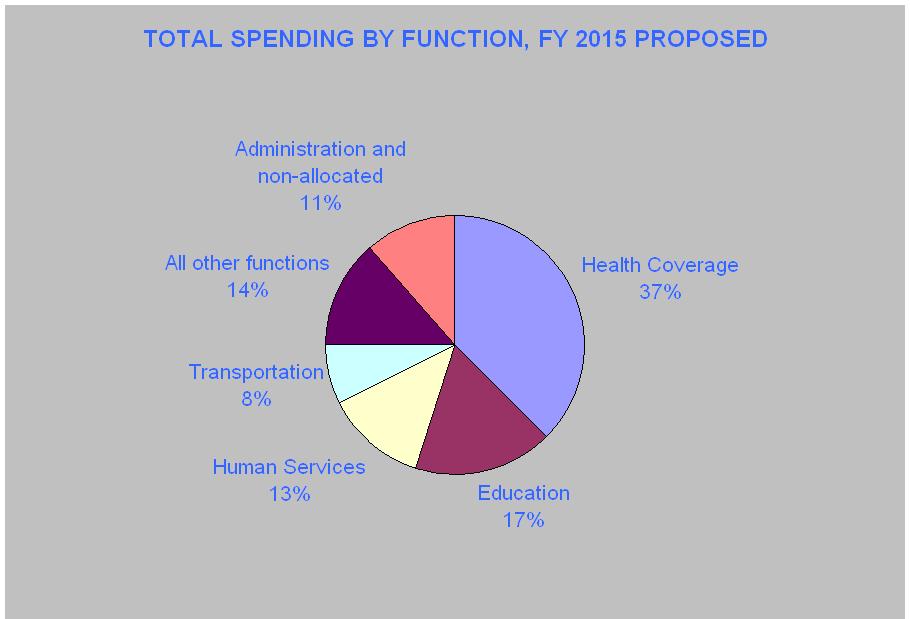 Health care dominates the budget — as it dominates every state budget in this era.  The Governor's budget proposes to spend a total of $17.30 billion in FY15 on "Health Coverage Related Services".  This category consists largely (88%) of means-tested subsidized health coverage (see the budget summary by program), but also includes public employee health care. It amounts to 37.4% of projected total spending in FY15 (44.6% of proposed budgetary spending).  The increase over currently projected FY14 spending is $1.1 billion or 6.6%.  The current FY14 projected spending amount is already up 2.8% over its originally budgeted level of $15.79 billion.  Please note: to check FY14 budgeted amounts at the program level, go to the Governor's FY14 budget page and select "Budget Summary by Program."
Fiscal 2015 is the first full fiscal year in the new federal health care framework.  The new law expands coverage somewhat in Massachusetts, but also expands federal reimbursement.  The net impact of the law is hard to sort out and we can expect more analysis of this subject in the weeks to come.
Backing the currently projected health coverage increase out of the total budget growth, all other program categories are projected to grow a moderate 2.1%.  Second behind Health Coverage Related Services is the Education program category, at $7.95 billion or 17.2% of the total spending.  Education is up only 2.4%. Over two-thirds of state spending for education supports K-12 education, primarily through Chapter 70 aid.  Chapter 70 increases are only 2.3% in this budget.  The other major Education categories are public Higher Education, which does well in the Governor's proposal with a proposed 7.0% increase, and Early Education.  Education accounts for 47.2% of federal grant spending at the state level and federal education grants are projected to decline 4.0%.  
Early Education, although increasingly recognized as central to closing the achievement gap, represents only 8% of education spending at the state government level.  The accounting for early education spending is confusing.  Although some key accounts show a 6.6% increase and the Governor does highlight an initiative to expand access, the overall program category (as accessible through the program budget dashboard) only shows a 1.8% increase.
The third largest program category is Health and Social  Services (excluding Health Coverage Related Services), adds up to $5.9 billion or 12.7% of proposed spending.  This category is up 4.3%.  This category includes all the safety net programs — programs for the mentally ill, developmentally disabled, and "families and individuals in need".
In 2008, the legislature passed Chapter 257 which mandates the state's Operational Services Division to define procurement procedures for social services contracts and authorizes OSD to set rates for special education contracts with cities and towns.  It lodges rate setting authority for all social service contracts other than special education contracts with the Secretary of Health and Human Services.  HHS has been engaged in a drawn-out rate-setting dialog with providers which is expected to finally lead to $213 million in increased costs in FY2015 across many programs in HHS.  Although the cost increase is substantial, there is broad agreement that the workforce in contract social services is very underpaid.
Also of note in the HHS category is a substantial increase for the Department of Children and Families — with on budget spending up from $786.3 million projected in FY2014 to $819.0 million in the Governor's Budget.  Given the recent round of tragedies, the legislature will ask whether this 4.2% increase is adequate to make necessary reductions in caseload and improvements in training.
The fourth major program category, Transportation, comes in at $3.48 billion, up 7.2% from $3.25 billion.   The bulk of this spending comes in the capital budget — $2.56 billion or 61.5% of the capital budget.  The budgeted component of transportation spending is up 31.3%, reflecting largely the movement of transportation staff off of the capital budget onto the operating budget as mandated by last year's transportation reforms.  That movement frees up capital spending capacity for greater investment in infrastructure.
There are many smaller ticket items of great significance in the budget — including investments in youth crime prevention, re-entry support for prisoners, drug treatment, development of specialty courts and climate-change adaptation. We will debate these over the months to come.  
The other question which will get much scrutiny in the months to come is the actual balance of the budget.  The budget makes reduced use of one-time revenues.  However, the Governor proposes some small new taxes which have not been welcomed by the legislature in the past.  Even with these new taxes, the Governor's budget does make a modest draw from stabilization reserves despite the rising economy.  Given that much of the revenues and spending in the budget are essentially fixed, the legislature will have to give considerable thought as to how to balance the  budget.  To some extent, this challenge is optical — in most years, our revenue projections are conservative enough that by mid-fiscal-year new flexibility emerges.