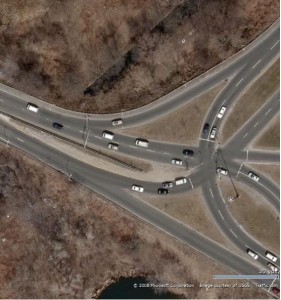 Note: This post is an update of a post including the meeting notice. I've edited that post rather than creating a new post so as to keep the comments together.
At a meeting held last night, the Massachusetts Highway Department presented its plans and took input for a redesign of the Route 2/16 Intersection. In most respects the proposal was positively received, although those attending raised a number of issues meriting further consideration by the designers.
This project comes out of planning meetings which Senator Tolman initiated and which I participated in over the past few years.  These meetings built on Alewife traffic studies going further back led by the state's Central Transportation Planning Staff.
Here are the highlights of the proposal:
Changing the intersection geometry by shaving the traffic islands in the middle and by converting a short "sidewalk to nowhere" segment along the intersection to pavement

to add another lane of storage for cars turning on to Rt 16 East from Rt 2 East
to add a second lane for cars turning from Rt 16 West to Rt West
to add a lane so that cars leaving the jug handle ramp coming up from the T station don't have to merge immediately — make the departure of Route 2 West from the intersection have 3 lanes, coming back to 2 lanes as it goes under the pedestrian bridge

Change the signal from a four phase model to a three phase model — saving yellow and stop times.
Put the signal timing up and down Alewife Brook Parkway on GPS based signal timing so that it will remain in phase — in practice, it is often out of phase, using old timing technology.
The project is three to five years away from construction. This meeting was a "25% design" meeting — there is a lot of design work to complete and then the question of funding. It's perceived as a cost-effective project — at roughly 2 million, it offers significant safety and throughput benefits.
From the original notice — 10 days to submit written comments:
Written statements and other exhibits in place of, or in addition to, oral statements made at the Public Hearing regarding the proposed undertaking are to be submitted to Thomas F. Broderick, P.E., Acting Chief Engineer, MassDOT, 10 Park Plaza, Boston, MA 02116, ATTN: Project Management Section, Project File No. 605637. Such submissions will also be accepted at the hearing.  Mailed statements and exhibits intended for inclusion in the public hearing transcript must be postmarked within ten (10) business days of this Public Hearing.  Project inquiries may be emailed to dot.feedback.highway@state.ma.us