Intro from Will B.
Quinn Diaz on my team has prepared the helpful information below which provides the context for the Governor's recent suspension of vaping products in Massachusetts. Please see my own statement boxed further below.
I've heard from some people who use vaping products and are very upset about the ban. There does appear to be a real health problem, but I also see the risk of that people will shift into the black market and use more dangerous products. I'm continue to be interested in hearing comments, especially from users of vaping products with a personal perspective. Please do comment below.
You can make your comment anonymous by using a fictional name and fictional email address. Your email address is never published. It is only visible to me and my team. We reserve the right not to publish comments that use an unverifiable email address.
On September 24, Governor Baker declared a public health emergency and temporary ban on the sale of all vaping products in response to a multi-state outbreak of unexplained lung illnesses associated with vaping. In effect until January 25, the ban seeks to provide medical experts time to properly investigate the dangers associated with the use of electronic nicotine and marijuana products, which will assist the state in developing a response that could include new legislation or Department of Public Health (DPH) regulations.
At a Public Health Council meeting on September 11, Commissioner Monical Bharel issued a mandate requiring clinicians statewide to report possible instances of vaping-related illness to DPH. The agency has since received 61 referrals and has forwarded five cases that have met federal criteria to the Centers for Disease Control and Prevention (CDC) for further examination. As of September 26, the CDC has collected the following information on lung injury associated with e-cigarette product use nationwide: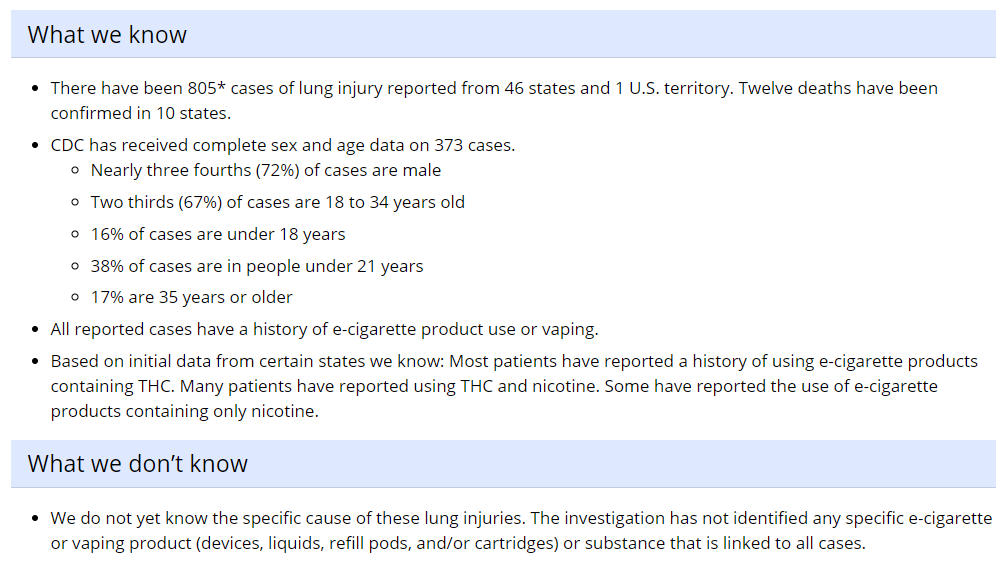 Although conventional cigarette smoking has declined notably over the past several decades, 41% of high school students in Massachusetts reported having tried e-cigarettes in 2017, with 1 in 5 reporting regular use, according to DPH statistics. Current use of e-cigarettes among high school students is 6 times higher than the rate of use among adults, and vaping devices have become the most common tobacco product used by youth.
Given the industry's nascence, gaps in scientific evidence and understanding still abound, including on the overall and long-term health impacts of vaping products and on their utility as combustible tobacco cessation devices.
Governor Baker's emergency declaration authorizes local police departments, boards of public health, and the Cannabis Control Commission, which regulates the legal marijuana industry, to conduct compliance checks to ensure retailers and licensees remove all vaping products from their shelves. The state will also establish a standing pharmacy order for nicotine replacement products that individuals will be able to use their health insurance to purchase without a prescription.
Critics of the Governor's ban have cited inconclusive data linking vaping-related lung illness to the legal market, concerns the ban may push individuals who use vapes into a dangerous, illicit market, evidence vaping has helped some people quit smoking, and the sudden impact on vaping businesses.
Following the Governor's declaration, the legislature's Joint Committee on Public Health voted unanimously Wednesday to advance a redrafted version of a bill – S.2357, An Act regulating flavored tobacco products – first filed by Senator John Keenan and Representative Danielle Gregoire that would prohibit the sale of all flavored tobacco products. House Speaker Robert DeLeo also suggested the House would develop comprehensive legislation aimed at long-term solutions to issues surrounding vaping.
Additional Resources:
Summary of Comments by Quinn Diaz
A review of comments left as of September 27 at 2:45 PM indicate that commenters are nearly evenly split in their reactions to the Governor's temporary ban on vaping products.
Supporters of the ban commonly view the executive action as a thoughtful response to an under-researched, preventable public health issue that predominantly affects youth and has initiated a new generation of smokers. Supporters expressed strong critiques of the vape industry, which they view as leveraging a lack of federal regulation and employing unethical marketing practices to target youth in order to drive profits, while pushing industry-funded studies to suggest vape products are safer alternatives to combustible cigarettes.
Critics of the ban view the Governor's declaration as a reactive, shortsighted and ill-informed moral attack on individual liberties that will only work to harm medical marijuana patients and recreational consumers, small businesses, and individuals who have experienced success with vaping products as smoking cessation devices. Critics struggle to understand the utility of a temporary ban given the ongoing availability of combustible cigarettes, and cite concerns related to pushing individuals into an expanding black market with even more dangerous products. Critics also find fault with the Governor's unilateral decision-making approach.
Among supporters, there was a notable faction who believe the ban should carve out exemptions for medical marijuana vape products.
Statement by Will Brownsberger
October 13, 2019
Thanks so much to all who have taken the time to comment online here. I have read every comment posted through midday on Sunday, October 13. All of the input is helpful. I especially appreciate those who shared personal experiences with vaping or with relatives who vape.
I do not doubt the Governor's intentions, his deliberative process or even his wisdom, in instituting the ban on all vaping products. I think he heard from medical professionals who were deeply alarmed by the harms their patients had experienced from vaping. He considered advice from his public health team and he made a call in the best interests of the Commonwealth as he understood those interests.
It is a hard call, but I would not have instituted the ban myself. Instead, I would have focused on alerting people to the dangers of vaping generally and especially to vaping of substances from unreliable sources.
Backing up, let's remember what kind of decision the Governor was called upon to make. Chapter 17, Section 2A empowers the Governor to declare "that an emergency exists which is detrimental to the public health". Upon such a declaration, the Commissioner of Public Health is empowered "take such action and incur such liabilities as [s]he may deem necessary to assure the maintenance of public health and the prevention of disease". These essential powers go back to early days of the republic. Even before germ theory developed, people understood that certain dangerous diseases were contagious and emergency responses were sometimes necessary to contain them.
I do not think we can second-guess the question of whether or not the emergent pattern of vaping deaths legally constitutes an emergency. Certainly, people are dying and we cannot quibble about how many deaths are necessary to constitute an emergency.
Given that the decision made based on a finding of a public health emergency, arguments about whether or not people should vape or have the right to vape are secondary. It is not of primary relevance to the emergency decision whether vaping helps people gets people off of cigarettes or whether it is a bad habit in itself. It is not of primary relevance whether too many young people are starting to vape or whether the industry is targeting young people. Civil liberties and fairness to business owners are not of primary relevance. All of those considerations are deeply important, but they relate to the permanent legislative policy response to vaping, not to the Governor's emergency response to the emergent lung disease.
The question at the fulcrum at the emergency decision is whether or not the ban will save lives or place more lives at risk. In my view, the ban will likely place more lives at risk.
First, we know that roughly ten million children and adults vape nicotine regularly. According to a recent Massachusetts report, 20% of high school students currently use electronic nicotine products. That is a very troubling number, but it is very consistent with national data. It indicates that the population of high school nicotine vapers in Massachusetts alone is on the order of 60,000. Another roughly 15,000 middle school students have some experience with vaping nicotine. These numbers are based on survey data and so are likely biased downwards as some students may not admit their use. Nationwide, the total of current youth nicotine vapers appears to be on the order 4 million or more. Prevalence is lower among adults — only 2.8% nationally — but still that adds up to an estimated 6.9 million adult e-cigarette users.
Among youth in Massachusetts, the rate of admitted past-month use of marijuana is about the same as the rate of admitted past-month use of nicotine products — compare page 33 and page 35 of the Health and Risk Behaviors Survey of Massachusetts Youth). So, it appears likely many are vaping marijuana. It is safe to say that there are millions of THC vapers nationwide.
Second, it is clear that the rate of occurrence of the disease condition is very low among vapers. Nationwide, as of October 8, 1,299 lung injury cases had been reported to the CDC. It is possible that the detected number of cases is a tiny fraction of the actual cases. Milder negative effects of vaping may go unreported, but it seems implausible that 99% of the serious cases would go unreported, but let's make that assumption for the sake of argument: Let's assume that for every CDC reported case, there are 100 unreported cases. Even on that assumption, approximately 1% of vapers (order-of-magnitude 100,000 out of 10 million) would have been stricken with serious disease.
Third, it appears very likely that many if not all of the serious cases derive from ingredients in particular illicit products. Among 573 patients for whom the CDC had some data on substance use history, only 13% reported nicotine-only vaping. Most of the rest were using THC products which are only available on the illicit market in most states. "Nearly all THC-containing products reported were packaged, prefilled cartridges that were primarily acquired from informal sources such as friends, family members, illicit dealers, or off the street." As to those claiming to use only nicotine products, we do not know how many preferred to conceal their THC use, but it is always safe to assume that illegal behavior is under-reported. Additionally, any true nicotine-only users may have been purchasing their product from illicit suppliers of nicotine products. This is likely especially among youth users as sales to minors are illegal under federal law.
Certainly, causes other than bad illicit products remain possible. A certain subset of users could be vulnerable due to a genetic pre-disposition or a co-occuring habit or a particular unusual style of consumption or a malfunction of their vaping equipment. Or the disease could have gone unrecognized and is now emerging as more users continue long-term use. But right now, we are without data that are specifically consistent with those theories, while we do have a very plausible illicit market ingredient theory.
Fourth, we know that nicotine is highly addictive, so that current nicotine vapers are very likely to continue using nicotine. Some will switch to other lawful nicotine delivery systems, but many will turn to nicotine vape suppliers who are willing to violate the Massachusetts sale ban — the kind of supplier likely to sell less safe products. Similarly, many current THC vapers will turn away from lawful Massachusetts suppliers selling regulated and tested products to the unlawful THC products that the CDC has identified as the most prevalent antecedent of the disease.
If, as the facts above suggest, thousands of Massachusetts vaping users may turn to riskier sources of product and continue vaping through the ban, it seems likely that the ban may result in increased disease and death. A widespread advisory about the risks of vaping and the specific exposures from certain products might have been a safer approach to protecting the public than an absolute ban. The one clearly good effect of the Governor's decision is that it does send a huge advisory message.
There is no legislative appetite to overturn the Governor's decision. Many legislators, like many commenters on the issue here, are worried about vaping generally as a public health issue and therefore welcome the Governor's ban. So, we will have to live through the ban. At some point, hindsight will further illuminate the decision.