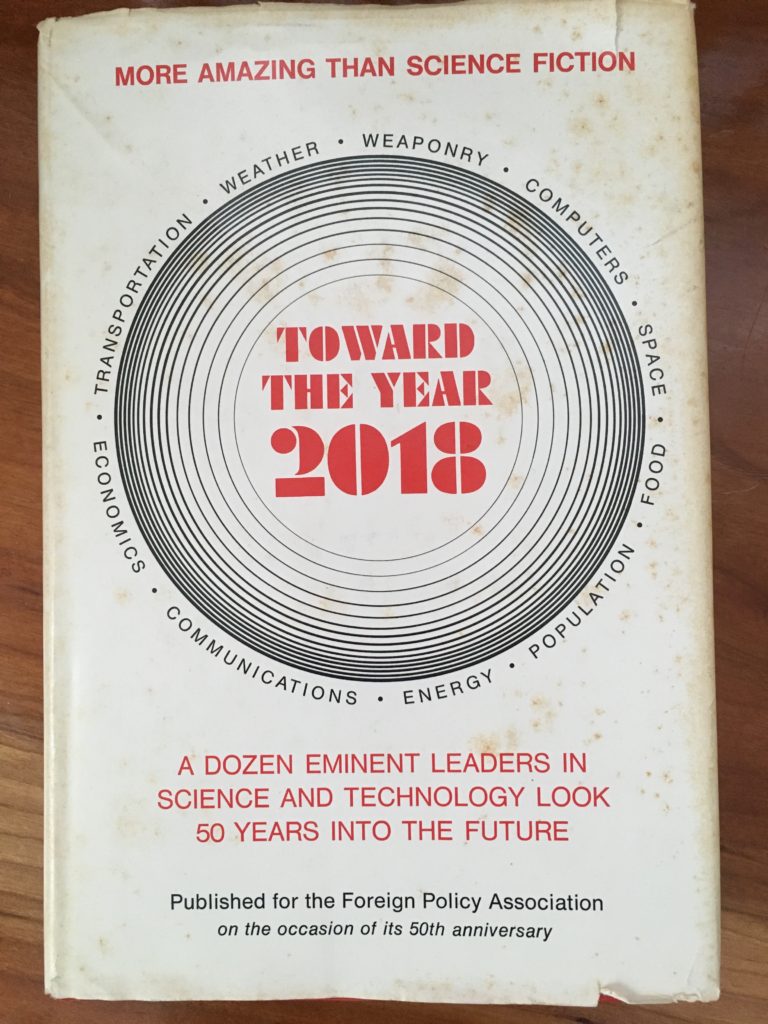 Earlier this month, my wife and I spent some time with her parents as they downsized out of their home of 46 years. Among their books, we came across a collection of future forecasts titled "Toward the Year 2018".
It was a serious effort by respected professors, consultants and executives, many with advisory roles in Washington, to look forward 50 years to where we are today.
Overall, it is humbling how much was not foreseeable to them.
They saw the great potential for exponentially improving communications and computing to bring knowledge to our fingertips and connect everyone in the world.
They marveled at the likelihood that we might get monthly statistics on traffic delays: They did not foresee us getting instantaneous traffic avoidance advice by talking to our smart phones. Nor did they have a glimmer of the enormous changes that automation would wreak in many industries.
They foresaw correctly that improvements in agricultural productivity would keep the world from starving, even though they overestimated population. Yet, they completely missed the emergence of biotechnology and life sciences.
They projected American energy independence, but got the mix of power sources wrong. They thought nuclear would continue to expand and did not foresee the enormous reductions in the cost of solar panels.
There were some speculative bloopers – the possibility of anti-gravity cars and the likely replacement of bullets with ray-guns – but the systematic error that they seemed to make was overestimating our likely progress in understanding complex human and natural phenomena.
They guessed that with increased computing power, we would learn how to control weather systems. By learning how storms start, we could make rain and perhaps even send hurricanes at enemy naval fleets.
They thought that better economics and behavioral science would allow us to completely eliminate boom and bust business cycles and to choose our rates of economic growth.
They thought that better understanding of the brain would have a profound impact on educational technology – "rates of teaching and learning will be accelerated and absorption increased".
Where they made guesses about how complex systems would evolve, they could only project trends. They thought the gap between rich and poor nations would grow. They projected that real per capita world production would increase by a factor of 5 while it has actually grown by a factor of more like 20.
They did not foresee the economic transformation of China and the rapid growth of Asian economies other than Japan. They did not imagine that some Asian and European countries would surpass the U.S. in per capita output
They overestimated economic growth within the United States – their low-end projection was actually about twice what we achieved (even though GNP has quadrupled).
They speculated that 1 family in 12 would live like millionaires in the United States – by that they meant earning more than $50,000 in 1965 dollars. That equates to earning roughly $400,000 in 2017 dollars, a level that only roughly 1% achieve today.
They underestimated inequality within the U.S. On the low end, they thought only 7.1% of the households would be making less than $47,000 in 2017, while, in fact, over 40% of U.S. households are below that level.
Unsurprisingly, they did not foresee the breakup of the Soviet empire, the Arab Spring, the rise of populist, anti-immigrant politicians in western democracies or any of the other major political developments of the past fifty years. They thought the world was entering a period of "general political and economic stability".
These were the best and the brightest of their time. The take away: The future is complex and unknowable. But, surely there is no healthy alternative to hope.