Update, Thursday, November 15 Morning
Finally, the signals on Mount Auburn and Fresh Pond are working as intended. Many people are avoiding the area and that made traffic quite light, but the improvements are very real.
Roughly 20 cars were getting through in each light cycle on Mount Auburn this morning, compared to only one or two yesterday. At 8:30AM, the total time from Belmont Street through Fresh Pond was down to 4 minutes, compared to 20 yesterday. After 8:30, a work crew took a lane from the intersection. Their project to replace a MBTA utility pole downed by a motorist should be done before Monday. Traffic was a little slower with that lane gone, but it did not back up past Aberdeen.
Conditions on Fresh Pond Parkway seemed very good, with plenty of capacity to receive motorists crossing or turning off of Huron Avenue.
There are some remaining opportunities for light timing improvement which we will attempt once it is clear that the current round of improvements is finally stable.
Please continue to provide feedback. The more specific the better. If you were delayed unreasonably, I want to know exactly where and when so we can provide meaningful guidance to the engineering team.
For those who interested, the challenge has been programming the sophisticated M-60 Siemens Traffic Controllers. These devices are complex enough that many professional engineers cannot keep with the training requirements for them. Yesterday, DCR had the right specialist make the necessary corrections.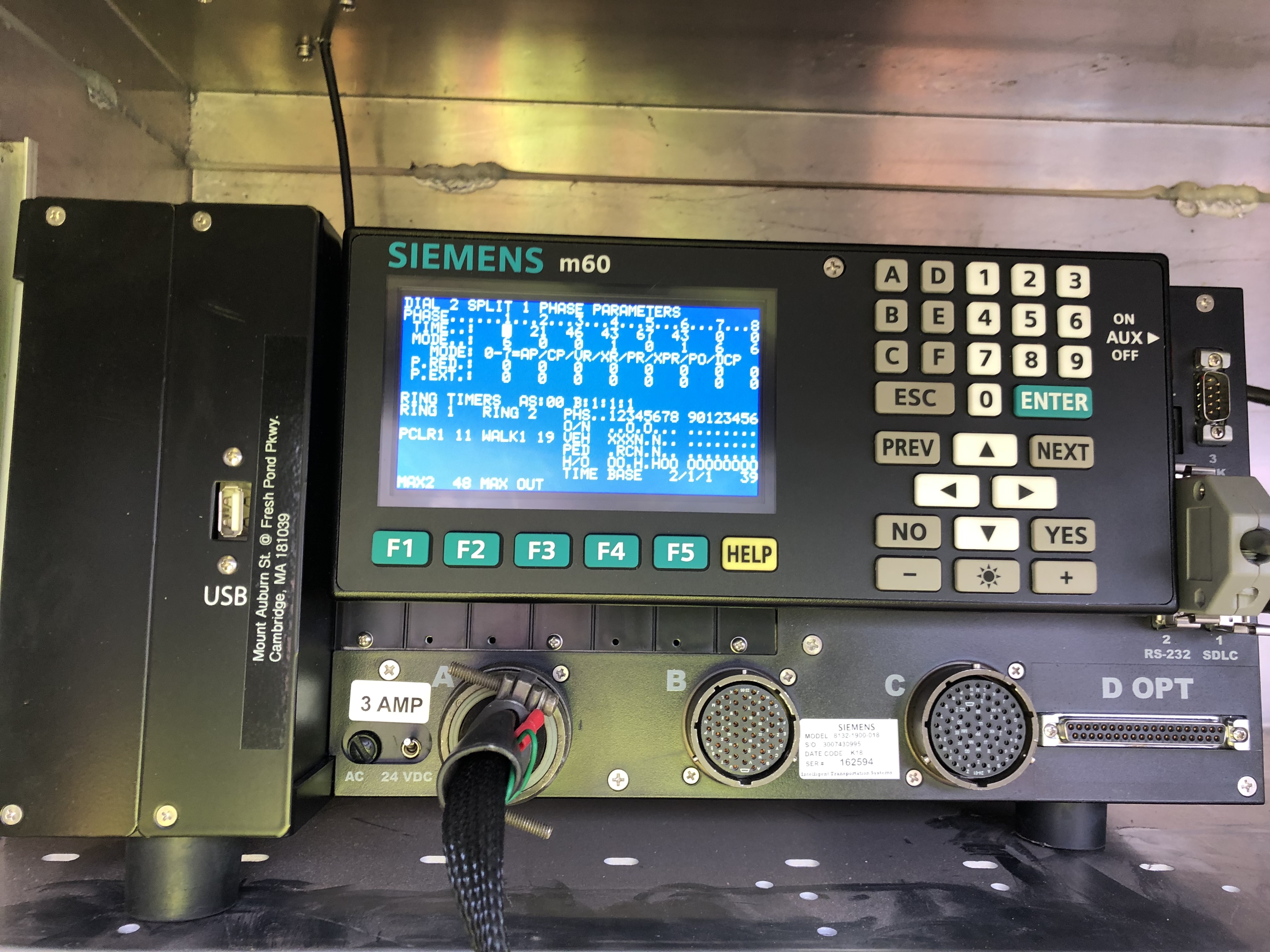 Observations at the main light from 7:52AM appear below. Note that around 8AM, there is a problem with left turning parents driving their kids to Shady Hill school. We'll give this continuing attention.
Update, Wednesday, November 14 Evening
Tuesday's efforts did not provide the promised improvements.
Traffic conditions were slightly better but still terrible on Mount Auburn this morning. Transit times from Belmont Street to Fresh Pond Parkway reached as high as 20 minutes. Driver frustration was high.
Light timing was still the problem.
Pine Ridge Technologies is the contractor whose light programming efforts have so far been unsuccessful. Ocean State Signal — a more specialized firm — was brought on site today to redo the timings.
I will be on site tomorrow morning to continue monitoring the results.
Update, Tuesday, November 13 Afternoon
A series of human errors in signal programming has made the last 10 days miserable on Mount Auburn Street and Fresh Pond Parkway.
Today's commute was especially disastrous as the two close-together lights at Coolidge Avenue and at Fresh Pond parkway were 100% out of phase.  Only a few cars could get through in each cycle — the number of cars that could fit in between the two lights.  These out-of-synch lights effectively blocked traffic and cars were backed up well in to Watertown and Belmont.
To make matters worse today, a utility pole got knocked down in an accident last night.  Crews had to take a lane between Coolidge Avenue and Fresh Pond Parkway to support the bus trolley lines with a special truck.   This further diminished the capacity of the intersection.
Last week was bad too.  An unexplained software problem, possibly related to the transition to daylight savings time, caused the lights to be partially out of synch.  An attempted fix last Thursday was botched by a subcontractor, apparently making matters worse not better.  However, the top traffic engineer of DCR was on site to oversee fixes today and believes that tomorrow's commute should be much better.
I will continue to monitor the intersection tomorrow and DCR's top traffic engineer will also be on site as will engineering staff from the City of Cambridge.
The video below shows the traffic signal timing this morning that was disastrous. It was filmed from the north side of Mount Auburn Street opposite the opening of Coolidge Avenue.
Text of Email this afternoon from Tegin Teich, City of Cambridge
To the interested parties of the Mt. Auburn Bus Priority Pilot,

As many of you are aware, problems with the DCR-owned signals at Coolidge Ave and Fresh Pond Parkway resurfaced last week. We understand that these issues impacted all users (drivers and bus riders) on Mt. Auburn Street and Fresh Pond Parkway. The signal timing issues were exacerbated by other traffic conditions, such as the crash on 93 last week that affected traffic regionally.

We have been assured that DCR brought the Mt. Auburn Street and Fresh Pond Parkway signal back into coordination and working order today. This should ease challenges experienced by bus riders and drivers from this point forward and we will be monitoring to ensure that is the case.

The bus lane pilot works reasonably well when the signal timing was working correctly, as was the case during the week of October 29th. We received many positive comments from all kinds of users that week, as well as some informative critiques that will help us tweak the design to work better.

We will continue to monitor the conditions to ensure that the signal timing works and the project functions as intended. Following this, we will continue to observe and note unanticipated effects, make minor design modifications (if needed) to improve the bus lane pilot project, and begin assessing the impact of the bus lane pilot on all users before making decisions on next steps.

Thank you yet again for your patience as we focus on fixing the issues at hand before turning to an evaluation of the bus lane itself. This is a multi-agency project and requires coordination among many entities for its success. Our goal remains the same for the pilot: to significantly improve travel for bus riders without negatively impacting driving travel times. It is very important that you continue to share your feedback so we can have the best outcome as possible for all Mt. Auburn St. users.

Best,

Tegin
Update, Friday, November 9 Afternoon
The changes made on Thursday were not fully successful. Mount Auburn Street East Bound throughput improved somewhat, but timing errors were made that caused backups on Fresh Pond Parkway.
The team hopes to have the system working well again by Tuesday mid-day.
Aggressive monitoring will continue until the changes are working right.
.
Update, Thursday, November 8
As of 7AM this morning, the fixes to synchronization had been made. A DCR subcontractor was on site monitoring the situation, as was I. Motorists were getting through in 2 cycles when traffic started to build after 7:30. Fairly typical for the area — roughly 3 minutes from Aberdeen across Fresh Pond Parkway. Much better than the 9-10 minutes I tested the day before.
.
Update, Wednesday, November 7
Week three of the Mount Auburn bus lane roll out has been rough. It appears that the light timing fixes that were made two weeks ago drifted out of place and traffic conditions deteriorated considerably.
The key timing issue is between the two lights closely spaced at Coolidge Avenue and the main Fresh Pond parkway intersection. If they are not fully coordinated, then the waits build rapidly. Testing rush hour driving conditions today, I experienced a full 9 minute delay driving between Aberdeen Avenue and Fresh Pond. When I reached Coolidge Avenue, I observed that for the majority of the green signal that the first light had, the second light was red.
DCR is aware of the problem and has promised a fix today.
There are a number of possible ways that the lights can drift out of synch and it has been an historical problem that goes back before the bus lanes. We are going to push for a hard coupling of the lights to improve reliability. This permanent fix will take time.
Update, Tuesday, October 23
The first day of the new lanes did not go as well as hoped. Many bus riders reported a positive experience, but auto drivers were backed up.
There was an error in the signal timing that backed up auto traffic badly. That error has now been fixed.
There are two lights very close together along Mount Auburn — the light at the main Fresh Pond Parkway intersection and the one immediately before it, the light at Coolidge Avenue. These two lights must be very carefully synchronized so that the vehicles coming out through the Coolidge light can get out and across the the main intersection. If vehicles cannot go through the Coolidge light when it is green because the second light is red and the storage is already full, then the whole system gets backed up. This is a condition that occurred from time to time even before the changes.
The two lights are not physically connected. Rather, they both get the exact time of day from GPS satellites and then run on programmed cycles. The cycles in the two lights have to be programmed so that they work together with reference to the shared time of day. When there is an error in that programming as there was on Monday, delays can build exponentially.
The error was fixed on Monday and traffic flowed better on Tuesday. Tuning will continue on Wednesday to optimize performance for both cars and buses.
Traffic engineers from the City of Cambridge and the state's Department of Conservation and Recreation (which controls the two critical lights) will continue to monitor the performance of the new system.
If you have experiences — good or bad with traffic flow that you want to post here, please include the date and time.
Four years ago,  Representatives Hecht and Rogers and Senator Jehlen and I started a conversation about how to improve the  71 and 73 bus service on Mount Auburn Street, focused especially on the bottleneck in Cambridge in front of the Mount Auburn Cemetery.  That conversation and the efforts that have come out of it are chronicled in a long thread on my website.
The conversation is finally starting to result in real changes.  Dedicated bus lanes have recently been painted on Mount Auburn Street in that stretch.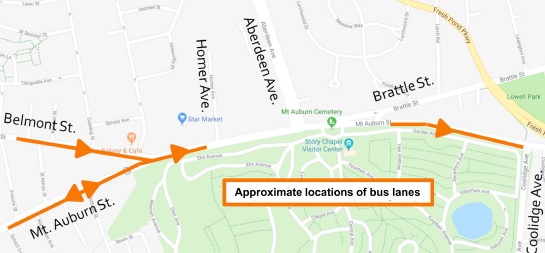 And, on Monday morning, new signal controls that turn green for buses when they approach will go live at the two closely spaced lights where Mount Auburn Street crosses Coolidge Avenue and then Fresh Pond Parkway.  Transit priority signals are already working at the lights at Homer Ave and Aberdeen Avenue.
We hope the changes will make a big difference for bus commuters (the majority of commuters in that stretch of road), without slowing down car drivers.  This will be possible because signal timing changes should increase overall throughput on Mount Auburn Street.  Cyclists will be permitted to use the bus lanes.   More changes will come over the next year or two that will continue to make the intersections in this system work better and more safely for everyone.
The City of Cambridge has been doing a great job explaining the changes — see their website here which includes plans and informational videos.
The project has required intense collaboration between the MBTA, the City of Cambridge, the Department of Conservation and Recreation. We are very grateful for all of their efforts.
Let me know how you feel the changes are working!
Future Plans
There is another wave of changes planned for the future that should benefit all travelers on Mount Auburn Street – geometry improvements at the huge intersection by Mount Auburn Hospital.
In order to give the heavy Fresh Pond Parkway traffic the green light time that it needs to get through that intersection, traffic at Mount Auburn Street waits at a red light. The total amount of time in the light cycle is limited because of the poor geometry of the intersection. The roads cross at an angle so the distance between stop bars is unusually large – cars take a long time to get through the intersection and frequently get stuck in the middle causing gridlock. Pedestrians also need extra time to cross.
Tightening up the intersection will allow more green time for all traffic to move through it. Scheduling for those changes is still in flux, but we are pushing to complete some of them in the next construction season.