The Building Energy Reporting and Disclosure Ordinance (BERDO) was passed by the Boston City Council in 2013. It requires buildings of a certain size to report their energy and water usages to the city each year. An amendment to BERDO was filed on June 11, 2021 which would require building owners to report their carbon emissions and comply with new emission standards. The amendment had a hearing on July 22, 2021, and a working session was held on August 23, 2021. This post will highlight the main features of the new amendment.
You can read the original ordinance in the City of Boston Municipal Code here. Visit the City of Boston BERDO page here.
You can read the full BERDO amendment here.
BERDO
BERDO was created to "reduce the emissions of air pollutants, including greenhouse gases, from energy production, encourage efficient use of energy and water, and develop further investment in building a green economy by requiring the reporting and disclosure of annual energy and water use in all large buildings in accordance with this article".
BERDO requires all buildings subject to reporting to report their energy and water usages to the city of Boston each year.
Failure to comply with the reporting obligations results in a fine to the building owner.
BERDO allowed the Air Pollution Control Commission to establish an Advisory Committee "comprised of property owners subject to the requirements of this sub-section, including, but not limited to, representatives of the following sectors: commercial/office; health care and hospitals; higher education; hospitality; retail; and residential." This committee was charged with supporting the efforts of the ordinance.
BERDO Amendement
In addition to the energy and water reporting requirements laid out in BERDO, the BERDO amendment requires the reporting of carbon emissions each year. It also mandates that all buildings required to report also meet new carbon emission standards set out in the ordinance.
Equitable Emissions Investment Fund
The amendment calls for the establishment of an Equitable Emissions Investment Fund to "fund all Alternative Compliance Payments and penalties made pursuant to this Subsection…Money in the Fund shall be expended for the support, implementation, and administration of local carbon abatement projects that benefit the City of Boston prioritizing Environmental Justice Populations, including by improving or promoting" the following initiatives:
low-income affordable housing and housing where tenants are at risk of displacement and in need of rent stabilization;
local air quality improvement;
indoor environmental quality and health for building tenants;
economic inclusion, training, and technical assistance for Minority, Women, and Disadvantaged Business Enterprises (MWDBE) and cooperative contractors;
workforce development training programs for residents who have been disproportionately impacted by the effects of climate change;
projects with community ownership of housing and renewable energy infrastructure;
reduced energy burdens; or
any further environmental initiatives.
Emissions Requirements
Each building subject to the reporting requirements of this Subsection shall comply with the CO2e Emissions standards set forth in Table 1 below.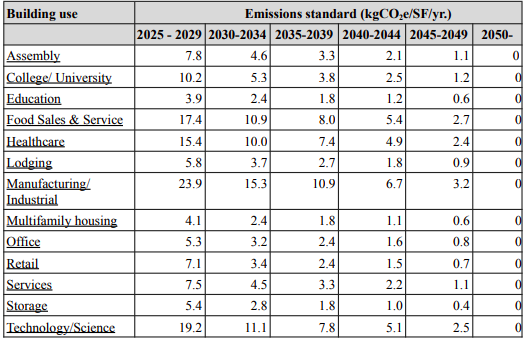 Hardship Compliance Plans
"A Building Owner may apply to the Review Board for a Hardship Compliance Plan if there are Building characteristics or circumstances that present a hardship in complying with the Emissions standards in this Ordinance. Such characteristics or circumstances, to be detailed in the Regulations, may include historic Building designations, affordable housing refinancing timelines, pre-existing long-term Energy contracts without reopeners, or financial hardship."
Alternative Compliance Payments
"Buildings may mitigate CO2e Emissions from Energy use by making Alternative Compliance Payments. The price of an Alternative Compliance Payment shall be based on the average cost per metric ton of CO2e to decarbonize Buildings subject to this Subsection. The initial cost of an Alternative Compliance Payment shall be $234 per metric ton of CO2e. The cost of an Alternative Compliance Payment shall be reviewed at least every five (5) years by the Review Board, with input from the Environment Department, and may be adjusted by the Regulations."
Failure to Comply
Failure to comply with the subsection will result in fines issued to the building owner. For the list of fines, see pages 17-18 of the amendment.
Review Board
The amendment establishes an "independent Review Board appointed by the Mayor and approved by the Boston City Council" to support the new requirements laid out. The Advisory Committee established in the original ordinance is disbanded.