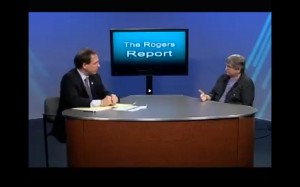 Barbara Miranda, Senator Brownsberger's Chief of Staff, was interviewed by State Representative Dave Rogers on the first installment of the Rogers Report,  State Representative Dave Rogers' local television "show informing constituents of the 24th Middlesex district."
The episode featuring Barbara was broadcast on July 26, 2013 by the Belmont Media Center.  Having worked at the State House for three Belmont legislators, Barbara shares her experience, her perspective on public service, and her advice for future public servants.
You can watch the Rogers Report here.  Barbara's segment begins at 7:16.
Anne Johnson Landry
Committee Counsel and Policy Advisor
Office of State Senator William N. Brownsberger