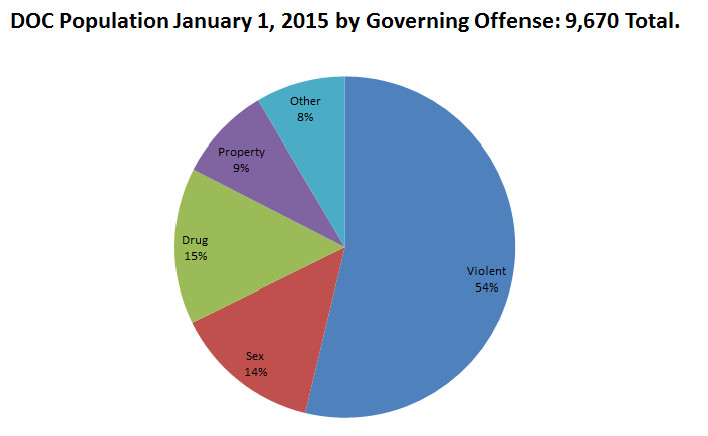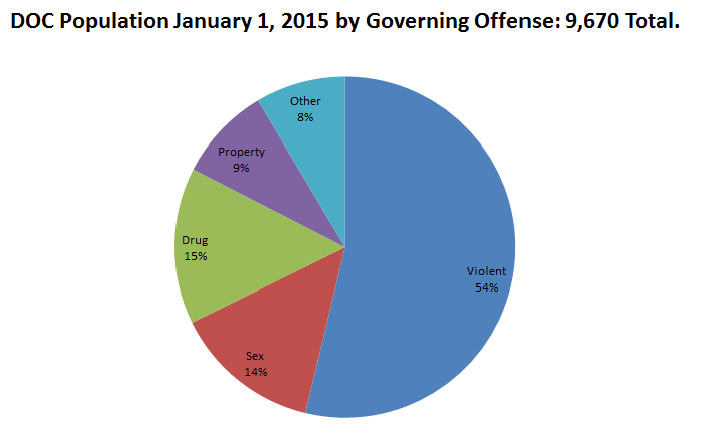 Most state prisoners have committed violent offenses, sex offenses or property offenses.  Many people are under the incorrect impression that most offenders in state prison are there for drug offenses, but persons convicted of drug offenses are currently only 15% of the prison population. The confusion springs from the following realities:
Currently and for some decades roughly half of the federal prison population has been committed for a drug offense.  This reflects federal law enforcement priorities.  However, federal inmates are under 10% of the incarcerated population nationwide — on December 31, 2013, there were 215,100 people in federal custody, but 2,012,400 in state or local custody.
Many people who commit crimes also abuse substances — according to the Arrestee Drug Abuse Monitoring project, "In 2013, from 63 percent (Atlanta) to 83 percent (Chicago and Sacramento) of adult male booked arrestees tested positive for at least one drug in their system at the time of arrest."
Among people who abuse substances, some may commit crimes as a result of intoxication.
Among people who abuse substances, some are addicted, and among those who are addicted, a portion may commit acquisitive crimes — burglary, larceny, robbery, prostitution — to support their habit.
There has been for years a rich conversation about the close relationship between drugs and crime, but actual drug offenses — violations of our controlled substances laws — account for a fraction of our incarcerated population.
Chart Source: Massachusetts Department of Correction, Prison Population Trends 2014.