The Massachusetts Water Resources Authority tracks wastewater at the Deer Island Treatment Plant for indicators of COVID-19 infection. A constituent, David Chase, has provided a graph of this information which displays the data in a semi-logarithmic way to demonstrate acceleration and deceleration of spread. You can find this graph below.
Background Information
Studies show that wastewater analysis can be an effective way of measuring community spread of COVID-19. By identifying the number of copies of COVID-19 RNA in a sample, scientists can measure how quickly the virus is spreading in a particular area. One benefit of this method is that everyone in the population is contributing to the wastewater, so there are no issues with under reporting of cases or infected individuals not getting tested. You can read more about this method of COVID-19 surveillance on the Center for Disease Control and Prevention webpage.
Understanding the Graph
This graph displays the 7-day averages of RNA copies per milliliter of wastewater, as collected by the MWRA, in a semi-logarithmic manner. A semi-log graph is useful for displaying data in which there is a change-by-a-factor rate of change. By displaying the data in this way, readers can gain an understanding of the rate at which the virus is spreading as compared to the previous week. Because this is an analysis of all wastewater, it cannot be determined from this graph which percentage of RNA copies are coming from what groups in the community. The RNA could be coming from children who are not yet able to be vaccinated, breakthrough cases from vaccinated individuals, or unvaccinated adults.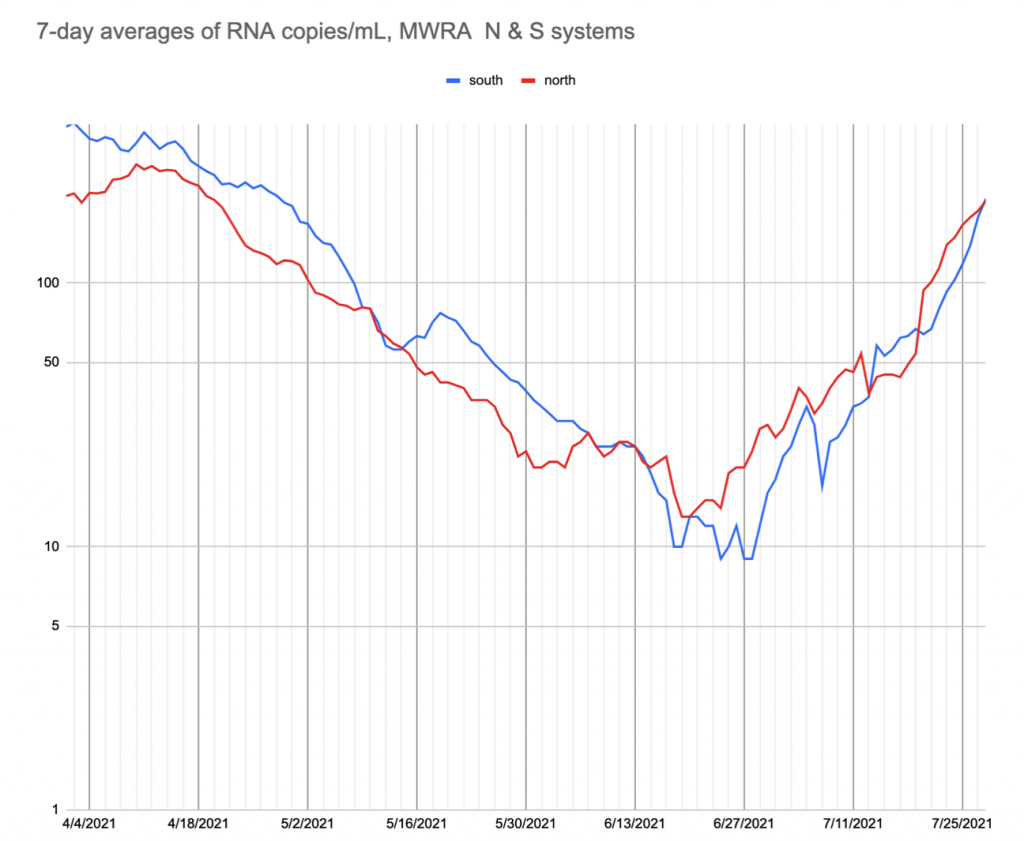 To keep up with the latest data, you can visit the spreadsheet provided by David Chase. It is updated 2 to 3 times a week.
To view the raw MWRA data, you can visit their website.