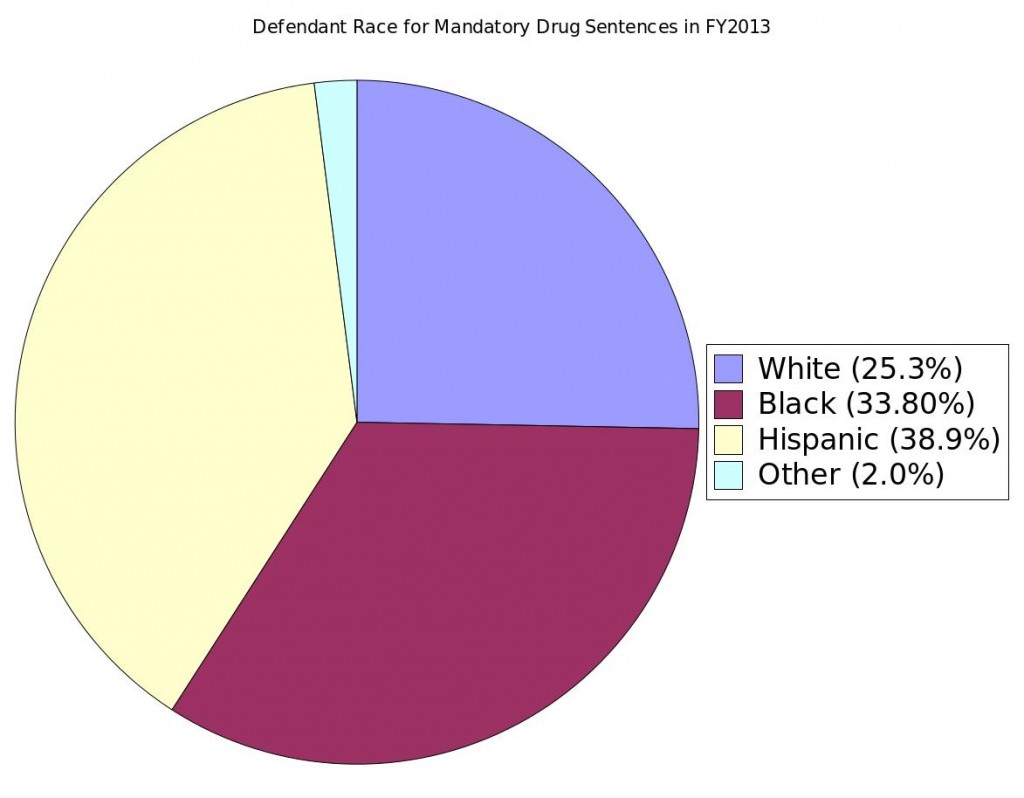 Illegal drug use spreads through all racial and ethnic groups and whites are the group most commonly convicted of possession (70.9% in Fiscal 2013). The racial disproportionality at the mandatory minimum level is therefore troubling, especially because of the unique role of prosecutorial discretion in bringing and enforcing mandatory minimum charges.
Mandatory minimum sentences for drug offenses almost exclusively involve distribution of heroin and cocaine. In fiscal 2013, only 2 cases involved the high-weight mandatory minimums for marijuana distribution.
All cocaine is grown in South America and while there are multiple world sources for heroin, most of the heroin sold in the United States also comes from Mexico or South America. The same criminal gangs that terrorize and destabilize Latin American countries are active at the distribution level in the United States. U.S. based gangs collaborate with Mexican drug trafficking organizations. These realities of the drug business have to affect the ethnic mix of persons arrested for higher level distribution offenses and also place law-abiding people of color at a higher risk of profiling by narcotics law enforcement officers.
Regardless of the causes of the disparity — and there are many theories — even just the appearance of racial/ethnic targeting is, in itself, a valid reason to disfavor mandatory minimums.
Source for Fiscal 2013 Race by Offense Statistics: from Sentencing Commisison, Survey of Sentencing Practices, FY13, Table 35.