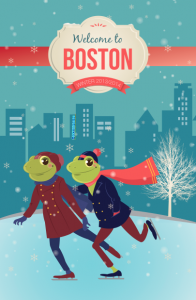 We share this press release from the City of Boston about activities you can participate in during the holiday season to support neighborhood businesses throughout the city. Here is the link to the full Winter Brochure.
***********************
Mayor Menino Kicks Off Holiday Season with New Shopping Program, Decorating Contests, Holiday Parking Incentives
Holidays on Main Streets campaign supports neighborhood small businesses
Mayor Thomas M. Menino last night kicked off the holiday season with a series of initiatives to bring the holiday spirit to each of Boston's neighborhoods. This year's offerings include the Holidays on Main Streets campaign, supporting small businesses, a new Main Streets shopping program entitled Wrap Up Your Holidays on Main Streets, two city-wide decorating contests, and free holiday parking hours in commercial districts.
"This year, we're doing everything we can to promote all our neighborhood business districts have to offer during the holiday season," Mayor Menino said. "Rather than leaving family and friends formidnight lines and mall traffic, we hope shoppers will explore all the unique gifts and holiday experiences available right in their own neighborhoods."
The Holidays on Main Streets small business initiative supports neighborhood businesses by highlighting the events taking place in and around the City's 20 Main Streets districts through the end of December. The campaign kicked off on Tuesday, November 26 with a block party in the Mission Hill Main Street District, as Mayor Menino joined the Boston Latin School Wolftones and Wolfettes, the Boston Children's Theatre, the Mission Hill Main Streets Board, representatives from area hospitals and universities, Brigham and Women's Hospital, and residents and business owners in Mission Hill Main Street District.
This year's initiatives to promote Main Streets holiday shopping include:
·         Wrap Up Your Holidays on Main Streets: Select Boston Centers for Youth & Families (BCYF) centers will have extended hours, during which children will be entertained while their parents shop. Children will participate in sports, games, holiday art and storytelling at the Centers, giving families the opportunity to support their neighborhood businesses, and become familiar with their local BCYF community center and its programming.
·         Deck the City Decorating Competitions, the City's holiday storefront decorating competition, will continue, with neighborhood businesses competing city-wide for the title of best storefront holiday decorations. Main Streets businesses interested in participating should contact their district office to register. Storefront windows will be decorated by Monday, December 2. A panel of local judges chosen by each participating Main Street district will then select the best window display and submit that contestant for posting to the City's website. On Monday, December 9, Mayor Menino will ask the public to vote for their favorite festive storefront windows. The winners selected through the voting process will be honored on Thursday, December 19 at a celebration hosted by Mayor Menino at the winning business.
·         Deck the Rooftops, a city-wide residential lighting contest, will also continue this year. Participants must be City of Boston residents to participate in Deck the Rooftops, though home ownership is not required. Judges will evaluate the overall design and appeal of residents' lighting displays, and participants are encouraged to use LED lights whenever possible. Competitive categories include: one-or two-family homes, triple deckers, porch/balcony, multi-family or apartment building. More details about both decorating contests can be found at www.cityofboston.gov/deckthecity.
·         Free Holiday Parking: As is tradition in Boston, shoppers will enjoy two free hours of metered parking throughout the City's commercial districts, including downtown, starting on Friday, November 29, and continuing on five consecutive Saturdays through December 28. While meters will be free on these days, a two-hour time limit will be enforced by the Boston Transportation Department to accommodate as many visitors as possible.
Toys for Tickets Campaign
Any driver issued a non-public safety parking ticket on Boston's streets Monday, December 2 through Wednesday, December 4 will be offered the option of resolving their ticket by providing a non-violent, unwrapped toy of equal or greater value than the ticket fine. Public safety violations that are excluded from this program are: HP Ramp, HP-DV Parking Only, Fire Hydrant, Crosswalk, Double Parking, Fire Lane Less than 20 Feet From An Intersection and No Stopping or Standing. To participate in Toys for Tickets, drivers have from Thursday, December 5 through Friday, December 13 to turn in the toys.  Last year's Toys for Tickets campaign yielded more than $3,000 worth of toys.  For information regarding toy drop-off locations, times and dates, visit www.cityofboston.gov/parking/toystickets.asp.
Boston Meter Card Holiday Sale
The City of Boston Transportation Department is once again selling its popular Boston Meter Cards at a discounted rate this holiday season.  Boston Meter Cards are available in denominations of $5, $25, $50, $75 and $100, and all denominations are discounted 20% from Friday, November 29 through Tuesday, December 31, 2013.
Boston Meter Cards may be used to pay electronically for parking at most of the single space meters located on City of Boston public streets.  The cards are available for purchase online at www.cityofboston.gov/parking.  The cards may also be purchased at the following locations.
1)      Weekdays, between the hours of 9 AM and 4 PM, in front of the Office of the Parking Clerk, Room 224, Second Floor of Boston City Hall.
2)      Weekdays, between the hours of 7 AM and 11 PM, and Saturdays, between the hours of 8 AM and 1 PM, at the BTD Tow Lot, 200 Frontage Road.
3)      From Friday, November 29 through Tuesday, December 31, from the City Hall To Go Truck.  Log on to www.cityofboston.gov/cityhalltogo for the truck's schedule.
Cash, credit and debit cards are accepted at the Office of the Parking Clerk and the Tow Lot.  Debit, MasterCard and Visa Card only are accepted at the City Hall To Go Truck.
10th Annual Mayor's Holiday Spectacular
The 10th Annual Mayor's Holiday Spectacular offers visitors special deals on tickets to holiday shows and shopping in Boston. Residents can learn about this year's great holiday events, including a comprehensive list of neighborhood tree lightings, festive trolley tours and local holiday markets, plus special discounts for local dining options and shows such as The Nutcracker and Boston Holiday Pops.  The site is a unique partnership between the Mayor's Office of Arts, Tourism and Special Events, the Greater Boston Convention & Visitors Bureau and ArtsBoston that has enabled hundreds of thousands of families and friends to enjoy the unique holiday attractions that Boston has to offer at a great price. Visit http://www.mayorsholiday.com/ to find holiday events in your neighborhood.