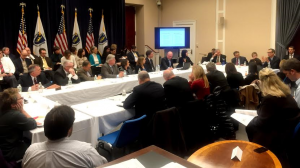 The 25-person Working Group of the CSG Justice Center-Massachusetts Criminal Justice Review met for the first time on January 12, 2016 at the State House. The Working Group was formed by state leaders in October 2015 to partner with the Council of State Government's (CSG) Justice Center to review and provide proposals on criminal justice reform and justice reinvestment in Massachusetts. Senator Brownsberger serves on the Steering Committee as the legislative co-chair.
After Working Group members introduced themselves and their roles in the criminal justice system, the CSG Justice Center presented an overview of justice reinvestment, framed the scope of the work plan, and presented a summary of some preliminary analysis.
You can read the two documents provided for the meeting: an overview of the establishment of the Working Group, and the CSG's presentation on justice reinvestment, incarceration, recidivism, supervision, and related data. The document outlines the proposed timeline for the group to arrive at policy options between October and December of 2016, with a goal to release a final report and introduce legislation in the 2017 Session. The group next meets on April 12.
######
You may be interested in these news pieces:
CommonWealth Magazine: State kicks-off criminal justice review
Boston Globe: Two in five leave Mass. prisons unsupervised, review says
WBUR: New Review Of Mass. Criminal Justice System Prompts Deeper Look Into Recidivism
WGBH: Criminal Justice Reform Seen As Major Goal For Baker And Beacon Hill Democrats