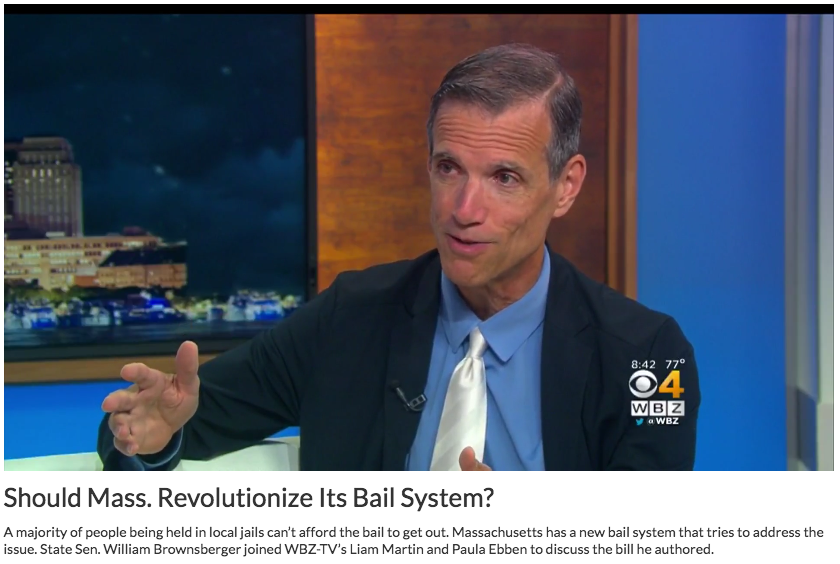 The issue of when judges should incarcerate people who have not been proven guilty is again in the news.
We've had some tragic murders committed by people charged with crimes but released pending trial.  Governor Baker has just proposed to make it easier to detain people before trial. 
At the same time, California has just passed a law eliminating cash bail and some people are asking whether the bail reform we passed in April went far enough in protecting poor people from being held before trial because they can't afford bail.
It's a confusing issue.  Here's a breakdown.
When a person comes before the court charged with a crime, the court has to decide what to do with them during the months that it may take for their case to be resolved.  The court can release them, hold them without bail, or hold them but allow release upon making bail.
In making that decision, the court has several hard questions to ponder – will the accused harm others if released, will the accused return to court for trial if released, what will be the harms to the accused and their family if they are held?
If a person is shown to be dangerous by clear and convincing evidence in a pre-trial hearing, they should be held until their trial without regard to their ability to post bail.  Our laws have long provided for that in certain cases.
The Governor's new bill would allow dangerousness hearings in more cases.  It raises a fair public safety question and the legislature will consider it.
In the much more common case where the prosecutor has not moved for a finding of dangerousness, then the only question before the court when a person faces charges is whether it is necessary to hold them to make sure that they appear to face trial.
The goal of our bail reform last April was to assure that in those cases of non-dangerous defendants, poor people would not be held simply because of their inability to pay.
We did not abolish cash bail.  Rather, we require judges to consider affordability — they should recognize that for some people $50 is as hard to post as $50,000 is for others.  We also require judges to formally consider the harm that pre-trial incarceration causes to the accused.
The California reform that abolishes cash bail does not abolish the power of the courts to hold people pre-trial to assure their return.  California courts will evaluate risk using a statistical prediction tool and decide who to hold based on the results.  This may or may not mean that poor people have a better shot of avoiding pre-trial incarceration.
Abolishing bail removes one way that a person, rich or poor, can give a court confidence that they will return to court.  It's not wrong to allow people to post bail.  The right to post bail is a fundamental right that Americans have had for centuries.  It is wrong is to require unaffordable bail without appropriately considering the financial circumstances of the accused and the harms that incarceration does.
It is also wrong to expect disorganized people to show up to court without some reminders.  Part of our reform package is to create a unit to provide more reminders and support to people to increase their probability of returning to court.  If judges know that defendants will get help, they will be more inclined to release them.
Whether our April reforms will be successful in eliminating unnecessary pre-trial detention remains to be seen.  Our April legislation creates a follow-up commission to assure that the results are evaluated.