The Board of Elementary and Secondary Education is not only failing to lead, but affirmatively restraining progress in online learning. For a perspective on these issues, see this op-ed in the Globe that Education Committee Chair, Rep. Marty Walz, and I authored together.
The department had originally drafted very conservative regulations, that would have basically limited virtual education to students with unique needs, like invalids. An advisory group that I had participated in recommended better regulations. Earlier in the year, I had reported optimistically about this progress in drafting regulations. But the final departmental recommendations scaled back virtual schools to the point that real progress is substantially inhibited. See this link for the department's explanation of the board action.
We are certainly on the threshold of a vast change in modes of content delivery, student-teacher connection and peer-to-peer learning. We can't see clearly how it will evolve, but I believe that the future of public education is at stake. If extended hard times limit resources and, at the same time, the state education bureaucracy defeats local innovation, the relative attractiveness of public education will inevitably decline and many parents who care about their kids education will leave the public systems. They will be tempted by new private and home schooling options that offer better quality at a relatively low cost increment.
See this thread for some of my prior writings on this issue. It will remain a central priority for me.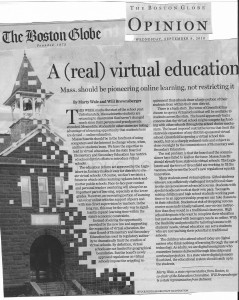 .