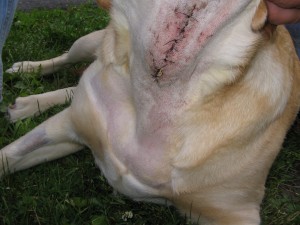 As the state legislature grapples with ethics reform, the Joint Committee on the Judiciary is about to hear a bill that looks at a different ethical issue: cutting a companion animal's vocal cords just to suppress his voice. An Act Prohibiting Devocalization, H. 344, would stop this practice–more common than most people think– which humane organizations and animal lovers deem cruel and unnecessary. The bill would allow vocal cord surgery only for medical necessity, not as a behavioral intervention.
The public hearing is scheduled for July 14 at the State House.
Jordan Star, the high school freshman who filed the bill, says: "I heard the horrible rasping and wheezing sounds a devocalized dog made, and started asking questions. I talked to a vet who told me a dog choked to death after she devocalized him. Another vet said devocalization is dangerous and painful, but should be allowed for people like a breeder she knows. She said this person had to devocalize her Australian Shepherds because they're loud. My question is then why breed them? Is it right to take away an animal's voice just because you can?"
Rep. Brownsberger was the first House cosponsor to sign on to H. 344 , followed by 57 other representatives and senators. Coalition to Protect and Rescue Pets, an unfunded, all-volunteer network of Massachusetts pet owners and advocates, is leading the effort to pass it.
The bill is endorsed by humane organizations statewide, including the MSPCA, and nationally by the Humane Society of the United States and the Humane Society Veterinary Medical Association. Angell Animal Medical Center refuses to devocalize. Why?
There are serious risks whether the surgery is performed through the oral cavity or an incision in the neck, regardless of the vet's skill or experience. Tissue regrowth is common, subjecting the animal to the pain and stress of repeated surgeries, and owners to costs they may be unable or unwilling to pay. That puts the animal at additional risk: surrender or convenience euthanasia. Humane Society Veterinary Medical Association
Devocalizing an animal puts people at risk too. A dog's warning bark is different than his "play with me" bark. Devocalization removes nuances; some dogs are rendered mute. Would you know muffled, indistinguishable sounds or wheezing and coughing mean "back off or I'll bite"? Would your child or a frail elder know?
Persistent barking is often a sign of distress. Cutting vocal cords rather than addressing it begs the animal to express his discomfort in other ways, like biting. Devocalization doesn't change an animal's needs.
Devocalized animals are abandoned like any other. Moving, financial concerns, and the owner's health problems are leading causes of pet surrender. Barking is not. Breeding and show dogs, devocalized or not, may be given up when no longer profitable. Shirley Moore, Founder and Director, Save A Dog
There are many humane alternatives, from enriching the animal's environment to making sure he gets enough exercise and companionship. The field of applied animal behavior offers a wide range of solutions for more difficult cases. Spay/neuter will  reduce hormone-driven aggression or excitement that can result in a noisy animal. Finally, common sense should prevail: Don't get a naturally barky breed if you or your neighbors don't like noise! And because dogs bark more in a group, breeding enterprises should be located far enough from neighbors to not create a disturbance.
H. 344 amends the animal cruelty statute because cutting an animal's vocal cords for human benefit is undeniably cruel. "Allowable as a last resort," as those who profit from devocalization suggest, would make the law unenforceable. No vet can determine whether a client pursued all humane options. "Last resort" is also baseless. Humane organizations say: Devocalization does not guarantee animals a secure home. And barking does not force owners or shelters to euthanize.