State operating agencies have taken substantial cuts during the recession, deeper than the average municipal operating department in Massachusetts. State agencies are looking at absolute three-year cuts of about 8% from FY08 to FY11, while municipal operating budgets (even after taking local aid cuts and paying for health care) increase approximately 3%. At both levels, the amounts are insufficient to provide level service in a rising cost environment, but the squeeze is greatest among the state agencies.
The table below shows the dollar changes in state spending totals from Fiscal 2008 actual spending (the last pre-recession year), through the proposed House Ways and Means budget for Fiscal 2011. The table separates out debt, health care expenses and local aid so that direct state agency expenses can be seen in isolation. For regular agencies, the bottom line is a three year cut of 7.8% without any adjustment for inflation. (Note that the local aid amounts in the table do not reflect the federal assistance that has cushioned local aid losses for most municipalities. Note also that contributions to the state pension system, the MBTA and the School Building Authority are deducted before revenue is allocated for appropriation and that the costs of health reform are not directly appropriated, but handled as appropriations to a trust fund. This chart shows only direct state appropriations.)
State Budget — Direct Appropriations
Direct Appropriations

FY08
ACTUAL
FY11
House W&M
%
Change (FY11HWM v FY10 Proj)
%
Change (FY11HWM v FY08 Actual)
Agency expenses
(excluding items below)

10,395,052,597

9,580,163,550

-2.0%

-7.8%

Debt

1,925,711,552

1,862,539,312

-5.5%

-3.3%

Health Care (including mostly Medicaid)

8,930,226,274

10,970,516,790

6.7%

22.8%

Local Aid

5,584,436,802

5,100,998,692

-1.2%

-8.7%

Total of above items

26,835,427,225

27,514,218,344

1.2%

2.5%

Fund transfers

440,018,537

–
–
–

Items with classification changes

422,852,816

288,063,723

Total Direct Appropriations

27,698,298,578

27,802,282,067

1.2%

0.4%
For a spreadsheet offering full supporting detail on this analysis and also detailed changes by agency, click here.
Municipalities in Massachusetts get over half of their revenue from the property tax, a tax which rises slowly but steadily, even during a recession — it drops only to the extent people actually fail to pay their taxes. As a result, the average municipality has seen property tax revenue increases greater than their loss in state aid. The typical municipality has experienced a modest total increase in revenue over the past three years. The increase is great enough that even after paying for rising health care costs, they have been able to increase the amounts available for operating expenses. On average the three year increase works out to 3% or about 1% per year, well below the rate increases of most collective bargaining agreements. So, most municipalities are feeling significant cost pressures.
The table below shows a model of municipal spending based on state wide average — amounts are normalized to 100 — think of them as representing millions for a typical municipality with a $100 million budget. The model uses House Ways and Means state aid numbers and trends in other municipal revenue to estimate available municipal revenue for FY11. The model then backs out estimated debt, pension and health care costs to estimate an available amount left over for municipal operations. The key number coming out of the model is the bold "3.2%" which refers to the cumulative three year growth in operating funds from FY08 to F11.
Municipal Budgets — Estimated Amounts available for Operating Expenses
Statewide Municipal Actual/Estimated

Statewide
FY08 Actual %
%
Change, FY08 to FY11
Est.
FY11

Revenue Components

Tax Revenue

52.5

11%

58.1

State Aid

24.5

-5%

23.3

Local Receipts

19

8%

20.5

Other

4

6%

4.2

Total Revenue

100

6.1%

106.1

Expenditure Components

Operating

81.3

3.2%

83.9

Debt

7.3

18%

8.6

Fixed (Health and Pension and other benefits)

11.4

19%

13.6

Total Expenditures (based on revenues)

100

6.1%

106.1
For a spreadsheet showing the sources of the assumptions in this model and similar computations for Belmont and Arlington as examples, click here.
From a payroll perspective, the comparison of state to municipal financial stress reveals a similar picture. State and local employment levels both fluctuate with economic conditions — both peaking in 2001 and falling in the last recession then rising through 2008. The latest municipal headcount data is unavailable, but the state headcount drop is consistent with the spending drop. State jobs are down a projected total of 5.7% from FY08 to FY11. This seems a little less of a cut than the operating agency cut of 7.8% noted above would suggest, even with limited pay increases. This suggests that more the cuts may be absorbed by state vendors and contract employees.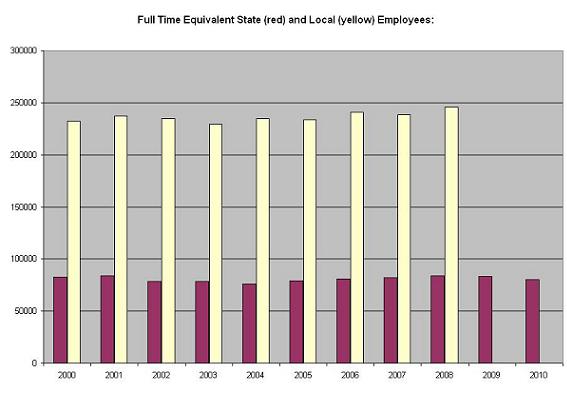 For a spreadsheet with the detail of municipal employment, click here; for state employment detail, see the head count page in this spreadsheet.